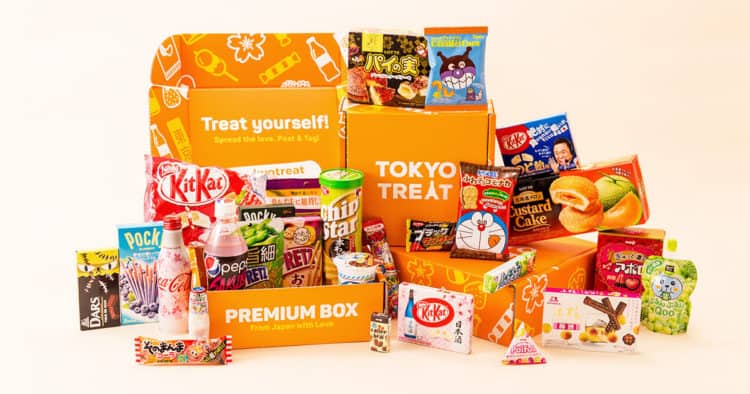 TokyoTreat is a monthly subscription box that provides anime lovers and Japanese enthusiasts alike over a dozen Japanese snacks to enjoy each and every month. Sounds great, right? Well, there's even more! "We at TokyoTreat desire to spread the love for Japanese candy & Japanese soda all over the world! To do so, we carefully craft and curate our Japanese subscription box to make sure that those who receive our Japan box feel happier every time they treat themselves to a snack! We want every bite to express the quality of Japanese snacks. Every snack you try will provide a new experience and widen your view of the Japanese snack world! So, get ready to discover Japanese snacks through limited-time and seasonal snacks that will shock your senses!" TokyoTreat was kind enough to send me their April premium box to take a look inside and show you all what comes in it! So what comes with the April TokyoTreat premium box? Let's take a look!
Premium
Sakura Ramune
"Japanese festival favorite ramune is here! This famous Japanese lemonade has a cute pink color and elegant sakura flavor you have to try!" My initial thoughts on the sakura ramune is unexpected. It's definitely not the flavor that I was expecting, but after a few sips it grew on me. I'm not really sure how to describe the flavor, it's a bit flowery (which makes sense as sakura is a cherry blossom), and I kind of dig it.
KitKat Sakura
These sakura KitKats have a much more distinct flavor compared to the ramune and they are absolutely delicious. I am also definitely getting some hints of cinnamon flavor in there. What's even better is that "Nestle Japan donates 10 yen for every bag to Sakura Line 311 – an NPO (Non-Profit Organization) that plants sakura trees in areas affected by the Tohoku Earthquake."
Pringles Japanese Fried Chicken Flavor
I didn't know how delicious Pringles (other than Sour Cream & Onion) could be….and then I tried the Japanese Fried Chicken Pringles from TokyoTreat. These things are seriously amazing and it took everything I had not to eat the entire tube in a single sitting. Seriously, why can't we have these in the US?
Sankaku Vegetable Crackers
I'm really not sure how I feel about these ones. It's definitely somewhat of an odd taste initially and then settles back down to a typical cracker flavor. I don't dislike them, they're just an odd flavor that I can't quite pinpoint. There's a tomato, broccoli, and carrots on the packaging, so I assume that the crackers are a mixture of all three flavors, rather than individual flavors, but I just can't tell.
Curry Turtle Crackers
I am not a huge fan of these curry turtle crackers. I don't particularly like curry flavor a whole lot, so if you do then you'll probably enjoy these crackers. They are exactly how they're described – they're light, they're crunchy, though they aren't particularly spicy. I definitely prefer the Pringles over these.
Classic
Sakura Latte Marshmallows
These sakura latte marshmallows are delicious, they have a wonderfully sweet flavor without being overly rich and sickening. I could eat this entire bag in less than a minute guaranteed.
Mike Popcorn Classic Salt
There's not a whole lot different than a typical bag of store-bought popcorn here, kind of like Smartfood without the cheese flavor. Definitely not a bad thing, it's delicious, but there's also not a whole lot different than any other bagged popcorn I've had.
Mini Monster Gummy
This might be one of my favorite gummy candies that I've ever had in my life. It tastes like sour strawberry lemonade and it is absolutely incredible. It is definitely reminiscent of the Airhead Extremes, except much less….fake? It has some actual real flavor in there other than sugar. I love it.
Banana Man
If you didn't need another reason to love the "Banana Man" besides its name, the flavor is really good. It's the classic banana flavor that you would find in a banana flavor Laffy Taffy, in marshmallow form with a chocolate center.
New Mochi Taro
These New Mochi Taro snacks are incredibly delightful. They're light, crispy, salty, and just the right amount of crunch to satisfy any snack craving. Seriously, these things are amazing.
Tempura Fried Lemon Squid Snacks
Woah…these are interesting. I don't particularly love these, but only because there's a bit of a strange aftertaste that I'm not the biggest fan of – other than that they're salty and lemony and they're not bad. Would I eat them as a regular snack? Probably not, but I don't think you're meant to as they come in such a small package.
Umaibo Cheese
Okay, so I was a bit skeptical about this Umaibo Cheese snack, but it is quite literally just a Cheeto puff log and I love it. I love Cheetos and what's better than a big Cheeto? Definitely a great snack.
Ramen Shop Taro Snacks
I've never been very much one for dried ramen (I prefer the good stuff), but I had never considered munching down on some as a snack. This Ramen Shop Taro is a pretty good and particularly crunchy snack if you need something to munch on.
Mashro
This Mashro marshmallow log is pretty good and just like the Sakura Latte Marshmallows, isn't too sickeningly sweet. There isn't a massive flavor in the Mashro marshmallow, but that's okay with me; too many times have I eaten one too many marshmallows and felt like a marshmallow myself.
Umai Sugar Rusks
I think I've found my favorite item in this TokyoTreat box. These Umai Sugar Rusks are literally just like sweet Cheetos and they are absolutely phenomenal. I honestly can't express how much I love these. I looked them up on Amazon and it turns out that you can get a 30 pack for just $8, so as soon as I finish this I will be going to purchase more.
Fruit Doughnuts Gummy
It's fruity. It's gummy. It's delicious. This gummy fruit doughnut is exactly what it says it is. There's not much to say about it, but it's good.
Onion Taro Snacks
The final item in the box is the Onion Taro Snacks. These remind me of the Curry Turtles which, unfortunately, is not a great thing. I'm just not a fan of the flavor of these snacks, personally.
Overall, I am incredibly happy with my first TokyoTreat box and look forward to reviewing more in the future. Thanks so much to TokyoTreat for sending me this box! If you want to get your own TokyoTreat box, the Premium box starts at $31.50 and the Classic box starts at $22.50 each month you want to receive a box. If you're a fan of anime or want a taste of Japanese food culture, you're definitely going to want to check out TokyoTreat!
Tell us what's wrong with this post? How could we improve it? :)
Let us improve this post!