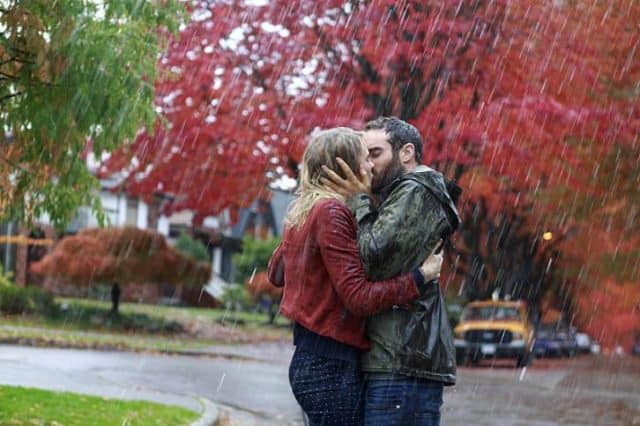 After putting its viewers and many of its supporting characters through the emotional wringer last week, No Tomorrow is much lighter and more fun in this week's episode, "No You Say It First." However, this episode might actually try to have a little too much fun, as it crams so many characters and stories into one hour (and none of them with much depth or weight) that their respective endings don't feel as satisfying as they could be. Simply put, No Tomorrow stretches itself a little too thin in "No You Say It First," not only devoting time to major players like Evie, Xavier, and Hank but also to Mary Anne and Timothy, whose stories feel more tacked-on rather than truly developed and earned.
There's plenty of good ideas in "No You Say It First," and perhaps my favorite one is exploring Mary Anne and Xavier's relationship, as he does his best to try and get Evie's sister to like him. Ultimately, we find out that Mary Anne doesn't dislike Xavier; she's just jealous of him, as he reminds her of younger days when she could be reckless and free and have fun without a care in the world. As a mother and wife, she can no longer do that; she has responsibilities that neither Evie or Xavier do, and she can never take a day off from them.
On its own, this Mary Anne storyline could have worked incredibly well, but it feels rushed and too quickly resolved in just a couple of scenes, as a pep talk from Evie and a five-hour nap are enough to help her get over her frustration and jealousy with Xavier. The rushed nature of this story comes from the fact that No Tomorrow has to check in with several other characters throughout the hour, from Hank to Deirdre to Timothy, and it would have been nice to see one of them take a back seat to give Mary Anne more time to shine. Still though, it's pretty fantastic getting to watch her take the stage again (even without her pink hair) and belt out a few notes before the fake band is broken up. I do have questions about just how much singing talent exists in Evie's family, since it appears that both she and Mary Anne have some pretty serious vocal chops, but I can let those concerns slide for a story this entertaining, especially when it provides Joshua Sasse the chance to sing in a post-Galavant role.
However, despite how sped-through Mary Anne's story is, it's not the storyline that suffers the most from just how crowded "No You Say It First" is. That victim of that would be the Evie/Xavier "I love you" storyline, which is treated as an afterthought for much of the episode until its final moments, when Xavier reveals his street poem to Evie, which tells her that he loves her. In some ways, I admire the nonchalant approach that No Tomorrow takes to the classic "I love you" plot; the minimal attention it gets throughout the episode shows that Evie and Xavier's actions are more important than their words. But the story never fades enough into the background to feel like the show is doing something truly subversive, and for a series that's a romantic comedy at its core, it's a shame that No Tomorrow didn't devote an entire episode to this issue. Sure, it's a tired TV trope, one that we've seen on everything from Boy Meets World to The O.C., but both those series were able to craft marvelous episodes centering on that confusing conflict; it would have been an absolute blast to watch No Tomorrow do the same.
Instead of getting more time dedicated to this episode's "I love you" storyline, No Tomorrow focuses on Evie's attempts to acquire her dream job, which she finally gets at episode's end. Since the series' premiere, Evie has mentioned how much she's wanted to be a part of CyberHugs and watching her finally achieve her goal, thanks to a terrific, off-the-cuff speech she delivers to the eccentric CyberMart CEO, Cory Casey (guest star Roger Bart), is certainly a happy and fulfilling moment, not just for her but for us as viewers. But I'm more interested in seeing how this new position, which will double Evie's workload, will impact her life moving forward; as entertaining as it is watching our favorite characters strive for their dreams, things usually get much more compelling after they've accomplished them.
By trimming Evie's two conflicts to one and cutting out Timothy's storyline completely, "No You Say It First" could have been a much tighter, stronger, and more satisfying episode of No Tomorrow. Despite how overstuffed the hour is, though, there's still quite a bit to like about the episode, from Hank and Deirdre's sexy shenanigans (which are now company knowledge), to Evie's major promotion, to Xavier's rain-soaked declaration of love. Let's just hope that next time the show's writers can make everything a little neater and more cohesive, because when No Tomorrow is able to really focus in on a select number of stories, it's one of my favorite series on TV.
Other thoughts:
While I still think that Timothy's story would have fit better in another episode, I did like the development we saw from him in "No You Say It First," as he's confident enough to deliver his Steven Speil speech in front of 600 people and also tells Evie that he needs space from her in order to move on.
A very smart and funny meta comment from Mary Anne about Chris being around so little that it's almost like he doesn't exist. I really hope No Tomorrow never introduces us to her husband. It would be a fun, recurring joke to keep going throughout the series.
Maybe I'm just a simpleton, but I could not stop laughing at all of Hank and Deirdre's dirty metaphors as they discussed their "sex moat."
How fantastic did everyone look in their band costumes? Tori Anderson was simply stunning, and I loved the incredible goofiness of Xavier's hair and Hank's cowboy outfit.
What did everyone else think about this week's episode of No Tomorrow? Comment below and let me know.
[Photo credit: Michael Courtney/The CW]
No Tomorrow Season 1 Episode 7 Review: "No You Say It First"
Summary
Evie attempts to get her dream job and figure out if Xavier truly loves her in an overstuffed but enjoyable episode of No Tomorrow.