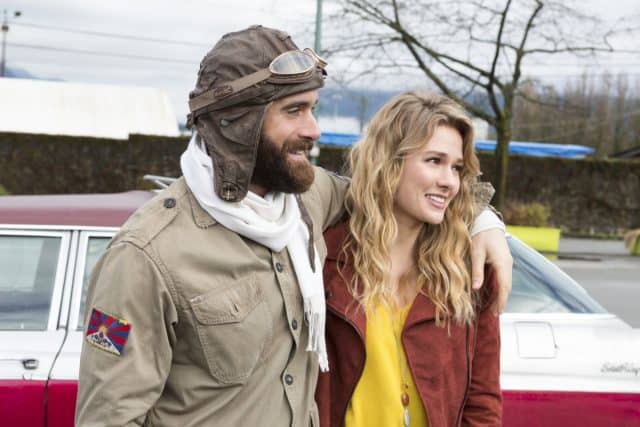 This week's No Tomorrow is an episode of two halves. The first half of "No Woman No Cry" plays out exactly how you would expect, as Evie tells Xavier that she and Timothy have begun spending more time together again and that she's not sure where their relationship is headed. At first, Xavier walks away from Evie, explaining that he doesn't want to be a part of a love triangle, but he predictably returns to fight for her affections, even getting into a fist fight with Timothy after the two of them have a piano duel to see who plays better.
No one could blame No Tomorrow if the show's writers had stuck to the usual beats and rhythms of a traditional romantic comedy, if they had to decided to keep the focus on the Xavier/Evie/Timothy triangle for the final two episodes of the season (and most likely series), trying to wring every last bit of drama out of it that they could. Fortunately, though, the No Tomorrow creative team is smarter than that, and the series' writers wisely choose to put an end to the triangle (for now at least) with Timothy walking away from Evie, telling her that now isn't their time but that he'll be waiting for her when she's ready, after the world doesn't end in five months. It's a wonderfully mature move from Timothy, who out of all of No Tomorrow's characters may have grown the most over the show's first 11 episodes; there's a peace and confidence to Timothy when he shows up at Evie's front door later on in the hour that I never would have thought we would see from him, and Jesse Rath does a fantastic job at portraying it.
But Timothy's not the only guy in Evie's life that's showing he can change, as Xavier makes probably the biggest move of the episode when he opens up to Evie about what he would want his future to be like and how he can see her in it. After Evie pressures Xavier to open his mind and actually think about what he would like his life to be if the world doesn't end in five months, if his theory is somehow wrong or if someone finds a way to stop it, something inside of him shifts. He doesn't just want to live for today but he want to live for the next one and the one after that, and he wants to spend all those days with Evie.
Xavier's conversation with Evie's grandfather (Evie's grandparents are clumsily introduced in this episode to help show Xavier how important the future is, but their scenes still work, despite the somewhat lazy execution) only reinforces his shifting viewpoint. The two men watch as the women they love awkwardly and hilariously dance in celebration, and all Evie's grandfather can say to Xavier is that his and his wife's relationship, the love they share together, gets better and better with every year. It's in that quiet, simple moment that Xavier envisions his future with Evie and realizes that it's more valuable to him than any of the daily pleasures he's experienced. He doesn't want to just check things off his apocalyst with Evie for the next few months; he wants to have a family with her and own a farm and make his own goat cheese.
While Xavier attempting to stop the oncoming apocalypse or trying to find a scientist that can prove him wrong could lead No Tomorrow into some over-the-top and overly wacky storylines during its final two episodes, I'm hopeful that his major moment of growth in this episode is also a sign that the show has matured with him. No Tomorrow has always been at its best when it's dealing with real, human issues set to the backdrop of the upcoming apocalypse, whether it's Xavier working things out with his father or Evie's parents trying to regain the spark between them, and I want to see how Evie and Xavier's relationship develops without the constantly present issue of his theory there to mess things up for them. It's looking like No Tomorrow's characters will have a future five months from now, and even if the same can't be said for this fun, unique freshman series, I'm optimistic that its final two episodes will provide a satisfying, and quite possibly surprising, ending.
Other thoughts:
All of the Hank/Deirdre moments in this episode work wonderfully, as Hank proves just how much he cares about Deirdre by helping her new assistant, Daphne, plan her wedding after Pete dumps those duties on her. And speaking of Pete, a chance encounter with Xavier causes him to question his and Deidre's upcoming nuptials, which leads to their break-up and what looks like a rekindling of sorts between Hank and Deirdre. I mean, you don't just ask someone to join you in your apocalypse bunker and then go back to ignoring them.
What works less for me in "No Woman No Cry" is the resolution between Kareema and Rohan. I do like that Rohan is able to give Kareema his blessing to marry Sofia (which she does after Deirdre and Pete back out of their wedding) but also tells her that he can't be there to witness it; that feels honest and true. However, I'm not a big fan of how we get to that moment, with little to no build-up and a stupid pillow fight. Similar to Kareema's relationship with Sofia, it all happened too quickly and without enough screen time to really have that much of an emotional impact.
What did everyone else think about this week's episode of No Tomorrow? Comment below and let me know.
[Photo credit: Michael Courtney/The CW]
Tell us what's wrong with this post? How could we improve it? :)
Let us improve this post!