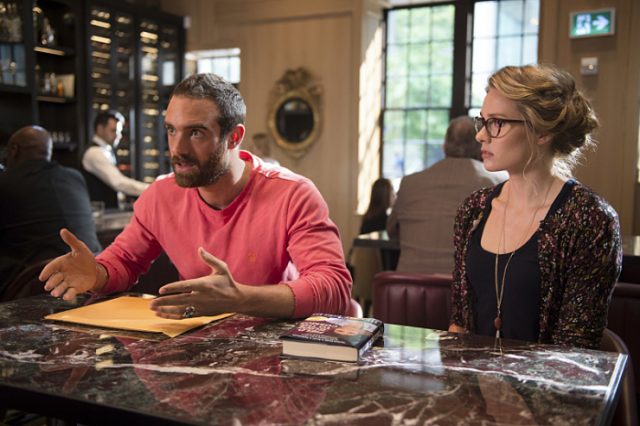 Romance is a funny thing, isn't it? When you first meet someone and become infatuated with them, it's incredibly easy to overlook any and all flaws that they might possess; however, no real relationship actually begins until those problems are acknowledged, discussed, and (hopefully) accepted. On No Tomorrow, Evie and Xavier's romance is quickly developing into something much richer and realer, but before that can happen, Evie must deal with Xavier's biggest flaws, namely the fact that he believes the world is ending in about seven months.
Understandably, Evie struggles with this predicament throughout "No Doubt." She loves the effect that Xavier has had on her, and she loves the way he seizes every single moment of life and makes it as special as it can be. But she's forced to ask herself if she can really be with someone who believes that the apocalypse is on its way, if she can be with a man whose beliefs appear crazy to be pretty much every single person she knows. It's a challenging situation for Evie; however, thanks to a good conversation with her mom and the very visible impact Xavier has on both her friends and family after he meets them, she's able to realize that this difference in belief doesn't make or break their relationship, and it leads to the best episode of No Tomorrow yet.
There's so many wonderful factors involved in how No Tomorrow deals with this episode's Evie/Xavier conflict. The series somehow walks the line of having his character be both inspiring and possibly delusional without the story ever feeling fake or overly manipulated. Unlike last week's episode, which asked viewers to buy into the fact Xavier would not only break his cousin out of jail but try to hide him in his basement for months, there's an authenticity to the drama between him and Evie that doesn't feel too outrageous or contrived, especially when he lashes out at her, telling her that she just can't cherry pick the parts of him that she likes; she has to want to be with him for all of him.
While the conflict here is absolutely heightened (Xavier still does believe the apocalypse is coming in less than a year), it's also a relatable and complex situation, a fight that many couples in everyday life have. How can we stand by a person who believes in something that's so opposite from what we have faith in, from what we hold onto? The simple answer is that you choose to believe in the person you love, not necessarily every fact or theory or religion that they subscribe to.
Xavier's shown nothing but love and care to Evie during the time they've dated (the birthday cakes and subsequent food fight he surprises her with this week is yet another incredibly sweet and thoughtful action from him), and in many ways, he's infinitely changed her life for the better, even though they've only known each for a few weeks. When he asks her to stand by him, whether it's at the party or when he tries to share his data with Professor Fields, he's not asking her to have faith in his theory; he's asking her to love and support him for everything he is, good and bad, normal and strange, comfortable and dangerous. That next step, which Evie takes when she prints out the flyers and yells out to the people on the street with Xavier during the episode's final scene, is what separates infatuation from something more real.
Dating can be easy but relationships are much harder, and while romance is certainly important, it's not love. Love is support. Love is faith. Love is belief. Not belief in an idea or science or religion but in something rawer, more damaged, and more flawed. Love is belief in a person. It's the strongest belief that anyone can ever have, and that's what makes it so special. And it's also what helps make "No Doubt" the strongest and most emotionally powerful hour of No Tomorrow so far.
Other thoughts:
One of my favorite moments from this entire episode is when Mary Anne tells Evie how hopeful Xavier sounds when he tells people to seize the day and to do things for themselves. That's what I think No Tomorrow, as a show, represents as well: hope. Sure, you can certainly call it a rom-com, but there's an optimism and joy to this show that is incredibly refreshing to find on the current TV landscape.
After Xavier gives Professor Fields all the information about his theory, Evie witnesses her throwing it out in the restaurant's trash can. By episode's end, she still hasn't told Xavier about it, and she probably doesn't plan to tell him ever. However, I wonder if this plot point will come into play sometime later on during this season.
I was very happy to see that there are more layers to Kareema's character than what No Tomorrow initially presented. If she was as constantly miserable and sarcastic as she had been during the show's first two episodes, it would have gotten old very quickly. However, the fact that she has created her own apocalyst and included "Helping people" on it could lead to some much more interesting material for Sarayu Blue to play down the line.
The romantic saga of Hank and Deirdre continues this week, as we discover that Hank may actually be attracted to his boss after he gets an "eargasm" when she whispers to him at trivia night. He's just got to get rid of his internet girlfriend, apparently. And speaking of that trivia scene, how great was it watching the two of them nail all the correct answers together, and how much better was it that all those questions and answers were so incredibly suggestive?
I was glad to see Timothy escape from his crippling writer's block, and I hope that it signifies him moving on not just with his writing but with his life. I really don't need or want to see him pining after Evie anymore.
Three things Evie checks off her apocalyst this week: get into a food fight, walk on stilts all day, and try all 31 flavors at 31 Licks.
So Evie's dad is now going to try to become an actor. This storyline should be fun to follow.
"There are no guidelines when it comes to love."
"Am I bigot?" "Oh honey, just because you don't like Thai food…"
What did everyone else think about this week's episode of No Tomorrow? Comment below and let me know.
[Photo credit: Diyah Pera/The CW]
No Tomorrow Season 1 Episode 3 Review: "No Doubt"
Summary
Evie struggles to the accept her and Xavier's major differences in No Tomorrow's best episode so far.