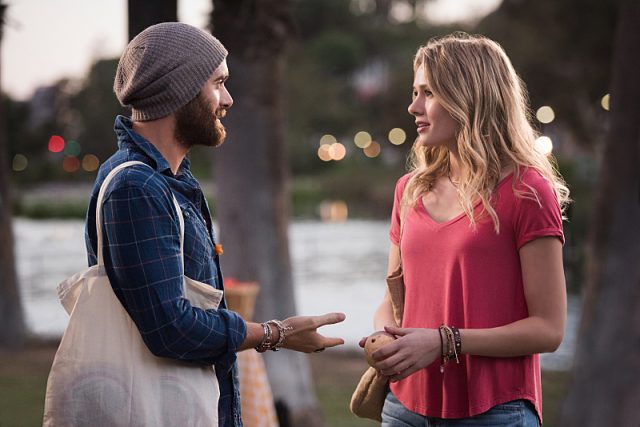 No Tomorrow is the latest romantic comedy from The CW, which has quickly become the network known for not only television's best superhero shows but also its most charming and heartfelt rom-coms (see Jane the Virgin and Crazy Ex-Girlfriend). Similar to both Jane and Crazy, No Tomorrow kicks off with a unique premise (What if your "dream guy" believed the world was ending in eight months?), but that central idea doesn't define the show. Instead, the outrageous concept, again similar to Jane and Crazy, is utilized as an avenue to explore deeper, richer, and more heartfelt topics, and at least through one episode, No Tomorrow is very successful at achieving that.
No Tomorrow centers on Evie (Tori Anderson): a charming, somewhat awkward 30-year-old woman, who works hard at a job she sort of likes for a boss that she can't stand and finds refuge in conversations with her friends and her daydreams about the guy she ran into while buying a rutabaga at the farmers market. Turns out that dream guy, Xavier (Galavant's Joshua Sasse), believes that the apocalypse is nigh, and that all of humankind only has eight months and twelve days left on earth before it's destroyed by an asteroid. That "knowledge" allows Xavier to live life to the fullest, to use his time as he wants to and achieve every goal he has on his "apocalist." His attitude towards life and his positivity, even in the face of death, is attractive to Evie; she doesn't believe everything that Xavier is saying about the end of the world, but she allows herself to take part in his free-spirited, liberating lifestyle, at least for a little while.
The No Tomorrow premiere doesn't break any type of new ground; viewers have seen stories like this before, and there will be others like it after this one. However, the performances of Anderson and Sasse and the characters that both of them portray elevate the rom-com material and turn the CW series into something special. On their own, Evie and Xavier are both fun, interesting characters, but when they're together onscreen, the chemistry between Anderson and Sasse and the witty (but not too witty) banter between the two of them works incredibly well. These are two people that I want to spend time with every week, and I want to see how their relationship grows and develops; if the actors didn't fit their parts or the characters were too prickly (in Evie's case) or too hipster (in Xavier's case), this show wouldn't be enjoyable at all.
Furthermore, as I mentioned in my introduction paragraph, the premise for No Tomorrow allows its characters to confront deeper issues in a pretty captivating way. Near the end of the episode, when Evie finds out about her heart condition and undergoes surgery, she realizes just how short her life could have actually been and how honesty, spontaneity, and optimism need to become more a part of her everyday routine. She doesn't need to quit her job or try out for The Voice like Xavier or her father try to get her to do, but she does have to confront her problems head-on, which is why she declines Timothy's proposal but also explains to Xavier that she's the one in control of her own life, not him. The world may not actually be ending (we'll have to see how No Tomorrow handles that problem) and Evie might not be dying, but by the end of "Pilot," she's learned to treat each day and every moment as something special, to use whatever time she does have to make sure that she and the people she cares most about are happy. Unlike, Xavier, though, she still has major responsibilities, both at work and with her family, and I'm very curious to see how she'll be able to balance them with her new approach to life.
And really, that inner conflict for Evie, along with her unusual romance with Xavier, are what have me anxious to watch the next episode of No Tomorrow. I couldn't care less if the series ever explains how exactly Xavier came up with his world-ending theory, or if the show actually follows through on the asteroid destroying the planet in eight months (I'm guessing there's very little chance of that happening if No Tomorrow gets renewed for Season 2). No, I'll keep tuning in because the leads are wonderful both on their own and together, the characters are fun and charming, and because we need more shows like this on television. In a world that sometimes seems pretty damn hopeless, TV series like No Tomorrow bring some much needed inspiration and happiness into people's lives. Even if it's only for one hour a week, I'll take that.
Other thoughts:
I was familiar with Joshua Sasse's work because of Galavant, so I expected that he would be good on this show. However, I had never seen Tori Anderson in anything before No Tomorrow, and boy, was I impressed. She hit all the right notes with her performance as Evie and was just so freaking likable throughout the entire premiere.
Really loved how Evie's idea for microwaving aluminium came back in at the end of the episode. Thought that was a perfect way to end the pilot.
I was less a fan of Xavier's cousin showing up, after having been broken out of jail. Even though this show has a pretty crazy premise, that scene felt a little too cartoonish for me. Less of that and more of Evie being adorable and bouncing around on a pogo stick, please.
Of the supporting members of No Tomorrow's cast, Jonathan Langdon made the biggest impression as Hank. He provided some nice moments of humor throughout the premiere and felt like a real, genuine friend of Evie's, someone she would actually hang out with. I'm excited to see what he'll be up to in future episodes and where his potential romance with Deirdre will go.
I'm a big fan of musical numbers in TV shows, so I had a big, stupid grin on my face during Evie's entire performance of "Here I Go Again."
Probably the biggest laugh of the episode for me was when Evie's mom said that she wished Timothy "came with subtitles," only to have the show actually use real subtitles for him when he speaks. Wasn't expecting that and thought it was very funny and clever.
What would be on your apocalist?
What did everyone else think about the premiere of No Tomorrow? Will you be tuning in for the second episode next week? Comment below and let me know.
[Photo credit: Eddy Chen/The CW]
No Tomorrow Season 1 Episode 1 Review: "Pilot"
Summary
Thanks in large part to its two charming leads, No Tomorrow is another winning romantic comedy from The CW.