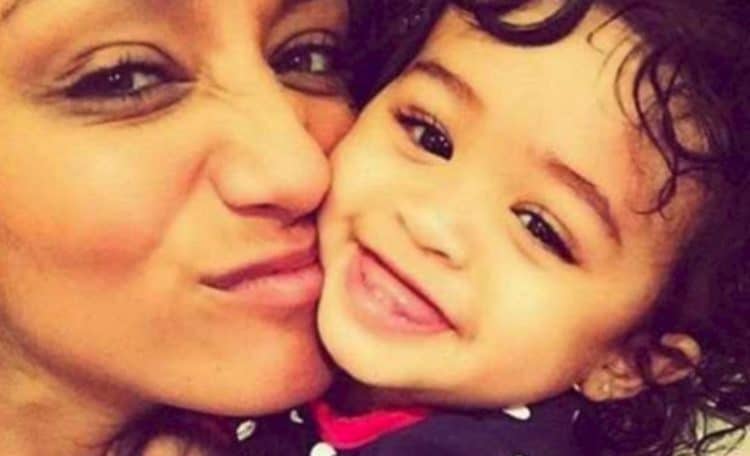 Nia Guzman, who also goes by Nia Amey, is an American (aspiring) nurse and model. She was born on July 23, 1983 in Corpus Christi, Texas but currently lives in Los Angeles, California. Guzman is not currently married but had a relationship with a controversial rapper, and singer, Chris Brown and now they share a daughter. More than anything, the ongoing battle over custody and support, have put Guzman in the limelight and all over social media. Guzman also has an older daughter by her previous husband. You may recognize the face of this mom and model, but here are ten things you didn't know about Nia Guzman.
1. Has done modeling
Yes, Guzman has done some modeling in her time, and has been featured in different ads and in magazines. When you look at Guzman's profile, she does clearly state that she does not shoot photos in the nude, however, it has been noticed, when looking over her modeling photos it is clear to see that all her photos are pretty scandalous and most feature her in very little clothing.
2. Studied nursing
Guzman has been a busy girl and likes to stay busy. She has been involved in a variety of career-type ventures, but one she wanted to do and complete, was her nursing degree. She was working doing some modeling work while also studying nursing. She was also involved with a record label at the time and was connecting with many different people in the music industry, one of them being Chris Brown.
3. Brown followed Guzman for years
Before their daughter was even born, Brown had apparently been following Guzman and pursuing her. They were initially, primarily just friends with no real, serious romantic encounter, however, she did end up pregnant and before long, even that friendship turned sour real quick when all the custody issues began.
4. Shares a daughter with singer, Chris Brown
Royalty was born on May 27, 2014 to Nia Guzman and is Chris Brown's biological daughter. Guzman and daughter Royalty were living in Corpus Christi, Texas and Brown originally offered to fly Guzman out to Hollywood for visitations on a regular basis. Originally there was another man in question as far as paternity, but after a paternity test, it turned out that Royalty was in fact, Brown's.
5. Voices her thoughts on her experience sharing a kid
There has been no secret as to how tumultuous the legal battles have been between Brown and Guzman over their daughter Royalty. There has been a lot of anger and nasty talk between the two, and when Guzman was asked what it was like sharing a kid with Brown, this is what she had to say: "Well, the world didn't find out about her until a year ago. He always knew about her, he just wasn't ready to deal with the situation. But, it's been quite the experience. I can't say anything positive about it… at all. Nothing positive."
https://www.instagram.com/p/BlJ1qWWBsPN/?hl=en&taken-by=therealniaguzman
6. Was friends with Brown's ex
Brown was involved with his long term girlfriend Karrueche Tran. When Tran found out about Brown and Guzman's expected baby, she quickly dumped brown on Twitter and said she was disgusted with him. It was later discovered that Guzman and Tran were actually friends, kinda. They had been photographed together earlier at a gathering where their circle of friends intermingled and it had brought them together for that gathering.
7. Was previously married
Guzman was married to Terry Amey until they divorced October 15, 2014. They were married for 11.9 years when they divorced and apparently, it was the news of Guzman's pregnancy with Brown's baby that caused the divorce. When Amey found out, he filed for divorce immediately. The two share a daughter together, who is 13 years old.
8. Starting a clothing line
Aside modeling, nursing school and busy being Royalty Brown's momma, Guzman also working on a clothing name in her daughter, Royalty's name. It will be a collection of unisex clothing for boys and girls, and it will include, two-pieces, monster-graphics and will even include cosmetics. Guzman has said that little 3-year old Royalty has helped with some of the designing efforts.
https://www.instagram.com/p/Bj8WTi4A8cU/?hl=en&taken-by=therealniaguzman
9. Brown offered to pay for Guzman's housing if she moved
Brown really wanted to be an active part of his daughter's life, so much so, that he offered to go above and beyond the court order of just paying child support. He offered to get Guzman a house, or pay her cost of living, if she would just move closer to him in Hollywood. Guzman hasn't given an answer on the offer, but he is determined to be a hands-on-dad and wants to see his daughter daily.
10. Custody and child support
Guzman got her court order as to what Brown is allowed to see of Royalty and what he will pay. The law ordered Brown to see Royalty 12 days a month. His mother must also be with him during visits, and as far as what Guzman was asking for in monetary support, she was seeking $15,000 a month for child support, but the judge denied it. As far as what she ultimately ended up with, that is unclear just yet.