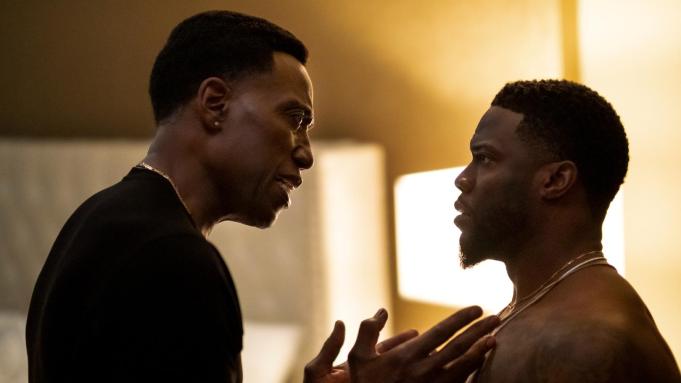 What happens when you put a legend like Wesley Snipes alongside Kevin Hart one of the highest-paid comedians/actors in Hollywood? You get a seven-episode thriller with great production and a strong plot with so many twists and turns. Netflix's "True Story" strangely feels like a memoir, hence the title, as Kevin Hart plays Kid; a famous comedian at the height of his career. Kid is on a major tour promoting his new movie co-starring Liam Hemsworth that's anticipated to rake in over a billion dollars. The first stop of the tour is Philadelphia Kid's hometown and the very city that made him. Being back home brings back a lot of not-so-good memories for Kid before the fame and the riches. While in town, Kid reunites with his older brother Carlton, played by Wesley Snipes. The series does a great job at exploring the complicated dynamics of sibling rivalry. Kid's relationship with his brother is difficult to say the least, but they have a sort of co-dependent relationship that has negatively impacted both of them over the years. Carlton is a screw up and Kid always has to save him from his self-inflicted problems. Ten minutes into their reunion, Carlton is already asking for $600,000 to pay off a debt he owes to some sketchy people. He's also managed to run the restaurant that Kid helped him start right into the ground.
We do know that Carlton is a moocher but we don't know how far he will go to take from his brother until the last two episodes. Kid's character is just as complex. A recovering addict and a recent divorcee, Kid views his successful career as both a blessing and a curse. Although his career is flourishing, Kid has internal struggles that makes his character unlikeable. His misguided behavior often affects the people that care about him the most which happens to be his manager Todd, Billie the joke writer that helps write some of Kid's stand up material and his bodyguard Herschel. Kid's team is beyond loyal to him and they all work to ensure his best interests. Too bad he doesn't appreciate this until the last episode. Chaos ensues after a night of partying with Carlton at a nightclub. Kid is in a state of confusion when Carlton wakes him up in the wee hours of the morning to tell him that there's a dead girl in his bed. Apparently, Kid went home with a fan that he met at the club that night and she ended up overdosing on pills. Kid panics and Carlton talks him out of calling a ambulance stating that the last thing Kid needs is another scandal.
Carlton convinces Kid to let him call his buddy Ari, a "fixer" whom of which has experience of disposing a dead body. Kid reluctantly agrees making one of the worst decisions of his life. After Ari successfully gets rid of the body, Kid believes that the situation has been contained. Things take a turn for the worse when Ari extorts Kid for six million dollars claiming that it's not even a dent in all the money that he's making for his new movie.This is yet again another example how Kid's success makes him a target for extortion and to be used.
Kid's frustrations pikes to another level when he lear s that he can't just withdraw six million dollars from his bank account without getting flagged by the IRS. Ari doesn't want to hear it, he threatens to go to the police or worse kill Kid if he doesn't get his money. Kid experiences a "breaking bad" and loses his mind. Tired of being used Kid chokes Ari to death. Ari's death was very unexpected as no one would even think that it was physically possible for Kid to strangle such a big guy with his bear hands.
The entire series shifts and for once Carlton has to help clean up the biggest mistake of Kid's life and keep him safe from Ari's mobster brothers who are determined to exact revenge for their brother's death.It doesn't help that Kid high key blames Carlton for everything that has happened. Kid and Carlton make one bad decision after another and it ultimately costs the lives of innocent people. True Story is a messy messy drama that's bound to keep you entertained from beginning to end despite the main character's desperate attempts to draw sympathy from viewers because of the downfalls of his wealthy lifestyle. It's teaches a very important lesson on accountability and humbly facing the consequences of the poor decisions that we may make.
Tell us what's wrong with this post? How could we improve it? :)
Let us improve this post!