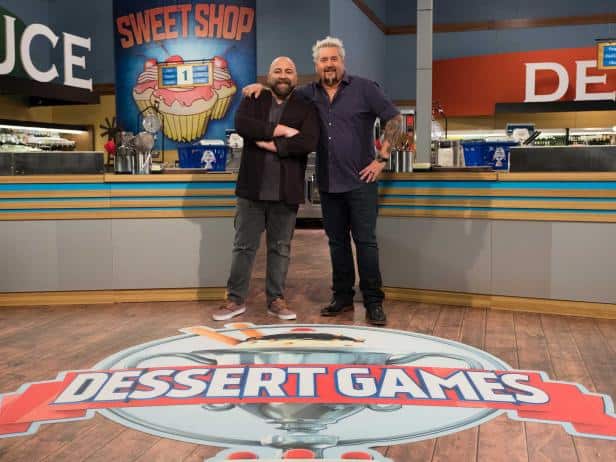 "Dessert Games" is a new Food Network series that is set to premiere on July 10, 2017. It may not be the best choice for someone who is trying to avoid amazing food delicacies, but it's something that dessert connoisseurs will not want to miss. Tune in for the first episode so you can see what Duff Goldman, Dessert master has done with Guy Fieri's grocery store. Guy handed him the keys and he's transformed it into every dessert chef's dream.
Here is everything that you need to know about the show.
Desserts are not the only focus
Many of us are excited about the upcoming new cooking show because it showcases some of our favorite foods. We don't know what the chefs are going to prepare yet and that is half of the fun. Although the main focus is on dessert making, there are other elements that will be brought to the fore. We'll get to see the chefs in action and find out how they perform in a highly competitive environment under heavy pressure. Of course, there will be time limits and some specific requirements for the use of ingredients. This is always fun because the chefs will not know exactly what they'll be doing before they get there.
Excitement as chefs contend for the grand prize
Emotions tend to run high when there is $10,000 on the line. This is the grand prize that the chef left standing will win. The money is great and it will help the winner to further their career but it's not the only benefit. The rotating panel of judges will offer their suggestions and criticisms on each dish prepared. This is the type of feedback that any great chef is in need of to perfect their art. There will be moments of elation as well as disappointment as the elimination process begins. One thing is for certain, this will be a show that is charged with emotion.
Different perspectives on baking
The contestants will bring traditional baking styles to the show as well as their own unique techniques. People watching may learn something new from watching. The judges will be there to point out what worked well and what did not. Although viewers won't be able to judge the texture or flavor of the foods, they will have the commentary of the judges to go by.
Viewers can learn how to prepare amazing desserts
New twists on old favorites and unique presentation methods are something to look forward to. The show will require contestants to use savory and other ingredients which are not commonly used in their confections. This will make them put on their thinking caps and get extremely creative. Will this work out for everyone? Most likely it will not. Importing new and extreme ingredients into recipes doesn't always yield good results. It will be up to the competing chefs to figure out how to incorporate some off the wall foods into their recipes and make them work to the satisfaction of the judges.
Duff understands the magic of baking
Duff is a chef who knows that experimentation is a good way to come up with new and tantalizing desserts. He gets the reality that there are millions of possible ingredient combinations for creating one of a kind and popular desserts of all kinds. This is what makes him the perfect host for this new show. Contestants need to be aware that Duff's first love was savory cooking instead of desserts. We're expecting to find some surprising mandatory ingredients thrown into the requirements. We'll see everything from unusual flavor combinations to surprises in texture to challenge even the greatest chefs on the planet.
Tell us what's wrong with this post? How could we improve it? :)
Let us improve this post!