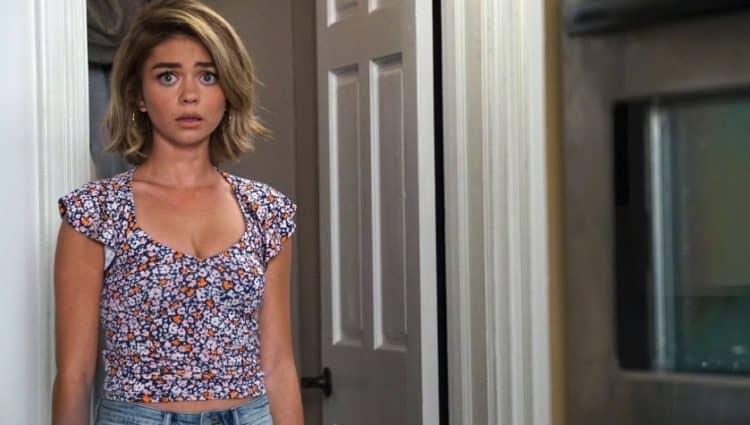 Sarah Hyland has had her share of health difficulties but she found support during some of the toughest times from her colleagues on the cast of "Modern Family." She recently shared how her on screen family were there for her throughout her struggles. She is very open about how the co-stars and the crew of the show helped her throughout her journey. She recently appeared on a segment of "Good Morning America" where the 28 year old actress disclosed that having the show which is now in it's tenth season on the air. Hyland shared that the distraction from living with kidney dysplasia from birth has been a lifelong struggle and the 16 surgeries she had which included a total of two kidney transplants with the latest in 2017.
Work helps her through it all
Sarah shared that she really loves being at work. She loves acting and the cast makes it a place that she wants to be. She was careful not to leave the crew out of the equation as well. She remarked that many members of the crew have been there since the show first began and that she has grown up with most of them. She's watched them move through the various phases of their lives and has seen them get married, start their families and everything that goes with it.
The cast and crew are intuitive
As her interview continued, Sarah commented that her co-stars and the crew could always tell if she wasn't feeling very well and they were fast to offer assistance if there was something that they could do to help. These offers were not just limited to the cast, but also everyone else including the guy in charge of the props and others offered that they would be there for them and all she had to do is let them know what they could do. They haven't failed to support her through her entire ordeal when things got rough.
Spending her entire life being sick
Sarah Hyland has been sick all of her life off and on. She was born with the kidney condition and the physical conditions have helped to contribute to a range of mental health struggles that go along with fighting a lifelong battle with poor health. Hyland gives her friends credit for helping her through the rough times. She's close with the women in her life who have been close friends through her life and stated that they have a "sisterhood" that she values greatly.
How Sarah deals with her situation
Sarah Hyland credits with those around her as being amazing but she is also a fairly remarkable person. She has been working through her pain and discomfort for all of these year without complaining. She wars two pairs of Spanx because she feels the need to disguise the bulge that shows through from her kidney transplant. She defends her decision to do so although it isn't recommended for health reasons, but it helps her to feel better about her physical appearance.
She's a dog lover too
Sarah Hyland also shared that her dogs have been a blessing to her. She shared that they are the "greatest thing ever to happen in the entire world." She realizes that being physically sick can take a toll on your mental health so she is mindful of this fact and she does what she can to try to stay positive no matter what is going on within her body or around her. She shared that she needs to remain surrounded by "the right people" so she can achieve this lofty goal of remaining positive. She also shared that staying positive is an active thing that she does. It is a choice that she makes and from what we can tell, she's done an excellent job of doing just that.
Final thoughts
Sarah Hyland is an amazing actress who has dealt with life threatening health issues from the time of her birth. She is also one of the most positive people around and she doesn't let her health issues get in the way of reaching her goals. She draws positive support from those around here and she stands as a great example and inspiration for all.
Tell us what's wrong with this post? How could we improve it? :)
Let us improve this post!