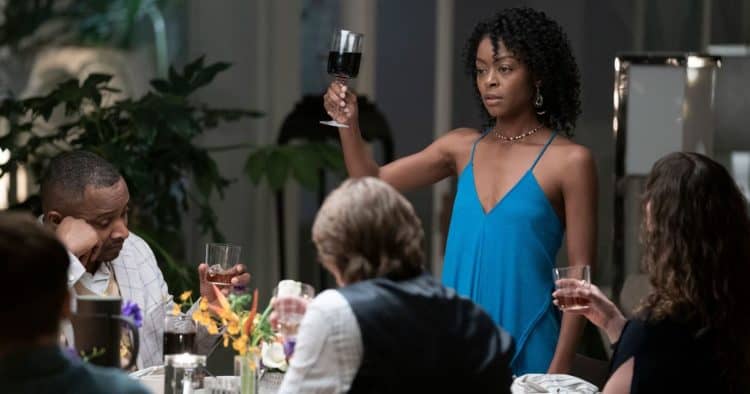 Station Eleven Season 1, Episode 3 veers from Kirsten and Jeevan's storyline. Instead, we spend some time exploring Miranda's life. The logistics expert, cartoonist, and writer of Station Eleven. The book that Kirsten can't seem to put down and the book that Arthur vehemently proclaimed in Episode 1 ruined his life. How could a book ruin someone's life? The answer to that question is complicated as matters of the heart tend to be. See Miranda and Arthur at one point had a beautiful, intimate relationship at one point, as we'll see in this episode. Arthur a famous movie star, met Miranda at a small diner in town where she was casually enjoying "me time" and sketching a picture. Arthur approaches her and asks to buy one of her drawings for a thousand dollars as he plans on it gifting to a friend. His offer is quite generous and it's really just a means to get close to Miranda because he invites her to a dinner party moments later. Miranda declines his offer, but she ends up joining him anyway. Miranda and Arthur's chemistry is easy and natural. He uses her work as a creative to sneak into the depths of her mind. Miranda is likable and when the night winds down, she even finds herself slightly opening up to Clark, Arthur's closest friend. Clark asks about the symbol that Miranda had been doodling on a cocktail napkin. It's the same symbol that Kirsten has tattooed on her hand. The same symbol that Kirsten found on the side of the road. Miranda tells Clark that symbol represents a feeling, a "cut and run" feeling to be specific.
Miranda and Arthur fall in love fast and hard. Their relationship is far from perfect. Perhaps the biggest problem in their relationship is the fact that Miranda is married to her work. During the day she's mapping out logistics for major supply chain corporations and at night she's drawing and writing in the pool house. However, Arthur is away from home a lot filming movies. Miranda is a loner, but Arthur is lonely. The love is there, but they don't know how to meet each other's needs. Things reach a breaking point when Miranda and Arthur attend a celebratory dinner party with Arthur's other famous friends. Miranda notices that Arthur's costar Elizabeth calls him a pet name. Elizabeth also reveals that Arthur showed her some of Miranda's work. In a fit of anger, Miranda throws her glass of red wine and quotes a cheesy one-liner from one of Arthur's films, "Burn every parasite in this mother***** alive, " before storming off. Miranda receives confirmation from Clark, Arthur's friend that he was indeed having an affair. Miranda packs her belongings at the house and leaves the pool house and her book Station Eleven in a blaze of flames.
The show time jumps yet again to the future when Miranda is standing in Arthur's dressing room and Miranda is occupied with a coloring book. Miranda offers Station Eleven to Arthur kind of like a peace offering. We discover that there was possibly more than one copy of the book which possibly explains why the weird drifter in Episode 2 was able to quote the book. Arthur invites Miranda to stay and watch his performance of King Lear, but she declines his invitation because she has a business trip to attend. As always, it's all work for Miranda. This is the last time the star-crossed lovers see each other. Miranda goes on a business trip to Malaysia to win over prospective clients. Miranda is overseas when the deadly flu ravages the United States. Miranda's boss Leon calls her and tells her the virus is spreading and arranges for her to escape on a tanker. The catch is she has to go alone, she has to leave behind her co-worker that accompanied her to Malaysia. Leon provides Miranda with critical instructions to get out of the mainland. Miranda calls Arthur, desperate to make sure he's safe and ready to pour out her heart. She wants to try again. It's crazy how the end of the world awakens the desire, the need to make things right with the people we love. Clark calls Miranda and tells her that Arthur is dead. The color drains from her face and she passes out losing the key that was her only means for escape. Miranda lies to Leon informing him, that's she's safely made it. At this point, Miranda's survival efforts are half-hearted. She locks herself in her hotel room and seals the door off with duck tape that she borrowed from the front desk.
Tell us what's wrong with this post? How could we improve it? :)
Let us improve this post!