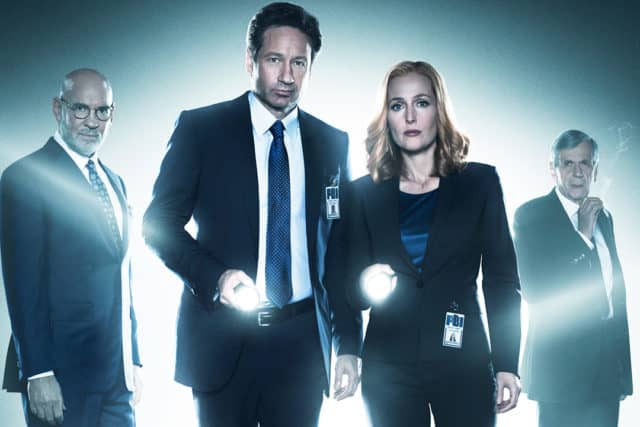 More casting news emerged from Chris Carter's Ten Thirteen Productions and the sets of The X-Files Season 11, now in production. Barbara Hershey joins the cast in the recurring role Erika Price, "a powerful figure who represents a mysterious organization." Also, Robbie Amell and Lauren Ambrose reprise their roles from The X-Files season 10. Academy Award nominee Hershey joins Gillian Anderson, David Duchovny, Mitch Pilleggi and William B. Davis in front of the cameras. For those keeping count, Ms Hershey also joins an overall team including directors Carol Banker and Holly Dale, as well as writers Karen Nielson, Kristen Cloke and Shannon Hamblin. Mr Amell and Ms Ambrose played Agents Miller and Einstein, aka the reviled 'Mulder and Scully 2.0,' in two episodes of Season 10.
Ms Hershey brings tremendous stature to the cast of The X-Flies, having received numerous award nominations for Emmys, BAFTAs, and Golden Globes. The Motion Picture Academy nominated Ms Hershey for an Oscar for her performance in The Portrait of a Lady. In 1990, Ms Hershey won an Emmy and a Golden Globe for her role as acquitted killer, Candy Montgomery, in A Killing in a Small Town.
A very broad talent, Ms Hershey has successfully portrayed villains and romantic leads. Ms Hershey's villain 'Sandy' helped 1969 film Last Summer stir controversy. Furthermore, Ms Hershey's romantic leads helped Boxcar Bertha (1972), The Right Stuff (1983) and Tune in Tomorrow (1990) win acclaim. Recently, Ms Hershey appeared in Damien, Once Upon a Time, and the Insidious film franchise. With Ms Hershey's villain chops, Producer Chris Carter could be preparing her as an adversary for future seasons. Erika Price could join Well Manicured Man and Cigarette Smoking Man in the cabal of villains. Or, Erika could join the mysterious Mr X and Marita Covorubias in the ranks of informants and allies.
Regarding Mr Amell and Ms Ambrose returning as Agents Miller and Einstein, little is on the record. Presumably the pair would appear in the Season 11 premier which resolves the Season 10 cliffhanger. Viewers regarded Season 10 characters Miller and Einstein as thinly veiled replacements for Agent Fox Mulder and Dr Dana Scully. Ms Ambrose portrayed the redhead, medical doctor and skeptic, Agent Liz Einstein. Mr Amell played the believer with a wonky first name, Agent Kyd Miller. Obvious comparisons followed. And then came the reviling, primarily because Einstein and Miller never quite moved beyond caricatures.
Appearing in only two episodes, characters Einstein and Miller had very little room to breath and grow. In the fifth episode, the pair appeared as merely caricatures, perhaps a meta/ self-referential spoof. In the sixth and final episode, Agents Miller and Einstein began to develop, but didn't quite become real. The new duo just didn't get enough screen time to do anything worthy of bonding with the other characters or the audience. This writer hopes Agents Miler and Einstein grow into fully realized individuals over the ten episodes of Season 11.
The X-Files returns to the Fox network broadcast airwaves midseason in 2018. TVoverMind will continue to cover production and development of the show and its characters, so visit us regularly.
Tell us what's wrong with this post? How could we improve it? :)
Let us improve this post!