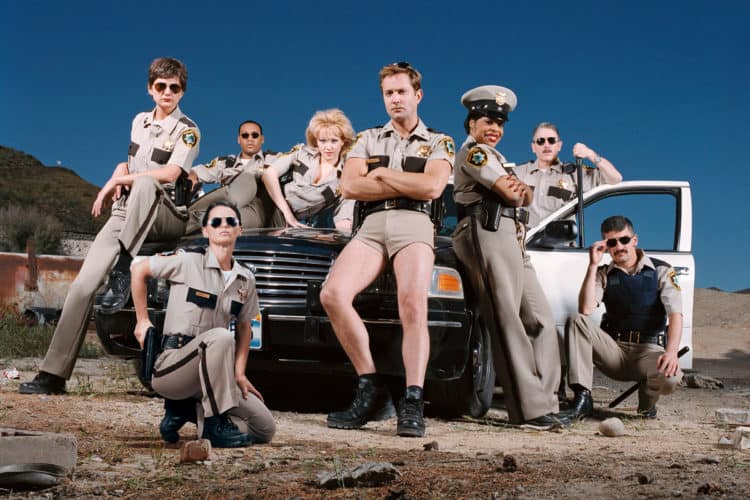 A lot of people felt a certain way about Reno 911 whether it was positive or not since it was a crazy show and only lasted for six seasons between 2003 to 2009. But Quibi, yet another streaming network that's looking to be up and running eventually in the coming year, will be bringing the show back and it does sound as though most if not all of the original cast is making their way back to the small screen. Ryan Scott of TVWeb has stated that a lot of fans are looking forward to the rather eccentric comedy as it touched a lot of people in different ways and was the kind of comedy that many upon many fans thought was needed at the time. Given the state of our society in this current era it might actually be a good time for the show to come back since it's comical enough to get people thinking in a different way about cops while at the same time being its own thing that won't really comment on the current ideas that many people have about the men and women in blue. Quibi on the other hand is walking into an already crowded situation since the streaming wars are still very much on and there's no telling if and when they'll begin to die down as people finally start to lean one way or the other when it comes to a favorite network.
It's also kind of hard to determine just whether or not the show will do all that much either since at this point it really feels like a lot of networks are gambling in a big way to see who's going to come up with the real trump card that will give them the overall edge over their competitors. Thus far Netflix is still holding firm since it has so many different shows and movies that feature well-known celebrities and despite costing a little more is still a favored network. Disney+ has really scored a big hit though with The Mandalorian as Baby Yoda and the titular character have won over a lot of fans and are still managing to take the internet by storm. The others, from Hulu to Amazon and beyond, are all doing what they can to keep up and make certain that they offer the same level of entertainment that people desire, so Quibi is really walking into a firestorm that they may or may not be ready for depending on what they have to offer at this time. As of right now the streaming wars are still heating up as shots have been fired and Netflix is actually being rumored to lose a good number of subscribers in the coming year as stated by Maggie Fitzgerald of CNBC. Whether or not this will happen though is something we'll have to wait and see, but it's a good bet that Quibi won't be able to just stride in and entice people to make the switch that easily.
Reno 911 is a big draw that they were fortunate enough to get hold of, but when one looks at the many other properties that are held by so many other networks it's hard to think that they'll just come busting on the scene and be able to really take on the titans of the streaming network without having to work their way through the back alleys first. So far their price is one of the only things that's really standing out in their favor, as they're offering their service for $5 per month and $8 a month without ads as Josef Adalian of Vulture has stated. Seeing how advertisements is how a lot of these networks rake in the cash it's bound to rise eventually, especially since networks such as Disney+, Netflix, Hulu, and Amazon can fork over piles of green without breaking a sweat. Quibi has a lot of work to do in order to get to the same level as the other networks, if this is their goal.
Grabbing hold of this show is a good start though since it's one of those that a lot of people have been talking about over the years and would love to see come back. How long it will last is anyone's guess since while the show is quite popular it's also one that seems to go by the wayside as soon as something more exciting comes along. Some fans have stuck with it for this long and continue to think that it's one of the best comedies out there, but others have moved on as is normal and would likely enjoy seeing it again, so long as it keeps to the same formula and doesn't deviate too much while still giving them something new to enjoy. It's a delicate balance of keeping the same elements that the made the show great while continuing to move it forward, but it can be done.
Tell us what's wrong with this post? How could we improve it? :)
Let us improve this post!