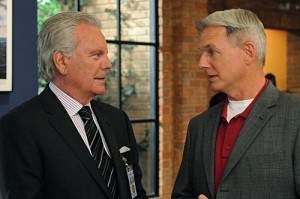 A new episode of NCIS will be airing on Tuesday, November 9, and veteran actor Robert Wagner will be returning to play Anthony DiNozzo Sr. Gibbs (Mark Harmon) decides to call in DiNozzo Sr. for a case involving a powerful missing nuclear device because he believes DiNozzo Sr. is the only one who can help them locate it. DiNozzo (Michael Weatherly), however, isn't that happy to see his father, but Ziva goes undercover with him to help him try and locate the device.
CBS has released several promo photos for the upcoming NCIS episode airing on November 9, which you can view below. We've also included a synopsis and a trailer with a sneak peek for the episode.
You can also catch up on some spoilers for the November sweeps episodes of NCIS that we posted last week.
THE TEAM IS STUNNED WHEN GIBBS ENLISTS THE HELP OF DINOZZO'S FATHER TO SOLVE A CASE, ON "NCIS," TUESDAY, NOV. 9

Robert Wagner Reprises His Role as DiNozzo's Father, Anthony DiNozzo Sr.

Bruce Boxleitner Guest Stars as Vice Admiral C. Clifford Chase, a High-Ranking Government Official

"Broken Arrow" – DiNozzo's father returns, playing a vital role in a murder investigation that could have catastrophic results, on NCIS, Tuesday, Nov. 9 (8:00-9:00 PM, ET/PT) on the CBS Television Network. Robert Wagner reprises his role as DiNozzo's father, Anthony DiNozzo Sr. Bruce Boxleitner guest stars as Vice Admiral C. Clifford Chase, a high- ranking government official.

SERIES REGULARS
Leroy Jethro Gibbs……………… Mark Harmon
Anthony DiNozzo…………. Michael Weatherly
Agent Ziva David………………… Cote de Pablo
Dr. Donald "Ducky" Mallard……………… David McCallum
Abby Sciuto……………………….. Pauley Perrette
Timothy McGee……………………. Sean Murray
Leon Vance……………………….. Rocky Carroll

GUEST CAST
Anthony DiNozzo Sr……………. Robert Wagner
Clifford Chase…………………. Bruce Boxleitner
Dan Mayfield……………………. Cameron Daddo
Theo Gaston…………………………….. Kal Weber
Fred Seymour……………………… Samm Levine
Agah Bayar…………………………… Tamr Hassan
Julie Merriweather………………. Musetta Vander
Driver…………………………………….. Toby Meuli
[imagebrowser id=742 template = flipped]
clarissa @ tvovermind.com
twitter.com/clarissa373
twitter.com/tvovermind