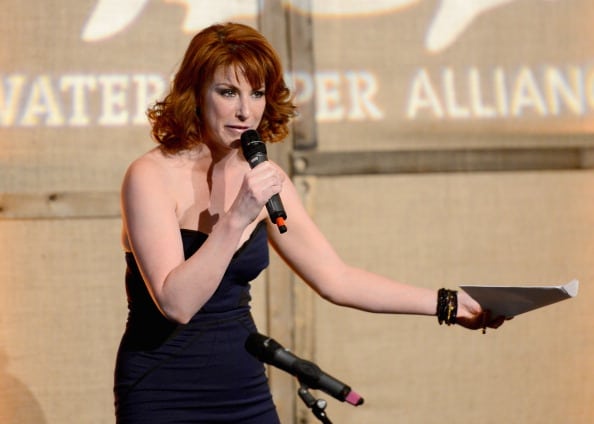 NCIS is currently in its 12th season and is still one of the most watched television shows on basic network television. This season so far has averaged a total of 18 million viewers and only is being bested by Sunday Night Football and sometime by the CBS comedy The Big Bang Theory as the most watched program of the week. Part of the reason fans have continued to watch the show since its premiere in 2003 is the relationships they have developed with the main cast of characters. Viewers tune in to to see what Agent Gibbs (Mark Harmon), Agent DiNozzo (Michael Weatherly), and Forensic Specialist Abby Sciuto (Pauley Perrete) are up to every week. Fans have also developed a liking to many of the recurring guest stars that have appeared on the drama series over the last twelve seasons.
NCIS season 10 featured many recurring guest stars. Some of these characters had been shown early on during the show's run or even appeared on JAG, which is the series that NCIS is a spin-off. Here are the best recurring guest stars that appeared on NCIS season 10. Some of these talented actors have even stuck around and continue to appear during the 12th season.
Joe Spano as FBI Agent Tobias Fornell
Joe Spano originally appeared on a season 3 episode of JAG. However, he played an entirely different character. He played Captain Jack Murphy on the episode, "Clipped Wings." He began his stint on NCIS as Senior FBI Agent Fornell during the procedural drama's first season. His first appearance was in the pilot episode entitled, "Yankee White." In total, Spano has appeared on 32 episodes of NCIS, three of which were during NCIS season 10. Additionally, Spano played Fornell in a recent episode of NCIS: New Orleans. Spano's career in television has spanned over five decades. Some of his other memorable television roles include playing Detective Henry Goldblume on Hill Streets Blues and as Detective John Clark Sr. on NYPD Blue.
Alan Dale as Homeland Senior Division Chief Tom Morrow
Alan Dale first played the roll of Tom Morrow during the 8th season of JAG. He was featured in two episodes. That same year he would continue playing the character on the first season of NCIS. Dale was shown sporadically during the procedural's first three seasons appearing in seven episodes. His next appearance would not be until season 10, where he was shown in four episodes. Dale's final appearance on the series was the season 11 premiere. His character is badly injured during an explosion. Dale has recently been featured on many popular shows. He appeared on The OC, Ugly Betty, Lost, Entourage, The Killing, Once Upon a Time, and Hot in Cleveland. He most just starred on the Syfy fantasy series Dominion and will be reprising his role of John Ellis for the Entourage movie, which is slated to premiere in 2015.
Diane Neal as Special Agent Abigail Borin
Diane Neal made her first appearance on NCIS as Abigail Borin during the series' seventh season. In the episode, Gibbs and Tony investigate the death of a Navy lieutenant. While visiting his home they meet Abigail and agree to work with her on the case. Her next appearance would not be until the following year. Neal only appeared in one episode of NCIS season 10. Abigail helps the team locate a missing pilot, who is lost at sea. In total, Neal has made six appearances on the series. Her most memorable role to date is portraying Assistant District Attorney Casey Novak on Law & Order: Special Victims Unit between 2003-2008. She made several guest appearance from 2011-2012. Neal recently appeared in the Lifetime Original Movie A Warden's Ransom.
Ralph Waite as Jackson Gibbs
Ralph Waite played Agent Gibbs' father Jackson in eight episodes of NCIS before his death on February 13, 2014. His first appearance on the drama was during the sixth season. In the episode entitled "Heartland," Gibbs must solve the murder of a Marine in his own hometown. During NCIS season 10, Waite appeared in one episode. Gibbs finds a medal that once belonged to his father's best friend. Waite's final appearance on the show would be during the 11th season. Waite is most remembered for his role of John Walton Sr. on The Waltons. Aside from NCIS, Waite appeared on Bones as Booth's grandfather and on Days of Our Lives as Father Matt shortly before his passing.
Robert Wagner as Anthony DiNozzo Sr.
Robert Wagner began playing Tony's dad on NCIS in 2010. The first episode he was featured in was called "Flesh and Blood" from the seventh season. The team must investigate the murder of a Saudi Arabian limo driver who was killed in an explosion. Wagner would reprise his role on the Christmas episode of NCIS season 10. Anthony Sr. makes a visit in order to create a family holiday for him and his son. Wagner would appear one final time in the season 11 episode, "Dressed to Kill." Tony is going to meet his dad and is involved in a shooting. Wagner's career began in 1950 at the age of 20. Some of his more memorable television roles include playing Jonathan Hart on Hart to Hart from 1979-1984 and as Pete Ryan in the crime drama Switch from 1975-1978.
Paula Newsome as Jackie Vance
Paula Newsome made her first appearance as Director Leon Vance's wife Jackie during the sixth season of NCIS. The episode entitled "Knockout" was about Vance trying to solve a case of murdered former Marine in Chicago. Newsome's next appearance would be the seventh season episode "End Game." In this episode, Vance tries to capture a North Korean woman assassin. Jackie is the one who ends up killing her in the final moments of the episode. Newsome's final appearance would be during NCIS season 10. She was killed by machine gunfire in her kitchen. Newsome has made many guest appearance on television shows since the 90's. She has appeared on Law & Order, Chicago Hope, Friends, NYPD Blue, and The New Adventures of Old Christine. She was featured on the final season of Suburgatory as Malik's mother.
Who was your favorite guest star from NCIS season 10? Let us know in the comments below.
Photo by Mark Davis/Getty Images