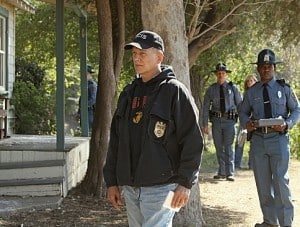 Like many of you out there I was on tenterhooks waiting to find out the extent of Tony and Ziva's injures on tonight's NCIS. However, I was surprised that the two characters were not as badly hurt as the promo's hinted at. Don't get me wrong, I didn't think they had died, the collision just initially seemed to be more serious.
The episode was entitled "Revenge" and as Tony and Ziva are stood down from investigating I assumed that the main revenge storyline would be set around Gibbs and the rest of the NCIS team acting on the assault on their own. However, considering Ziva's past acts of revenge it really needed to be her that caught up with Bodner in the end. Let's not forget, this is the women that killed her own brother when she found out he had crossed to the wrong side.
While in general the episode was on the darker side it could only be left to Tony and Palmer to up the comedy scope. Palmer continually opened his mouth to swap feet in every scene he was in, but it was in stating to Gibbs that he'd never "seen him do any actual work" or breaking the case with his translation app that he was able to add a lovable doofus element, which goes a long way to relieving an otherwise tense hour. Combining this with Tony giddy school-boy need to play with the silicon breast implants in the plastic surgeons office that made for an episode that was as funny as it was dramatic.
I was a little saddened by Ziva's actions throughout the episode. No matter how many steps she takes toward a happier life she always seems to be flung backwards whenever her family or past connections to Mossad resurface. Watching her punch her way through the pain of a dislocated shoulder in order to prove to herself that she was in control of her own body was such a desperate but pointless exercise. I'm glad that Tony did at least notice her bruised knuckles and could then take his concerns to Gibbs. However, the audience is once again left with the question voiced by Gibbs of "What happened in Berlin?" (sound like a certain trip to Paris, anyone?). I know we're ten years in and that NCIS is still drawing massive numbers in terms of ratings, but at some point I would really like TPTB to give us more when it comes to the TIVA relationship. There's obviously something there, its keeps getting alluded to in episodes like "Berlin" but honestly the ambiguity is getting a little tiresome. Shows like Castle have proved that you can allow a couple to be together without ruining your rating, so come on NCIS, give it a go.
As we race towards seasons end, we have two more episode left and it turns out I guessed correctly last week that the relationship between NCIS and Homeland Security is not as peachy as they wanted Mossad to believe. This week saw Senior Division Chief Chief Tom Morrow getting more than a little testy every time he felt like he was being left out of the loop, even when it was a genuine error in the case of McGee falling for Bodner's cut and paste background video. (Although I have to say this did seem like a pretty rookie mistake for the usually more technically savvy agent.) However this is all setting the stage for the finale which we've been told will involve an inquest into the NCIS team's effectiveness over the last year.
In general "Revenge" was a good episode. The storyline was solid as usual and Cote De Pablo always delivers the goods when she is portraying her characters dramatic side. She manages to slide smoothly between vengeful agent and emotionally shattered daughter which leaves me in awe of her acting skills. One things for sure, the show wouldn't be the same without her so let's hope to get news of her resigning soon.
NCIS returns with an all new episode next week on Tuesday May 8th at 8/7c on CBS.