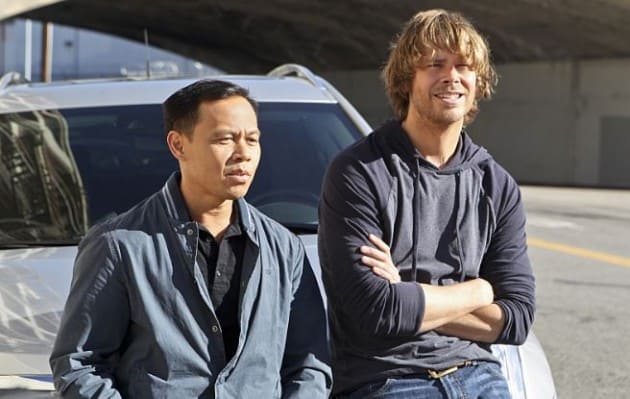 This week finds the NCIS: Los Angeles team reuniting with an old friend, whose visit is well-timed for a few team members, but has bad luck for others.
An old friend returns in the form of Thapa, the Ghurka soldier with a gift for deadly bladework. It's a good thing he's one of the good guys, kind of. He returns to escort Ella, an Indian nuclear analyst, played by the lovely Parminder Nagra, back to India when she was supposed to be in the U.S. under NCIS protection so that she could testify to the illegal deals she suspected her superiors of. Thapa's mission to bring her back, while peaceful, takes a very unexpected turn when a third party fires at them all, and Sam is hit. So Hetty gives Thapa clearance to work with the team to track down Sam's shooter.
However Thapa doesn't like what he finds when he joins the investigation: evidence that a Ghurka was behind Sam's shooting. In the meantime, Callen tries to find out whether Ella's information is actually valid by lying and saying that Sam died. She's cagey, and a bad liar to boot. Turns out she's pulled Thapa into her plan to insert herself as a double agent in the CIA, and Thapa has a target on his back. What's worse than one deadly Ghurka on a rampage? How about six? The team manages to take them out with Sam's help (while he is recovering), but not before Thapa is shot and killed.
While we mourn the loss of a dear friend, we cannot deny his wisdom and generosity. Thapa's visit seemed to be well-timed for other members of the team, specifically old friend Deeks. We finally get an inside look at the Densi home life, and it seems to be going very well. So well in fact that Kensi finally introduces Deeks to some of her non-work friends. Bad news is while Deeks didn't hate them, he didn't exactly rejoice at their dinner conversation either. Thus we have our first official Densi as a couple fight, though it seems strange because they've basically been in a constant banter for five years.
If you'll recall, Thapa's advice was pretty useful for Densi last year, and Deeks doesn't hesitate to ask for it again. Thapa is actually shocked by how fast Deeks and Kensi have moved. When Thapa is forced to face his own compromised position as a Ghurka, he tells Deeks his thoughts are mostly on his family, and that he has forced himself to carry them in his heart since he cannot always physically be there for them ("Home is not in the heart, home is the heart"). So at the end of the day, Deeks and Kensi agree that they don't need to spend every waking hour together, mostly because they already carry each other with them wherever they go.
What did you think of Thapa's return? Do you wish as much as I do that Thapa could have survived and become the official Densi relationship counselor?
[Photo via CBS]