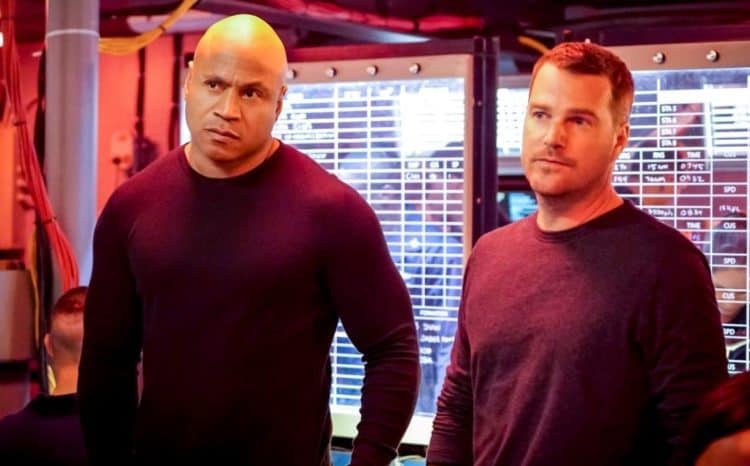 After some speculation about whether NCIS: Los Angeles would finally be put to bed at the end of its tenth season, fans were delighted to hear the news that an 11th season had been commissioned. CBS made the announcement back in April, while also revealing NCIS: New Orleans would be returning to our screens for a 6th helping. "Both shows have been key pillars to the CBS schedule for several years," Kelly Kahl, president of CBS Entertainment, said in a statement. "They offer heroic stories, big stars and have attracted a passionate, loyal fan base. We're excited to have Chris, LL, Scott, and these terrific casts back to bring more terrific NCIS stories to viewers." Given the collective sigh of relief that followed the announcement (and the fanfare that greeted the premiere of the new season at the end of September), you have to wonder exactly what it is about this JAG spin-off that commands such a loyal and devoted fanbase… and why CBS keeps pulling the trigger on new seasons.
In essence, NCIS: Los Angeles is a fairly formulaic cop show, blending elements of military and police procedural dramas to create a big, old fashioned, crime-solving, gun-toting, banter driven, action-packed TV extravaganza. Starring Chris O'Donnell and LL Cool J (along with a host of other names, including Daniela Ruah and Linda Hunt), the show follows the crime fighting antics of the Los Angeles—based Office of Special Projects (OSP), an elite division of the Naval Criminal Investigative Service that has a particular talent for undercover assignments. As the first spin off to come from the hugely successful NCIS (in itself a spin off of the powerhouse that is the much-missed JAG), NCIS: Los Angles had a lot to live up to when it premiered back in September 2009. 10 years on, and it's done what it set out to and more, cementing the franchise's reputation as one of the most popular crime series of recent years.
International Appeal
From the characters to the storylines to the setting, NCIS: Los Angles has "U.S.A" written in bold all across it. But despite being hardcore American, the quality of its acting, writing, and direction has made it a huge hit internationally. The UK is so enamored with it, two networks (SKY and Channel 5) are earning a chunk of the pie with broadcasting rights. In the Netherlands, Dutch fans can keep up to date via SBS6. Australian fans can catch the show on Network Ten, ONE and TVH! TS, Portuguese fans get it on FOX, and French fans can tune in on M6.
Familiar Ground
Sometimes, a show comes along that break's new territory, and that's great- it's worthy, it's wonderful, and it's no doubt very, very necessary. But sometimes, you don't want to be challenged. You don't want to think too much, you don't want to have to wonder what's happening, who these people are, who those people are, and what exactly that has to do with anything. You simply want to turn on the goggle-box and settle down for some good, old fashioned entertainment… which is exactly what NCIS: Los Angles is. Critics who complain that the show is predictable are missing the point — it's the very nature of its predictability that makes it such compelling viewing. When we tune in, we already know what to expect — an unsettling crime (usually a murder), an investigation, an unholy amount of banter, some clever deduction, and voila, the bad guy gets caught and the good guys win yet another day. It may be safe, it may be untaxing, and it's never going to win any prizes for pushing the envelope, but you know what? We don't care.
Old Medium + Old Audience = Success
While networks tend to focus on the 18-35 demographic when it comes to deciding a show's merits, there something to be said for an older viewership. They're loyal, they're committed, they're not going to get distracted by every other shiny new show that comes along, and once you've got their approval, you've got it for life (whether theirs or the shows). NCIS: Los Angeles might not have huge legions of young fans, but what it does have is an army of pensioners, all ready and willing to fire off multiple letters of complaint should CBS even dare consider taking their favorite show away.
As Vice notes, networks need to start considering the fact TV is itself an aging median. These days, kids aren't necessarily spending their downtime glued to the box in the way previous generations were. So, if you want to ensure viewership, trying to appeal solely to the younger market is probably not the way to go about it. Appeal to a demographic who think having two remote controls is a revolutionary sign of the times, and you're golden.
The Good Guys are Still Good, The Bad Guys are Still Bad
Some shows thrive on creating challenging, unsympathetic characters, but you know what? Sometimes, we just want a good guy to be a good guy and a bad guy to be a bad guy. We want the good guy to save the day, and the bad guy to get his comeuppance… which, by and large, is exactly what happens in NCIS: Los Angeles, week after week after week. The main characters are all likable, relatable, and do a fine job keeping their banter witty and their humor dry no matter what kind of craziness is happening around them. The bad guys, meanwhile, aren't sympathetic victims of social-economic status… they're just bad guys.
Escapism at its Best
So there, in a nutshell, you have it. No, it's not exactly intellectually challenging, and no, it's not in any danger of changing the face of the entertainment industry any time soon. But it's fun, it's popular, and it's got the grey dollar well and truly behind it. For an hour of pure escapism, you'll struggle to find better.
Tell us what's wrong with this post? How could we improve it? :)
Let us improve this post!