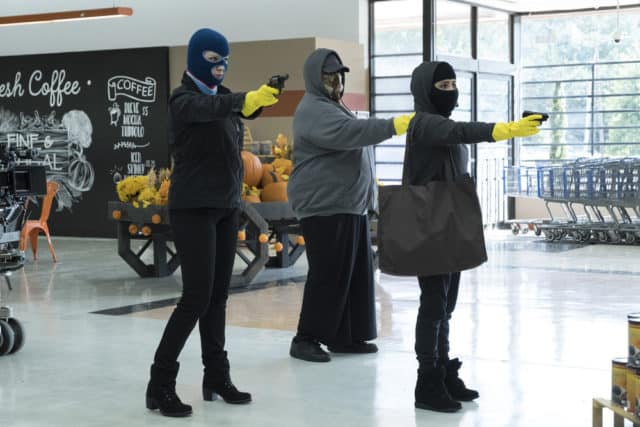 Good Girls premiered on Monday 26th February on NBC with a pilot episode that is an obvious product of the times we now live in. Three suburban Michigan mothers find that they have had enough of bad treatment at the hands of the men in their lives and decide to take matters into their own hands. In the era of #metoo and #timesup this drama feels as though it has arrived at the right time. Rather predictably things do not go as our heroines expected or planned. Think Breaking Bad meets Thelma and Louise to get a sense of the tone and plot of the new NBC series. Here's what we learned from the pilot of Good Girls.
The trio of titular good girls (gone bad) are Beth (played by Christina Hendricks), her younger sister Annie (played by Mae Whitman) and Beth's best friend Ruby (Retta). All three deliver sterling performances and play strong female anti-heroines that are deliciously complex, moral and wickedly funny. Hendricks is a treat as the long suffering wife who has been betrayed sexually and financially by her husband. She discovers that he's cheating and that he's depleted their finances with some unfortunate financial decisions. Mae, who provides a great deal of the comedy with a barrage of witty one liners, is a plucky struggling single mom battling her ex for custody of their only child. She flips the mommy script wonderfully as she's absolutely credible as a devoted mother, to a gender fluid child, and also an irredeemable screw-up. Ruby's daughter has long term health issues. The child is in kidney failure and is facing a callous doctor and the impossible prospect that the best treatment option is totally un-affordable. All three women are likeable, realistic and, in a very welcome development, provide great positive body image role models for a realistic shape for a middle aged woman.
Forced to the brink by men in their lives, the women have had enough of playing by the rules and when Ruby suggests robbing the supermarket where she works the three women decide it's time to color outside the lines. The plan, like all best TV plans, goes awry. It turns out that the supermarket is not all it seems and is actually a money laundering front for the mob. The titular good girls get some sense of this when the haul, which they expected to be 30,000 dollars, turns out to be significantly more. Predictably some bad guys show up fairly quickly to reclaim their dough. It's no shocker that the girls have already spent the cash which leaves them in a tricky predicament. It's clearly not the most original story line and not even the excellent cast seemed entirely surprised that it all went to the bad so quickly. All credit goes to the writers and the charming female leads that they carry the story and have the audience suspending their plausibility doubts. Viewers are rooting for the woman at the end of the episode.
The show is the brainchild of Jenna Bans who was formerly a writer on Shonda Rhimes' Grey's Anatomy and Scandal. It may not be breaking into totally new TV territory in recounting the tale of upstanding citizens who have been forced into addressing the problems in their lives by turning to crime. Weeds and Breaking Bad have already covered this territory. Nor is it the first show to feature female protagonists doing it for themselves. What it lacks in originality however it more than makes up for with a nuanced, black comic script and outstanding performances from the three female leads.
The first season continues on Monday nights at 10pm on NBC as the three good girls become embroiled more and more deeply into trouble.
Tell us what's wrong with this post? How could we improve it? :)
Let us improve this post!