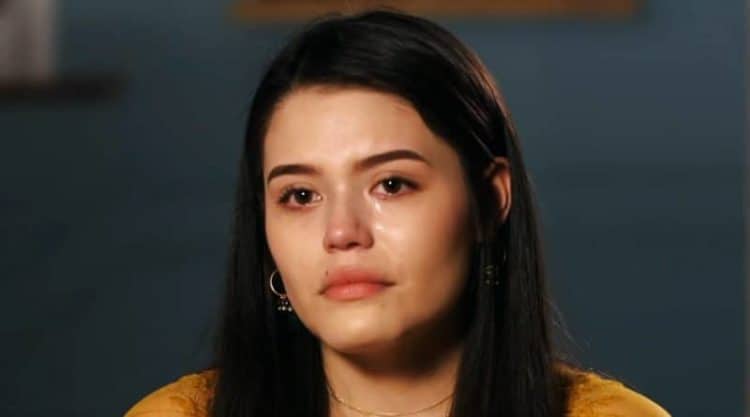 Becoming a parent well into adulthood can be challenging, so it goes without saying that having a kid when you're still just a kid yourself can be completely overwhelming. Myrka Cantu has learned this first hand. She became pregnant during high school. Although she felt completely unprepared, she and her partner Ethan Ybarra decided to move forward with the pregnancy. The pair also documented their journey on the TLC series Unexpected which features a cast of young parents trying to navigate life with a child. Despite all of the challenges she's had to deal with, Myrka has refused to let anything get in the way of being a good mom. Keep reading for 10 things you didn't know about Myrka Cantu.
1. She's Had A Rocky Relationship With Her Mom
Most parents would agree that having their child get pregnant in high school isn't something they'd prefer, but Myrka's mom took the news especially hard. When Myrka revealed that she was pregnant, her mom kicked her out of the house. Fortunately, it looks like the two have been able to repair their relationship.
2. She Was A Cheerleader
Now that Myrka is a mom, it's easy to look at her and feel like she's so different from other girls her age. In reality though, that isn't the case at all. Before Myrka got pregnant, she was a typical teenager. She was a member of the cheerleading team and she also played basketball.
3. She's Starting A YouTube Channel
Being on Unexpected has helped Myrka gain a large following and she's hoping to be able to capitalize on it long after the show is over. She is in the process of starting a YouTube channel. Although she's already set up the account, she hasn't uploaded any videos yet.
4. Her And Ethan Are Still Together
Trying to maintain a serious relationship in high school isn't easy. Throw a baby into the mix and things get a million times more difficult. Although the odds are stacked against them, Myrka and her boyfriend, Ethan, are still going strong and they have plans to get married.
5. She Doesn't Recommend Being On Unexpected
Being on a reality TV show can be a great experience, but unfortunately that doesn't tend to be the case with shows like Unexpected. Many of the girls who have shared their stories on the show have opened themselves up to lots of criticism and judgement from viewers. As a result, being on Unexpected isn't an experience that Myrka would recommend.
6. She Plans To Teacher Her Daughter Spanish
Myrka was born and raised in Texas, but her family is originally from Mexico and she is very proud of her roots. In an Instagram live session, one of her followers asked if Myrka plans on teaching her baby Spanish. Myrka promptly responded to confirm that teaching her daughter Spanish is definitely in the plans
7. She Watches Herself On The Show
There are some people who prefer not to watch themselves on TV, but Myrka isn't one of them. Myrka likes to tune in to the episodes so she can see how she's being portrayed. After all, reality TV is known for heavy editing so you can never know how things are going to turn out until the show airs.
8. She Loves Interacting With Fans
Myrka is incredibly grateful to all of the people who have shown her support since the show aired. She loves getting the chance to connect with viewers and she has made it a point to interact with as many people as she can on social media. In addition to responding to comments, she also goes live on Instagram to answer questions from fans.
9. She Doesn't Post Her Baby On Social Media
Lots of fans of Unexpected have flocked to Myrka's Instagram page in hopes that they'll be able to catch a glimpse of her daughter. They won't be able to find anything, however. Myrka has chosen not to share pictures of the baby on social media because she prefers to protect the child's identity.
10. She Doesn't Care What Haters Have To Say
Any time a person signs up to do a reality show, they're going to receive some negative opinions. Since being on Unexpected, Myrka has had to deal with more than her fair share. She has done a great job of dealing with the negativity and she doesn't let any of the comments bring her down. Instead, she hopes that her experience on the show can turn into something positive for herself and others.