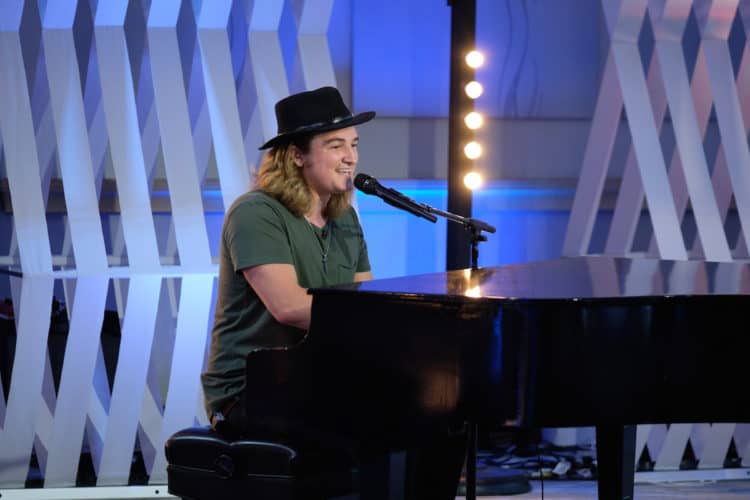 Just getting the chance to audition for American Idol is a dream come true for lots of aspiring artists. Colin Jamieson, however, has already accomplished that and then some. The talented singer has been blowing the judges away since the moment he stepped on the American Idol stage and he has officially made it to the top 16. His incredible vocal abilities and commanding stage presence are evidence that he has what it takes to become a star. With each passing week, his fan base continues to grow and there are lots of people across the country rooting for him to be crowned the next American Idol. Keep reading to learn 10 things you didn't know about American Idol contestant Colin Jamieson.
1. He Started Singing In Elementary School
Colin was only in first grade when he realized that not only did he like to sing, but he also had a pretty good voice. He told WCVB, "I just remember one of the teachers came over to me and was like – 'hey, you sound great on that' and just cheered me on. I remember ever since then almost every day after that I would start singing in the auditorium." It didn't take him long to realize that he wanted to pursue singing at a serious level.
2. He Has Already Released Music
Contestants on American Idol come to the show at all sorts of different places in their careers. While some of them have never even performed in public, others have already released entire projects. Colin is part of the second group. He released an EP called The Kid in the spring of 2019.
3. He Loves Interacting With His Fans
As you may have been able to tell by his stage presence, Colin loves getting the chance to connect with his fans. He is grateful for all of the people who have supported him on his journey so far and he tries to interact with them as much as possible. Understanding the importance of a strong fan base is definitely a key component to being successful in the music industry.
4. He Is In A Band
Thanks to American Idol, the world is getting to know Colin as a solo artist, however, he hasn't always taken the stage alone. Several years ago, he was in a boy band called Kik-it and the group actually received a good amount of success. They opened up for some well-known acts including Big Time Rush.
5. He Has A YouTube Channel
Colin's growing fanbase will be happy to know that American Idol isn't the only place they can check out his performances. He also has a YouTube channel where he shares videos of himself singing. Although the channel has just 217 subscribers, it has gotten over 10,000 views.
6. He Played Sports When He Was Younger
Colin comes from a fairly athletic family and when he was younger he got involved with sports as well. Although he has always enjoyed staying active, he eventually decided that he wanted to focus all of his attention on music. By the looks of things, he chose the right path.
7. He Is An Outdoors Kind Of Guy
When Colin isn't performing or working on new music, you can usually find him outside enjoying a beautiful day. He loves spending time outdoors and some of his favorite activities include hiking, hanging out by the water, and exploring nearby trails.
8. He Wasn't Sure About Doing The Show
Despite always wanting to break into the industry, Colin admits that he never thought he'd make it all the way to American Idol. While talking to WCVB he said, "Right up until the audition, I didn't think I was going to do 'American Idol,' which is interesting because it was recommended to me by one of my best friends."
9. Family Is Important To Him
So far, Colin has been pretty private about his personal life, but there are a few things we've learned about him. Colin was born and raised in the Boston area and he comes from a close-knit family. He has a very tight relationship with his aunt, Martha Jamieson, who is a local sports legend. He also has a brother.
10. He HasFormed Some Great Bonds During American Idol
American Idol may be an intense competition, but that has never stopped the contestants from becoming friends. Since being on the show, Colin has made a lot of new friendships that he will likely have forever. Even though he obviously wants to win, he's rooting for his friends to do well, too.