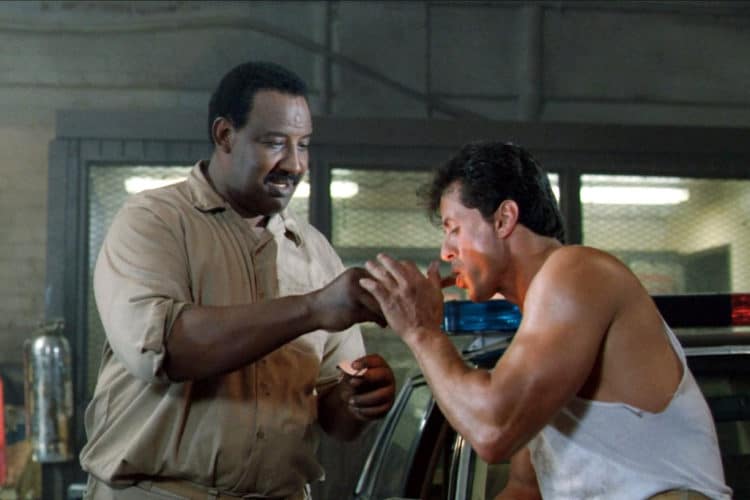 Either Frank McRae's birthdate is wrong or a lot of people are adding years onto his age for one reason or another since there are only 77 years between 1944 and 2021 when the well-respected actor passed away. It's easy to just let this go and assume that something else is going on in order to pay tribute to one of the favored actors of the past several decades, a big, lovable guy that could play a hardened role and could play someone that could be your best friend as well. It might interest people to know that he played for the Chicago Bears in the 60s as well before going into acting. The guy was pretty big to be certain, standing 6'6″ and striking an imposing figure even as a character actor since he was never the kind of guy that anyone believed was a pushover. His list of movie and TV show appearances was rather impressive since plenty of directors made great use of his size and his acting skills. Seriously, looking at this guy one could either believe that he would be a gentle giant or someone that might tear your head and laugh as it went bouncing away. Thankfully, Frank never really played any role that would give the last impression as he went on to become a big attraction as he often played an authority figure that was quite adept at shouting and was amusing while doing it. A lot of people tend to get typecast for a number of reasons that have to do with their physical appearance or to one ability or another that they can display on screen, but while Frank was always the big guy of the bunch, he did have a few very different acts that were fun to watch since he was definitely one of the better actors out there.
He acted alongside Sylvester Stallone a few times in F.I.S.T., Rocky II, and Lock Up, and was great in each role since he tended to play the big guy that was either just there and didn't have many lines, or as it was seen in Lock Up he played the character known as Eclipse that initially wasn't going to get involved with Stallone's character, but ended up getting to know the guy and siding with him after a while. It's funny, but while a lot of people don't know who Frank is by name, they'd probably recognize him after seeing one or two movies that he appeared in, and they might even say how much they like him. The truth is that Frank was a popular character actor, but he didn't exactly make the transition into the current era with the same type of fame that he enjoyed back in the 80s, when movies such as *batteries not included were popular and he could still count on people recognizing him by appearance. Frank was done with acting by 2006, but those of us that grew up watching him in the movies haven't ever forgotten him since he's been one of the biggest attractions in the movies that we remember from our youth, and even in bit parts he was great since his acting and his appearance were always on point.
His role in National Lampoon's Vacation was short but definitely great since along with John Candy it lent a little more credence to the scene that he was featured in. There's a lot that can be said about Frank and his career, but the fact is that there's still not enough that can make that many people really come to know who the guy was and why he was so important to the film industry back in the day. The decades in which he was the most popular were quite a bit different from the world we know now, but they did lay the groundwork for the way that movies are made now. And Frank is one of those that a lot of people are bound to cherish for a long, long while since his performances weren't always the greatest, but they were great for the movies they were in since he worked so well with the people he shared the screen with, and he managed to be a very memorable individual that wasn't bound to slip away from everyone when it came to remembering some his greatest hits. It might sound kind of odd, but his role as a police captain in National Lampoon's Loaded Weapon 1 was insanely funny since he was without a doubt a loudmouth that loved to yell, but he was just as good at speaking at a reasonable volume, as he balanced out his act to such a point that it was kind of funny to hear him speak in a calmer voice. He's going to be missed, there's no doubt of that. Rest in peace sir, you've earned it.
Tell us what's wrong with this post? How could we improve it? :)
Let us improve this post!