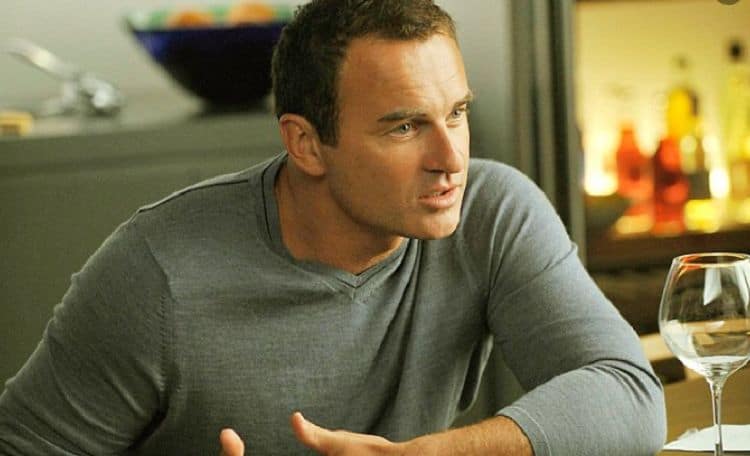 This year sees Julian McMahon reprise his role as Jess LaCroix on FBI: Most Wanted, something fans of his guest appearances on FBI in 2019 are no doubt looking forward to. The series spells yet another successful TV gig to add to McMahon's arsenal: since 1989, he's worked in some of the biggest shows of the day, from Home and Away to Charmed and Nip/Tuck. Read on to find out more.
1.He's the son of a former Prime Minister
McMahon was born on 27 July 1968 in Sydney to Sonia Hopkins and Sir William McMahon, a former Prime Minister of Australia. Sir William took office in March 1971 at the age of 63, the oldest non-interim prime minister to take office either then or since. His term failed to set the world alight, and since his defeat in 1972, he's been widely criticized as one of the worst prime ministers in Australia's history. Sir William had a fractious relationship with all three of his sons but reconciled with Julian shortly before his death in 1988.
2. He's up for joining the Charmed reboot
The Charmed reboot may be attracting a whole new generation of fans, but there's still a lot of fondness around for the original, with much of it coming from McMahon's direction. The star, who played Phoebe Halliwell's love interest, the conflicted half-human/ half-demon Cole Turner/ Balthazar, set fansite's abuzz earlier this month when he confessed he'd be totally up for joining the cast of The CW reboot. "It was a great show for me," he told TV Guide. "When I first signed on to that show, I think it was, like, six episodes or something, and I ended up staying for three years. So, that's how much I enjoyed being on the show, and I loved playing that character. So if I had the opportunity to do that again, I would."
3. He's worth $16 million
McMahon may have been born with a silver spoon in his mouth, but he's not exactly rested on his laurels since. With over 30 years in the industry and roles in big hitters like the Fantastic Four franchise (2005 and 2007), Premonition (2007), Nip/Tuck (2003—10) and Charmed (2000—03) under his belt, it's little wonder he's worked up quite the fortune. According to the latest information from Celebrity Net Worth, the star is worth a handsome $16 million.
4. He's been married three times
In January 1994, McMahon married Dannii Minogue, pop icon Kylie's little sis and his former Home and Away co-star. The marriage was difficult from the start, with Dannii since claiming she was ostracized by McMahon's mother and never made to feel a part of the family. Within less than two years, the couple had divorced. In 1999, McMahon married again, this time to former Baywatch star Brooke Burns. A year later, they welcomed their first (and only) child, Elizabeth, and a year later again, they divorced. The actor has been married to his third wife, Kelly Paniagua, since 2014.
5. He kissed and made up with Kylie
In 2018, McMahon was offered the role of Rick Jones in Aussie comedy Swinging Safari… a good role, but one he must have thought long and hard about after learning who'd be joining him on the cast. Over 20 years after McMahon's divorce to Dannii Minogue, Swinging Safari reunited the actor with his former sister in law, Dannii's equally famous big sister, Kylie. Fortunately, enough water had passed by then for it not to be too awkward. "I never had any weirdness, to be honest," McMahon told News.com. "First, it feels like another lifetime ago, so it's hard to relate to it completely. And Kylie was an amazing sister-in-law. She sang at our wedding and that was pretty special."
6. He's a college drop out
After leaving the boys-only Sydney Grammar School, McMahon studied law at the University of Sydney and economics at the University of Wollongong. Neither subject managed to spark his interest, and he dropped out of university prior to graduation. For the next few years, he won steady work as a model, supplemented by occasion forays into acting and commercials.
7. Home and Away was his breakthrough
In 1989, McMahon landed his breakthrough role as Ben Lucini in the Australian soap opera, Home and Away. Despite it being the part that catapulted him into the big time, McMahon had only a casual interest in acting at the time. "I always look back on Home and Away with fondness, especially when I'm in the UK," he's since said. "But I had no idea what I was doing back then. I just fell into acting. It was only later that I became passionate about it."
8. He made his film debut in Wet and Wild Summer!
3 years after striking it lucky with Home and Away, McMahon made his film debut as Mick Dooley in Wet and Wild Summer! While he's predominately worked in TV since, his film resume is still impressive, with some of his most notable features including Chasing Sleep (2000), the Fantastic Four franchise (2005 and 2007), Premonition (2007), Red (2010), and Bait (2012).
9. He won a Golden Globe nomination for Nip/Tuck
One of McMahon's most famous roles to date was as Christian Troy in the American medical drama Nip/Tuck (2003—10). The series was one of the most popular shows of the early noughties, pulling in favorable reviews, and, in McMahon's case at least, a plethora of award nods. In addition to landing a Golden Globe nomination in 2005 for Best Lead Actor in a Television Series, he also managed to scoop nominations at the Golden Derby Awards, the Satellite Awards, the Saturn Awards, and the Australian Film Institute Awards.
10. He's a big sports fan
According to his IMDB profile, McMahon is a big sports fan, enjoying surfing, biking, baseball, basketball, and American Football, to name just a few. Outside of sports, his interests including collecting classic books and cooking.