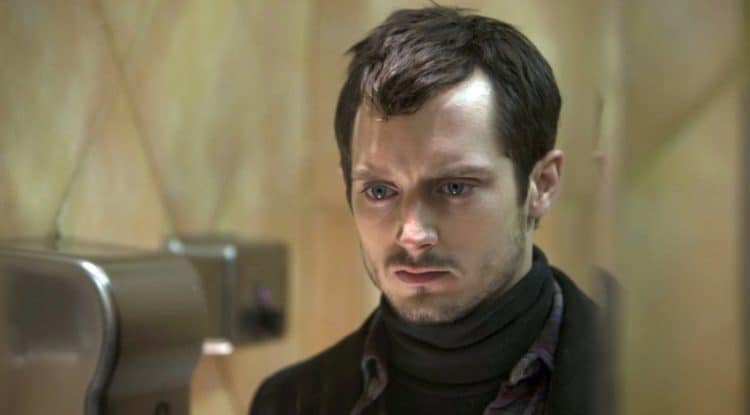 There's likely one role that everyone knows Elijah Wood for and has become universal when speaking of him, but he's done a great deal more with his career since he's been acting since childhood. If anyone remembers he's been around some of the greatest actors since before he was a teenager and has been holding his own on screen with all of them for a very long time. At this point in his career he's diversified his interests quite a bit and has taken on other projects all his own that have managed to make him seem a little more sophisticated and even worldly. But a lot of folks will still seek to remember him as the young face of a franchise that sparked the imagination and the wonder that was born so long ago when J.R.R. Tolkien's famed story finally came to life on the big screen.
Here are a few things you might not have known about Elijah.
10. He owns one of the prop rings from Lord of the Rings.
The actors don't always get to just take what they want from the film as the props department and the studio tend to want to hold onto a lot of stuff. But it would seem that they can make requests to keep certain items. Andy Serkis was given the other ring, which seems only fitting.
9. His mother wanted him to be a child model so he could move about more.
Apparently Elijah had a lot of excessive energy that he needed to let out, so it was kind of natural that he needed an outlet. Modeling seemed to do the trick since it allowed him to move about and finally tire himself to the point that he was manageable.
8. Frodo Baggins is his best role in his opinion.
Considering all the roles he's taken on in his career you might think that he'd pick something else, but Frodo apparently is the one role that he really seemed to think nailed it in terms of being epic enough to call his crowning moment. It'd be hard to find anyone that would really argue with this, but he does have a lot of other roles that are pretty great.
7. He was the youngest of the hobbits in LOTR.
This is kind of funny since in the book Frodo is around 50 years old when he finally leaves the Shire, whereas in the movie he still looks like a young man at best. Perhaps hobbits just don't age as quickly as others. More likely than not they didn't want to see someone Bilbo's age on a treacherous quest.
6. He's not a big fan of Godzilla.
You could make the joke that hobbits just don't like big, dragon-like things but it might fall flat since the only hobbit to have seen a dragon in the entire LOTR story that we've seen was Bilbo. Still, some people really don't like Godzilla for their own reasons.
5. He had to beat out around 150 actors to play Frodo Baggins.
It sounds like even Jake Gyllenhaal was in line to take up the mantle of Frodo, but Elijah managed to impress Peter Jackson just enough to get the job. Imagining someone else as Bilbo at this point is kind of hard to do since Elijah did do a good job and kind of immortalized the character.
4. Elijah's been considered for a few different roles throughout his career.
He was even considered first for the role of Richie Rich, a spot that went to his former costar Macaulay Culkin. At one point he was even thought to be first in line for the role of Eragon, but of course that didn't happen. It might be a good thing that it didn't since the story was kind of a non-starter once it hit the big screen.
3. He's a very big music lover.
Elijah admits to having thousands of CD's that encompass a wide variety of genres since he's that much in love with the music and simply can't decide between them. He also has his own record label, Simian Records.
2. He almost didn't want to do The Faculty.
The Faculty came out during a time when the teen scream craze was just about ending and it kind of tried to ride the coattails of a genre that was still loved but was quickly becoming something that people laughed at instead of screamed over. In many ways The Faculty was a good idea but the execution kind of fell flat after a few minutes into the movie.
1. The Hobbit is actually one of his favorite books.
Whether he read it before or after he was cast into the LOTR movie is hard to say but it seems as though it was meant to be that he would play Frodo if he read it before.
He continues to impress even as his career has kind of slowed down just a bit.