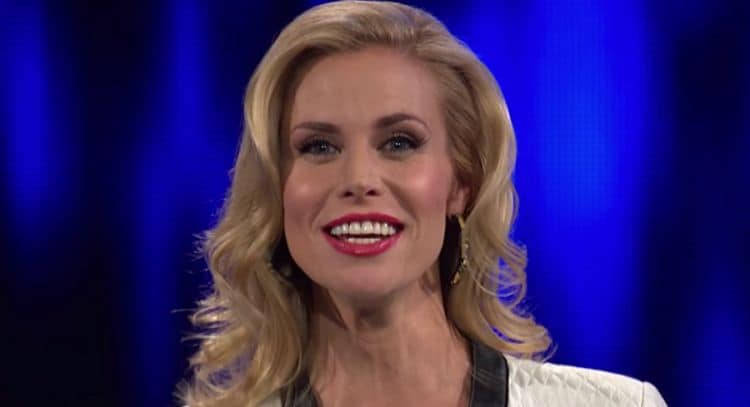 At first glance, it may be easy to look at Brooke Burns and assume that she's just another pretty face. In reality, however, she's much more than that and her impressive professional track record is proof. Brooke has found success as a model, actress, and host she brings her best to every project she works on. Some people may remember Brooke best from her role as Jessie Owens in Baywatch. Others will know her best from playing Maggie in The Gourmet Detective. No matter what you know her from, it's safe to say that she more than likely left a lasting impression on you – and she isn't finished yet. Keep reading for 10 things you didn't know about Brooke Burns.
1. She's A Texas Native
Texas is the birthplace of lots of well-known people in the entertainment industry, and Brooke Burns is yet another one on the list. She was born and raised in the Dallas area until she was around 16-years-old. At that time, she relocated to Europe with her family.
2. She Would Be Honored If She Got The Chance To Host Jeopardy
The passing of longtime Jeopardy host, Alex Trebek, left people all over the world in mourning. Although he is impossible to replace, the network was tasked with finding someone who could keep the show going. When asked how she'd feel if she were asked to host, Brooke told Fox News, "I love hosting trivia, so that would be an honor. I know they were looking at a couple of guest posts and my dear friend, Mr. Ken Jennings, I think is first in line for that. But if they want a female to come on and test it out once in a while, I think that would be quite an honor."
3. She Was A Ballerina
Brooke's ballet days may be over now, but there was once a time where dancing was her entire life. She began training at an early age and although she eventually grew to be 5'9″ (typically considered too tall for a ballerina) she still saw a future for herself in the dance world. The universe, however, had other plans.
4. She Loves Giving Back To The Community
If there's one thing we could all agree the world needs more of, it's kindness. Brooke has done her best to use her platform to bring more kindness in the world. She enjoys helping others and has been collaborated with several charitable organizations to raise awareness for various causes.
5. A Skiing Accident Brought Her To Modeling
After reading number three you may have been wondering what happened to Brooke's ballet dreams. Unfortunately, when she was a teenager she suffered a knee injury that essentially ended her career. Fortunately for Brooke, the phrase 'when one door closes, another opens' couldn't have been any more accurate. After her dance career ended, she made her way to modeling.
6. She Has Her Own Fitness App
Working in the entertainment industry isn't the only thing Brooke does. She's also an entrepreneur and she's turned her passion for health and fitness into a business opportunity. She has her own app called Brooke Burke Body where users can stream home workouts.
7. She's A Mom
When people talk about Brooke, her professional accomplishments are usually the things they focus on. However, Brooke has something in her life that is much more important than work: her children. She is a proud mother of two daughters. One from her first marriage and another from her second.
8. She Had A Podcast
Creating high-quality content is one of the best ways to stay relevent, and Brooke knows how to do exactly that. In addition to her regular social media activity, Brooke has also dabbled in the podcasting world. Brooke was one of the hosts of a podcast called Intimate Knowledge, however, there haven't been any new episodes released since October 2020.
9. She Almost Lost Her Life In A Diving Accident
In some ways, Brooke has had more than her fair share of good luck. In other ways though, she's had more bad luck than some people have in a lifetime. In addition to the career ending knee injury she suffered, she had another tragic accident in her adult life. In 2005, she broke her neck in a diving accident. Quick thinking from a friend saved her life and prevented any permanent injuries. In 2014, Brooke was involved in a car accident.
10. Her Part In Shallow Hal Was Written Specifically For Her
Landing a part in any major production isn't an easy thing to do, so you know you're doing something right when the parts start coming to you. After auditioning for a role in the 2001 movie Shallow Hal, Peter and Bobby Farrelly decided to write a part just for her.