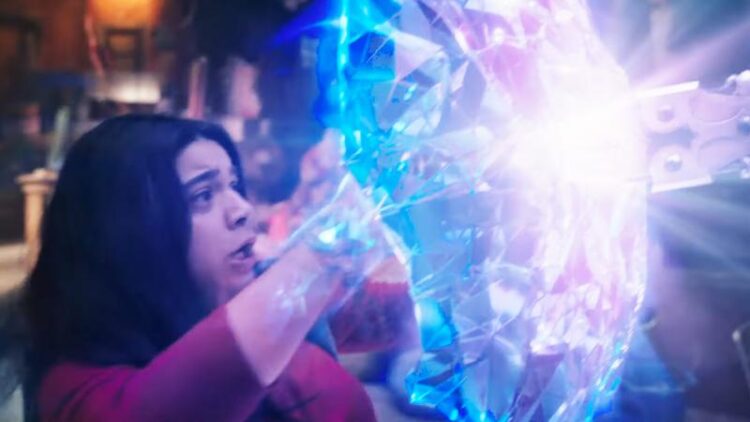 It's very easy to be torn on the subject of Ms. Marvel at this time since the story is progressing and it is making sense in a certain way, but it feels as though so much information is being shoved into one episode that it's likely that some fans are wondering when this story will get to expand into the epic that they were expecting. Unfortunately, that's a lot to ask of a show that is being doled out in smaller increments. It feels as though things would only be more confusing if the episodes were shorter, but it also feels as though there might be huge gaps if the story was lengthened to a greater degree. It's enough to think that people are being introduced to the live-action version of Kamala Khan in a way that is easier for many to relate to the character, but at the same time, it does feel as though a lot of material is being sacrificed in a way since she's been given a backstory that's still developing in a big way, but there are a few twists involved that might be confusing some folks.
But this jump back into the past to see how her great-grandmother met her great-grandfather, while on the run from the Clandestine, was kind of interesting since it was a story that's been told many times in many different stories. This type of origin story that shows how Kamala's family really got their start is the type of tale that a lot of people might have been waiting for, but it does manage to confuse a few more people since the whole idea of her great-grandmother interacting with Kamala is bound to get a few people frowning as they try to figure out how this could have happened.
But as the story moves forward it would appear that the moment that the Red Daggers were guarding against came close to happening, as the rip between dimensions was opened just enough to become a danger to the vicinity in which it was opened, along with those who had to be evacuated. But instead of being able to cross through the rip between dimensions, one of the Clandestine quickly found that it was death to even stand in front of the rip as the energies from the other word seeped through and encapsulated her, destroying her body until nothing but bones remained. It was a swift but horrible death and one that the leader of the Clandestine faced as well, but not before apparently bestowing her power to her son Kamran, who she left behind. Things are bound to get interesting for the finale since Kamran actually made his way to Bruno's place, which is awkward since Bruno and Kamran don't exactly get along. But the attack that came at the end of the episode and the reveal that Kamran now has powers, or perhaps had them all the time, is interesting enough to think that there might be a decent lead-in to a second season that fans will find is to their liking. There's no word about a second season yet, which isn't too surprising since a few shows have been set up as limited series now, with the possibility of a second season even if this isn't how they were built.
If there's one failing of any MCU show, it's that the live-action series doesn't always live up to the expectations of the fans that have been reading the comics for years and years. The sad part is that no MCU show is going to do this one hundred percent since the stories are going to change according to what those writing the scripts are instructed to put in. Not a single MCU story to date has been spot on with its comic book counterpart since there have been changes that have been needed to update the story and changes that have been made to the story because it allows things to change just enough so that the same exact story isn't being told. Ms. Marvel is no different, but one can at least admit that her culture has been brought into the mix in a way that fans have really appreciated.
The finale already feels like it's going to have an uphill climb though since it would appear that the Clandestine have been killed to the last person unless there are others somewhere in the world. One could state that the agency that's after Kamala has become the big bad at this point, but there's still the issue of Kamran now having powers as well. There's still a lot to figure out before the series is over, and it does feel as though it should get a second season when all is said and done. It does sound as though Kamala will be coming to the MCU on the big screen, but it almost feels as though she needs a few more episodes to make sure that she's ready.