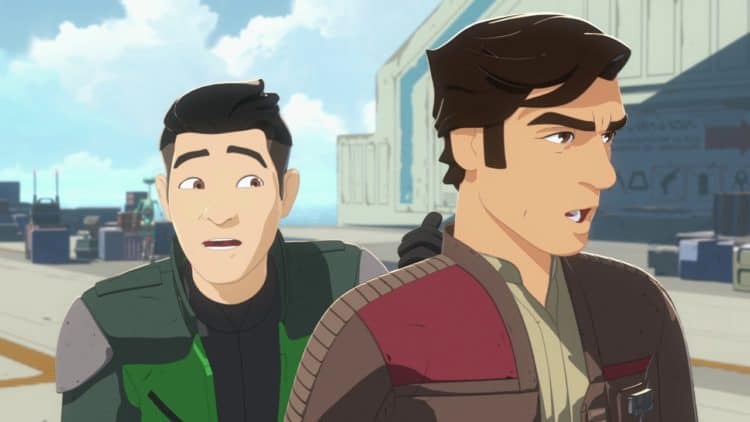 It's been seen that any time you try to put in a new show or a new spin on anything as popular as Star Wars that there's bound to be some resistance or hesitancy on the part of the fan base. Star Wars: Resistance, is still relatively new show that has been created to fill in the gaps between the original trilogy and the movies that are taking place now, but in a different manner. While Star Wars is largely known for the Jedi, extremely popular lightsaber battles, and the high-risk flying of the pilots that make up the resistance, it's also an institution that many people don't like to see questioned or added onto without a good reason and an even better story in mind. So far things seem to be going well enough to continue the show and allow the second season to roll on without fail, but it's already been seen that many fans are kind of on edge when it comes to one of their favorite franchises being given the filler treatment.
Here are a few things you might not have known about the show.
10. Several of the actors from the new trilogy have contributed their voice talents to the show.
Oscar Isaacs, Gwendoline Christie, and even Peter McDaniels have taken up the roles of their well-known characters throughout the series. Another actress was brought in for Lei however, but so far she seems to have done rather well.
9. The show is set just before The Force Awakens.
It was set six months before The Force Awakens in fact as this seems to give enough time for the story to develop and for the main characters to go about their business as is needed. Plus, this gives a great deal of time to allow the story to unfold and perhaps give a bit of history on how the First Order began to grow.
8. This show kind of fills in the gaps of what's going on in the Resistance as the movies roll on.
To be quite honest it was a little confusing to many that the First Order would be instilled after the Empire was all but beheaded at the end of Return of the Jedi. But this show at least gives the idea that while the Republic was up and running the Resistance was still needed as the Empire quickly formed into something even more deadly.
7. So far it seems like fan reaction is kind of varied.
Some fans might like what they see and others might be groaning right now since it's obvious that this show has it's own take on what's happening in the Resistance and how things are moving along. But to be honest that's pretty natural with any series like this.
6. BB-8 was a fixture on the show until he The Force Awakens timeline was reached.
People have grown just as fond of BB-8 as they were of R2-D2 in the original trilogy and it shows. But obviously when The Force Awakens timeline was reached the little droid was going to have to take off for a while so as not to disrupt the continuity that had already been established.
5. Fans have been watching very closely to make sure that there are no errors being made.
Star Trek fans might be the only ones that are just as picky about the series as Star Wars fans since both bases tend to scrutinize and look over everything in an attempt to make sure that the story is being followed the way it should. Many would offer bits of advice to these folks, but it might be easier talking to a brick wall.
4. This show is kind of a way to disconnect Star Wars from the Jedi and the Force.
There is in fact an entire universe out there and while the Force and the Jedi are in fact a big part of it there are those that aren't firmly connected to either in the story line and deserve to have their tales be told. That seems to be the theme that is rumored to be driving another trilogy that might be in the works.
3. When the series starts the First Order is still a growing threat.
Upon the start of the series the First Order is already up and running but it hasn't become the massive threat that it is in the movies just yet. That being said it obviously doesn't take long for the First Order to show just how serious it is about destroying the Resistance.
2. So far it's scored particularly well with critics.
It is kind of amusing to see how some shows and movies will score great with critics but not with fans, and vice versa.
1. Diehard Star Wars fans still aren't quite sold on it.
Those that take the series way too seriously at times are not entirely convinced of the veracity of this show but hopefully will come around.
It's worth a look no matter how you feel about it.
Tell us what's wrong with this post? How could we improve it? :)
Let us improve this post!