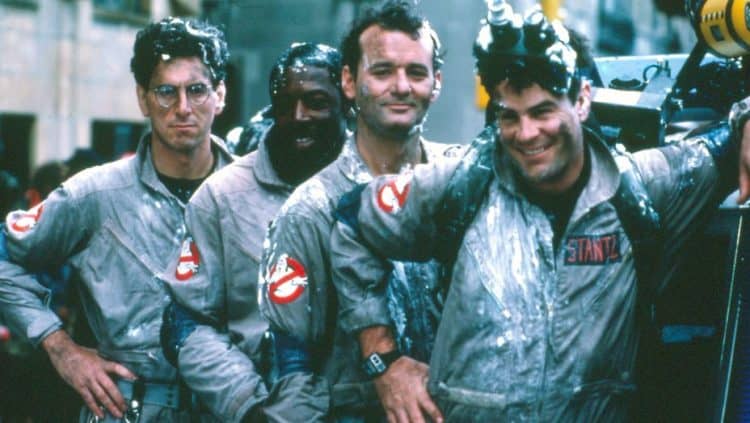 How are movie critics surviving the pandemic? By making punching bags out of classic film reboots and sequels. Alas, that was the very fate of Ghostbusters; Afterlife, which opened to mixed reviews and suffered from comments like this one, from Boston Globe's Mark Feeney: "It has its moments… but they don't make up for a general flat-footedness and tendency to wobble." Nonetheless, 95 percent of audiences loved it, according to Rotten Tomatoes, and isn't that all that really matters? Ghostbusters: Afterlife stars Finn Wolfhard (Stranger Things), Carrie Coon (Fargo), Mckenna Grace (Young and the Restless), and Paul Rudd (Ant-Man). It's a direct sequel to the original '80s Ghostbusters films. The movie has been delayed four times due to the COVID-19 pandemic, but has finally been released in the United States on November 19. When you're done being mesmerized by People's 2021 Sexiest Man Alive Paul Rudd, here are five movies you should see after Ghostbusters: Afterlife.
1. The original Ghostbusters
Having just watched Ghostbusters: Afterlife is the perfect excuse to blow the dust off the old CD or DVD player and rewatch the original Ghostbusters for the nth time. The one that started it all, Ghostbusters starred Bill Murray, Dan Aykroyd, Sigourney Weaver, Rick Moranis, and the late Harold Ramis. Most of the original cast lent their presence to Ghostbusters: Afterlife. If you've never watched the first Ghostbusters ever (which probably means you've been living under a rock or you're younger than the very first iPhone), boy are you in for a treat. This goofy, loveable classic is must-see cinema that simply can't be missed. If you're not watching it for the plot, watch it for Bill Murray. Kathleen Carroll's 1984 review of the movie for New York Daily News especially highlighted Bill Murray's performance: "Ghostbusters is primarily a showcase for Murray, who slinks through the movie muttering his lines in his usual cheeky fashion and getting off an occasionally hilarious crack that proves he's thoroughly enjoying himself." Gene Siskel of the Chicago Tribune that same year wrote a glowing review of Murray: "Still, on balance, 'Ghostbusters' is a hoot. It's Murray's picture, and in a triumph of mind over matter, he blows away the film's boring special effects with his one-liners. Spotting a lusty, totally transformed, fire-breathing Sigourney Weaver, whose body has been overtaken by a spirit, Murray walks past her saying, 'That's a new look for you, isn't it?'" Fun fact about the first Ghostbusters: it was actually nominated for two Academy Awards. The first one was Best Original Song for the song "Ghostbusters," losing to Stevie Wonder's "I Just Called To Say I Love You" from Woman in Red. The second one was Best in Visual Effects, losing to Indiana Jones and the Temple of Doom.
2. Ghostbusters II
If you're still high on Ghostbusters: Afterlife's pleasant visual effects and exciting storyline, this little-known sequel might sober you up a bit. Not everyone knows Ghostbusters II even exists, but it's there and has the same cast as the original. In this sequel, which takes place five years after Ghostbusters, the crew pursues careers outside the paranormal, having been sued for the damages they inflicted during the first movie. Circumstances beyond the natural lead to their eventual reunion, and soon enough, they're out again busting them ghosts. Nothing bad can be said about how the cast performed in the movie, and it did have its amusing moments, but overall, Ghostbusters II was a low point in the franchise. Ghostbusters II was a commercial failure and was heavily panned by critics, with film critic Gene Siskel, who previously sang the first movie's praises, dismissing the movie with the following scathing review, according to Inverse: "It looks as if the filmmakers, particularly the writers, simply didn't try to do anything special… It comes across as if the guys were filming the first draft of a script." It's still a movie worthy of a watch, however, especially if you've just finished Ghostbusters: Afterlife.
3. Ghostbusters 2016 Reboot
If you're like everyone else, you're also probably pretending that this female-led relaunch doesn't exist. But if we're talking about movies to watch after seeing Afterlife, you simply can't miss this one. While it didn't capture the magic of the original Ghostbusters (which is a tall order in itself), the entertaining performance of Kristen Wiig, Melissa McCarthy, Kate McKinnon, Leslie Jones, and Chris Hemsworth should be more than enough to compensate for everything else that this movie lacks. If you're still looking for reasons to justify watching the reboot, refer to this encouraging review from Angie Han of SlashFilm: "At the end of the day, those who hoped the new Ghostbusters would be just like the original will probably be disappointed. The comedic sensibility is more Paul Feig than Ivan Reitman, the characters and their relationships to one another are completely different, and it all feels more like a 2010s blockbuster film than a 1980s comedy adventure (for pretty obvious reasons). But those willing to roll with the changes will find an entertaining comedy-adventure full of new characters, new gadgets, new monsters, and new possibilities."
4. Casper
Starring Cristina Ricci (The Addams Family) and Bill Pulman (Sleepless in Seattle), 1995's Casper is a live-action take on the cartoon character Casper the Friendly Ghost. Why Casper? Aside from it being another charming movie about ghosts, Dan Aykroyd's character, Ray Stantz, makes a brief appearance in the film. Casper is a classic in its own right, although it also opened to mixed reviews during its release. More recent reviews have been more positive, however, with Refinery29's Anne Cohen writing, "it's a funny and often poignant film that's worth reexamining today."
5. Be Kind Rewind
We'll deviate a bit from keeping this list strictly within the Ghostbusters universe to allow one movie that instead heavily references Ghostbusters the movie. Be Kind Rewind stars Jack Black (School of Rock) and Mos Def (The Hitchhiker's Guide To The Galaxy), who plays a video rental shop attendant. In the movie, the two (badly) recreate scenes from Ghostbusters after accidentally erasing their VHS copy of the movie. Little did they know that their recreated scenes would prove more popular with their customers than the original movie.
Tell us what's wrong with this post? How could we improve it? :)
Let us improve this post!