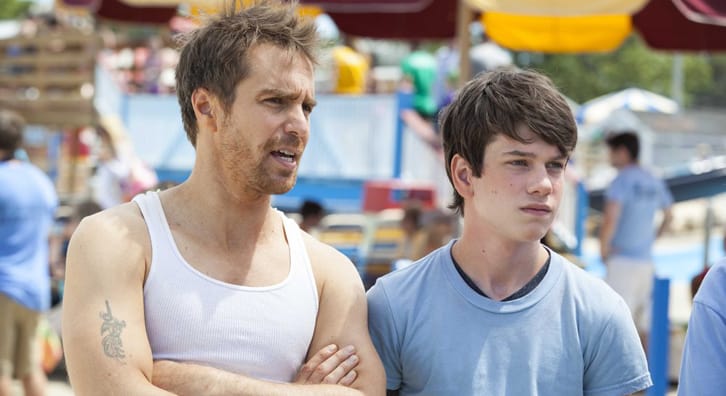 Feelgood movies are a dime a dozen, maybe even less, but the best of them are those that can turn a person's emotions on and play them like a fiddle as the movie goes along. On that note, Duncan is a nice kid, but also a quiet kid, that has his mother and his mother's boyfriend, Trent, as his role models, and is otherwise a character that the audience can't help but think is kind of a weak personality. But somehow, this still works for him since it allows the other characters in the movie to shine as Duncan's mother Pam comes off as a woman that loves her son but is not a confident individual, which is why she's with Trent, who's played by Steve Carrell. Trent comes off as an absolute jerk since in the opening scenes he asks Duncan what he thinks he is on a scale of one to ten in an attempt to gauge Duncan's personality. When Trent says Duncan is a three, it's kind of obvious how the relationship between these two is going to go throughout the movie.
It doesn't help that once they all reach the beach house, that Trent owns, there's another woman in the neighborhood that happens to fancy him and has a history with Trent who starts pushing up on him, sometimes in front of Pam. From the get-go, this has the feel of a movie where the main character is most definitely out of place. Duncan is a shy kid that doesn't have a lot of social graces and feels out of place no matter where he goes. But when he meets Owen, who's played by Sam Rockwell, Duncan's life begins to change subtly at first, since he doesn't know what to think of the strange but friendly waterpark manager that doesn't like patterns and systems. Owen is the type of guy a person might meet in their life that feels so wildly out of control that he might not be the kind of personality that everyone finds appealing.
But when Duncan visits the waterpark and catches Owen's eye it becomes a case of the older, supposedly wiser mentor that takes in a kid that needs to loosen up a bit and have a lot more fun. Before any of this takes place though it becomes evident that life in the beach house isn't perfect since the woman that's still in love with Trent keeps pushing up on him. Pam starts to notice, but says nothing, while Duncan continues to be humiliated and treated as an outcast. The movie makes a person feel for Duncan since he is a shy and awkward kid that doesn't appear to fit in, but he's friendly enough and ends up having enough charm in him that once he's hired on at the waterpark, and earns the name of Pop n' Lock, he begins gaining the kind of confidence that makes him even more interesting. As he gains more notoriety around the park, Duncan finds that he can finally enjoy his summer. That changes just a bit when a party is held, a party at which many of the neighbors attend, and Trent and his former flame are seen by Duncan in the shadows.
When he causes a scene and runs off he makes his way to the waterpark with one of the neighbor kids, who he's come to think of as a friend, only to find that there's a party going on with the employees and their friends. The two boys are allowed into the party where Owen asks him if everything is alright, and allows him to stay for a while. When morning comes and Duncan is still there, however, he and Owen have a heart-to-heart discussion, where Duncan opens up fully to Owen by telling him about Trent and their issues with each other. Owen makes it clear that as much as Duncan loves the waterpark, it's only fun for a season before the fall and then the winter hits, and the small-town feel crowds in as the tourists leave and the locals do what they can to get by. Those that have come from small towns that thrive on tourism know the feeling, and can easily relate since once the tourism dies down for the season, talking to the walls becomes a very real option.
At the end of the movie Duncan says goodbye in the only way that makes sense as he challenges Owen in a race down the water slide, as the idea is to pass Owen on the way down, which is something that is debated as being possible at one point in the movie. All in all, this movie is a fun look at what it means to be an awkward kid that just needs a chance to shine.