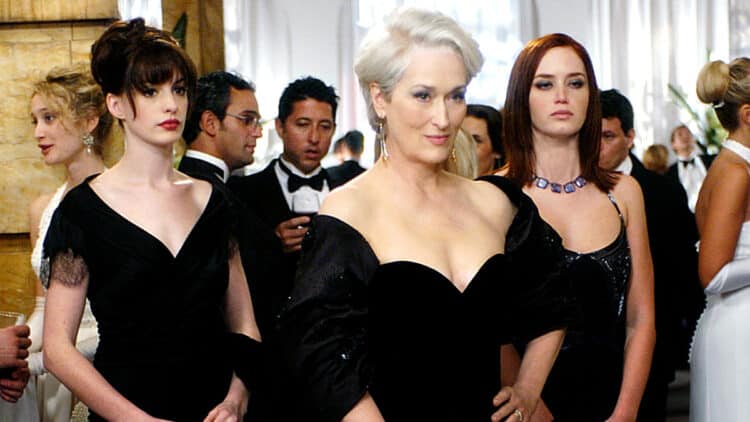 Maybe it's a desire to not think of the fashions that we wear on a daily basis but instead, see it as clothing that suits a need in form and function, or maybe it's the fact that the fashion world has a bad reputation for being filled with snotty, stuck-up individuals that tend to push the idea when it comes time to make a movie. But the fact is that The Devil Wears Prada does display some of the worst possible attitudes one could dream up, as well as several of the best, since labeling this movie as a tribute to how the fashion industry styles itself as overly important and the arbiter of all that's popular isn't entirely accurate. Many have already indicated over the years how accurate this movie is, and how it glams up several points of the fashion industry to a level that is unrealistic but not too far off the mark. If any of that is true, and if this movie shows even an inkling of how this particular environment operates, then it's fair to say that some of us aren't cut out for this gossip-heavy industry.
The plight of Andrea, played by Anne Hathaway, as she attempts to join the Runway team to become an assistant to the editor in chief, Miranda Priestley, played by Meryl Streep, is kind of comical since one can imagine that her style of dress and manner would be accurate for a first-time interviewee who didn't do their research into the company they're applying to. Hey, it does happen, right? But at the level of employment Andy is seeking, and after hearing that she graduated from Northwestern University, one would assume that she would be far more professional in appearance. In a fashion-driven magazine, one would even think that someone would either play the part or seek employment elsewhere. As a writer that has sought a place of employment in the past, knowing something about the industry and the specific job isn't a must, but it is a leg up that many are smart enough to seek out.
After being hired against all odds, Andy slowly but surely begins to realize that like any industry, fashion does serve its own purpose and filters into the lives of many people throughout the world, though Miranda's explanation feels a bit grandiose after the first couple of sentences. Fashion indeed inspires and influences a great deal of what we wear and what appeals to the eye, but sometimes a shirt is just a shirt and a pair of pants is preferable to going out in one's underwear. In other words, fashion is important to a point, but when it's taken as the most important part of one's day, well, it feels as though a few priorities might have been screwed up along the way. As the movie continues however it is shown that the perfection that so many at Runway appear to prize is an elusive quality since it takes so much work to attain for a handful of seconds before something is passe and dull. Let's put it this way, when facial gestures can be used to determine if something is acceptable or not, it feels as though things might be a bit imbalanced. Heaven help a person that has to sneeze, as they might cause a seismic shift in the fashion industry.
The fact that Andy begins to lose who she was before Runway is easy to see as her fashion sense begins to override her common sense as her relationships begin to stumble and stutter until she has no one to turn to but those that she comes to rely on in the fashion world. To be fair, Nigel, played by Stanley Tucci, is a pleasing confidante once he opens up since he becomes a worthwhile mentor to Andy and someone that she can talk to in a genuine and caring manner that isn't all business and doesn't become the latest gossip of the office. As to her relationship with Miranda, the idea of calling her a glorified servant isn't too far off the mark since there are bosses that will be hard on someone because they believe in them, and then there are bosses that are hard for a reason but are cruel for very personal reasons.
This movie isn't horrible, but it does feel like a lot of people would gladly tell Miranda where she could put her morning coffee and every other demand. It does pay to be a Meryl Streep fan when watching this movie, and admittedly I'm not, so personal bias being what it is, she's a great actress, but no more enjoyable than she's been in…well, anything really. In all honesty, this movie has a few laughable moments that are great since they feel like much-needed comeuppance, but when deciding to judge a movie like this, it's best to take a reasonable approach since it's easy to condemn an industry that one only sees represented in stereotypes on occasion. To be honest, the glimpse into the fashion industry that this movie gives is that it's just as demanding as any other industry, perhaps even more so.