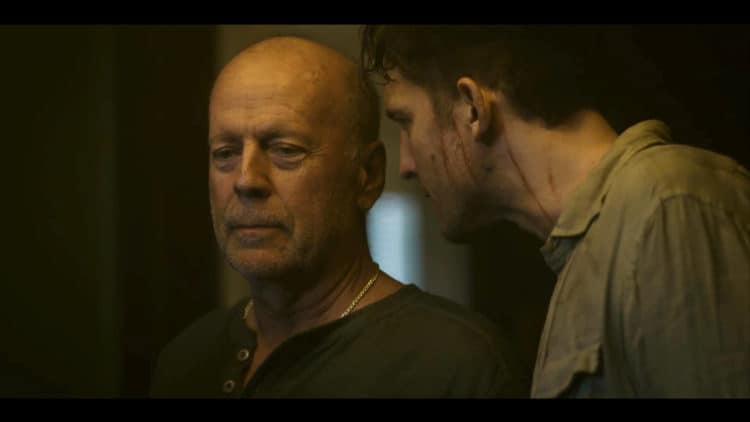 So many people have been wondering why Bruce Willis continues to show up in movies that are, shall we say, less entertaining than the stuff he used to do, and so far there isn't a solid answer that a lot of people are willing to accept. There are a lot of different explanations being given by fans, but Survive the Night isn't exactly the worst, even if it's not among the best. The movie itself is simple and to the point, which makes it feel as though it could have been a lot shorter and part of an anthology movie or just marketed as a short film. In any case, this movie reveals pretty much everything in a blunt and very open fashion as things progress. Jamie and Matthias, two brothers on the run after a robbery, attempt to hold up a convenience store only to be confronted by the clerk after Jamie takes a woman hostage and then shoots her in cold blood. The clerk manages to shoot Matthias in the leg before Jamie guns him down, and the two are forced to run.
A disgraced physician named Rich, played by Chad Michael Murray is forced to take the bullet out of Matthias' leg after Jamie and Matthias take Rich's father, wife, and daughter hostage. Unfortunately, Frank's wife Rachel is killed in the process, and Frank makes it clear that he's going to kill Jamie when he gets the chance. After a knife fight in which both Jamie and Frank manage to wound each other, Frank escapes the house while Rich threatens to sever an artery in Matthias' neck if Jamie doesn't let his family go. Jamie shoots him in the shoulder as a result, but Rich still manages to get away and meets his father in the garage a short time later where he instructs Frank on how to treat his wound.
The two then lure Jamie away from the house as Frank takes off in his car, prompting Jamie to follow him, while Rich and his wife and daughter reunite, but are subdued once again by Jamie when he returns. Jamie forces Rich to keep working on his brother, but Matthias dies during the operation. Jamie becomes a bit distraught and unhinged as one might guess he would, and when he takes off after the family once again, he and Rich have a shootout, in which Jamie is finally put down as he crawls back into the house, where he dies atop his brother. The family then reunites on the porch, and all is well, as much as it can be. Like many of the other movies that Willis has done lately this one felt like it gave up too much all at once and didn't offer enough in the way of a reward to the audience. It does feel as though Willis is working just for the paycheck at this point, but many would argue that he's not that big of a draw in Hollywood, and is now seeking to elevate movies that aren't considered any better than direct to video. There are a lot of fans out there that are waiting to see what the deal is all about, but what's kind of obvious is that Bruce is willing to work, which is all that needs to be said.
Movies like this are far removed from the Die Hard days and even Hudson Hawk, but if Bruce is willing to make it happen and keep taking on these roles then oh well, more power to the guy and let's just say that he's doing what he wants. This isn't bound to win that many awards, if any, for the acting or the story, but it's something at least, and it's not the worst movie to ever be thought up. At this point, it would be interesting to sit in on the conceptualization process to see how things are shaping up. It's fair to think that these movies are being slapped together using a fair number of common elements that have been used in numerous movies and are still considered to work. Of course, one can imagine that all needs to do is mention that Bruce Willis will be in the picture and everyone is on board immediately.
That sounds like the worst idea in the world when it comes to making a movie, but the truth is that a superstar's name is worth a lot when it comes to who's starring in a movie and what they can do to elevate the feature. Despite the direction in which his reputation has been going, Bruce Willis is still a big name, and one that a lot of people are willing to watch no matter what he's in. The fact that the movies he's starred in lately have gotten any attention is proof of that.
Tell us what's wrong with this post? How could we improve it? :)
Let us improve this post!