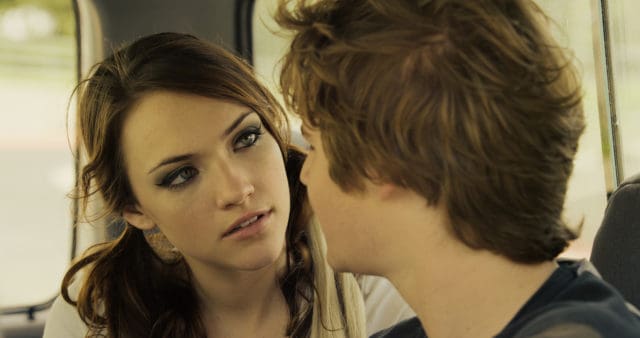 Some people might wonder who Violett Beane is but a quick online search will pull up at least a few things that might familiarize you with this up and coming star that could give you an idea of what she's in and how talented she's proving to be so far. It's a little difficult to say that with any assurance since she has yet to really prove herself, having been around for less than half a decade so far, but there's promise there. She made her way to the big time after all, that's a major step right there.
Now she just needs to prove that she deserves to continue forward. So far it looks promising.
5. She has a prominent part in The Flash on the CW.
Her role on the CW superhero show is that of Jesse Quick, a college student that gets caught up between the intense battle between Barry Allen and Zoom. In the comics the character become a superhero in her own right and on TV it looks like she might have been given the chance as well. Becoming a superhero on TV is nothing to laugh at or even be disappointed in since it's a big step up for any actor.
4. Violett is relatively new to the industry.
She just got started in 2015 so it's safe to say that she has an upward climb to make to really get to the same level as a lot of the veterans and even those that have been there for five to ten years. So far it doesn't seem like she's having any trouble just getting right in there to get going. But until she becomes someone of note it's likely going to be that she'll still be the person that people are unused to seeing.
3. She has a part in the movie Truth or Dare.
This violent horror film takes on the classic game that so many people have played for so many years with a horrific twist. The entity making people take the dare doesn't seem inclined to be satisfied with the truth, and if a person refuses to do a dare then they forfeit their life and are immediately killed in some terrible way in the next moment. It might make people think twice about playing the live game any longer.
2. One of her films focuses on a real life shooting.
The real life shooting at the University of Texas in Austin that took place in 1966 is a very controversial subject but one that inspired the movie Tower. The film was an animated documentary in which Beane portrayed the part of Claire Wilson, an unfortunate survivor that lost her unborn baby and her boyfriend that day. Let it never be said that she's taking on easy roles to ascend to the top.
1. It wasn't until her senior year of high school that she thought to pursue a career in acting.
She still had a good enough jump on deciding what she wanted to do in order to get started fairly early. High school is more about figuring out just which direction you want to take in life, even if some people have a career before they receive their diploma.
She's on her way up.
Tell us what's wrong with this post? How could we improve it? :)
Let us improve this post!