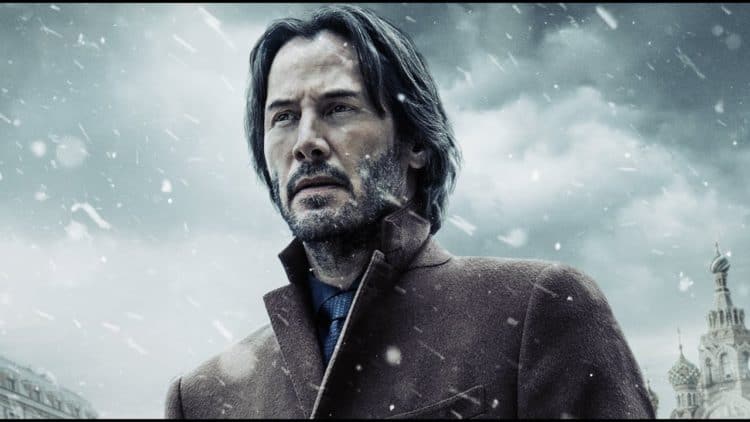 It's not common that one sees Keanu Reeves in a movie that depicts him as anything less than a hero or a troubled hero, or at the very least, someone that needs to believe in himself. But as Lucas Hill, he's not exactly an evil human being, but he's not really someone that people might recognize either. Till is a diamond merchant that travels to Russia to sell several rare blue diamonds to a dangerous gangster, but upon reaching the country he finds that his partner, Pyotr, has gone missing. The biggest problem is that the diamonds have gone missing along with Pyotr, meaning that Lucas is in serious trouble right away. When the gangster he's dealing with gives Lucas 48 hours to find the diamonds and Pyotr. Unfortunately, try as he might, Lucas can't find any sign of his partner, though he does encounter two men that don't appear to enjoy when he sticks up for a waitress named Katya when they continue to speak to her in a vulgar manner. After leaving the diner, Lucas is knocked unconscious by the two men and then saved by Katya.
It's revealed that Lucas has a wife back in the states, as he speaks to her via laptop. This makes his dalliance with Katya feel even worse, but as it's revealed that his mind is almost entirely on the diamonds it does make Lucas feel like a character that has a heart but can push it aside easily in favor of doing business. On one hand, his business is dangerous enough that he needs to be as shrewd and cool as ice, since his customers obviously don't care about emotion and are ready and willing to do anything that serves their own interests. As a result, Lucas kind of needs to be an unfeeling individual that can't let feelings get in the way all the time.
As Lucas digs deeper into his problem he finds Pyotr's brother, Andrei, who reveals that Pyotr tried to sell fake stones to another man, but hid the real ones. That still leaves the problem of where Pyotr is, and where the diamonds are. Finding a real diamond in a candle, Lucas then finds a fake diamond in another candle that he has Katya bring to him in St. Petersburg. Once the diamond is delivered to the gangster he's dealing with, the man demands that he and Lucas become blood brothers, which means that while Katya gives the gangster oral pleasure, another woman will do the same for Lucas. While this angers Katya she understands that refusal of this ritual would get them both killed. It's fair to say that Lucas cares for her, but at the same time, he still keeps her at a distance in a way. Since Katya is the one that initiated this affair, one can't feel too angry at Lucas, though he's not the best human being in this movie, even if he's far above those that are trying to harm him and Katya. The point is that Lucas is someone that's caught in a trap that's not entirely of his own making, and as the walls start to close in he continues to realize that there might not be any way out.
Things get even worse when he's forced into a deal with the local authorities, who are of the mind that he should leave the country as soon as possible but not before getting the gangster to buy the fake stones. The downside of this is that Lucas won't have a lot of time before the gangster finds him and exacts his revenge for selling him fake goods. On the other side of the coin, the FSB would don't appear too concerned about his welfare, and let it slip that the gangster wouldn't just come after Lucas, but that he would go after Lucas' wife and Katya as well. This entire movie has a sense of menace to it that can't be avoided, as even the moments of passion appear to come with a serious price that Lucas appears ignorant of at first, but ends up paying for in the end.
When he does finally find Pyotr he locates his partner in a shack in the woods, already dead. There's no sign of the diamonds, and worse than that, the gangster has sent hitmen to take him out. Armed with a rifle that Katya's brother leaves for him, Lucas ends up taking out all but the right-hand man of the gangster, who ends up shooting him in the back. One can almost believe that it might not be a fatal shot, but this isn't John Wick, and as the credits start to roll, it's obvious that Lucas is very dead. It's a different type of movie to see Keanu Reeves in, but it was fairly interesting.