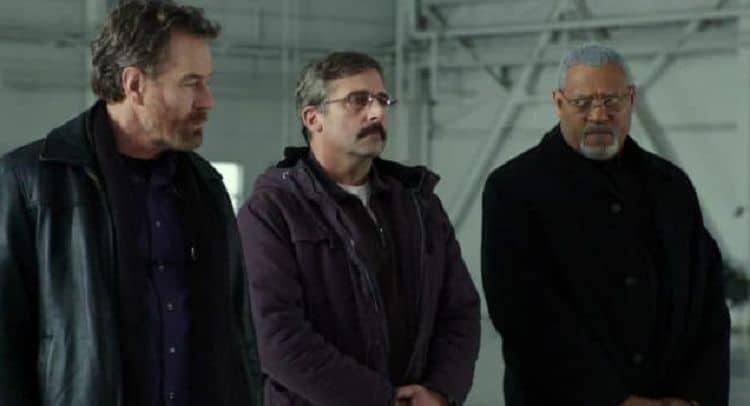 Looking at the military from one perspective or another gives those of us that have never served a bit of confusion since there are many, many tales of those that have served their country and what they end up thinking about the experiences they've had. At the core of many beliefs is the idea that America is a nation worth fighting for, and that dying in service to your country is both honorable and expected while serving. It's tough for civilians to understand at times, but those that have served in the past understand what the soldiers of today are going through since they've been there and done it. This story is one of those that a lot of people that have served might understand given that Sal and Mueller, played by Bryan Cranston and Laurence Fishburne respectively, remember the furious days they lived through and are eventually able to bond once again over the memories they share. The main point of this movie, retrieving the body of Larry "Doc" Shepherd's son, Larry Jr., becomes a trip into the past that helps to secure the present as the three men embark on a trip that cements the bond that was never fully formed.
The story starts with Larry visiting Sal's bar where he eventually reveals who he is, as Sal doesn't recognize him at all, to begin with. When Sal does recognize him it's like old times again as he recalls all the moments that he spent with Doc. Cranston ends up playing a character that has no filter due to a head injury that was sustained during his time in Vietnam, but he also comes across as someone that is colorful in a way that's entertaining since he's a stark contrast to the quiet and reserved character of Doc. In a big way, one could easily see Sal as the type of guy that hit his adolescence and never really grew up but is still able to function as an adult, somehow. 
After convincing Sal to take a drive with him, Larry admits that he looked up another one of their fellow soldiers from back in the day, Richard Mueller, who is now a preacher. From the outset, it's obvious that Mueller isn't that happy to see his old buddies, especially Sal, since they represent a darker time in his life. But when Larry reveals that his wife died of cancer and his son was shot in the line of duty, Sal is all-in when Larry asks them to accompany him to retrieve his son's body and take him to Arlington, where he'll be buried as a hero with full honors. Mueller is hesitant, at least until his wife makes it clear that a friend in need is not something he can turn away from. And as a result, the trip is on, and Sal and Mueller continue to bicker back and forth concerning their years in service, their faith, or lack thereof, and everything that might be best for Larry when it comes to burying his son. Along for the ride are Charlie Washington, a friend of Larry Jr.'s and a fellow soldier. The anecdotes that Sal and Mueller reveal to Washington help the men to bond during the trip, but Washington is in a tough spot since his commanding officer has made it clear that the army's story of Larry Jr. is the story that needs to be told, and that Larry Jr. needs to be in Arlington, not buried in a civilian cemetery.
The trip continues to test Mueller as Larry Sr. continues to open up to his old buddies, while Sal continues to be Sal, though he does start to come around to a different way of thinking. Eventually, it doesn't matter that Sal is still a jerk, he's still one of the guys and he's still there for his brothers in arms, while Mueller begins to recall the same mindset. In the meantime, the trip continues to roll on in a fun manner but also starts to lag on after a while. There is a lot of good content in the movie and there are plenty of moments in which the three men show a good deal of chemistry even though Larry is so quiet and reserved. When he opens up, he's a decent character. 
The camaraderie in this movie culminates at the end when Sal and Mueller oversee Larry Jr.'s funeral in their dress blues, folding the flag before presenting it to their brother in arms as Larry is given the dignity and the honor of watching his son's sendoff in the company of men that he respects. Reading the letter given to him by Washington, and written by his son, Larry finds out that his boy loved him very much and was prepared to die in service to his country, and requested to be buried next to his mother, in his uniform. The depth of feeling in this movie is great, but it's fair to say that it falls a little flat, though it's not too hard to pick it up if one knows how to accept a story for what it is.