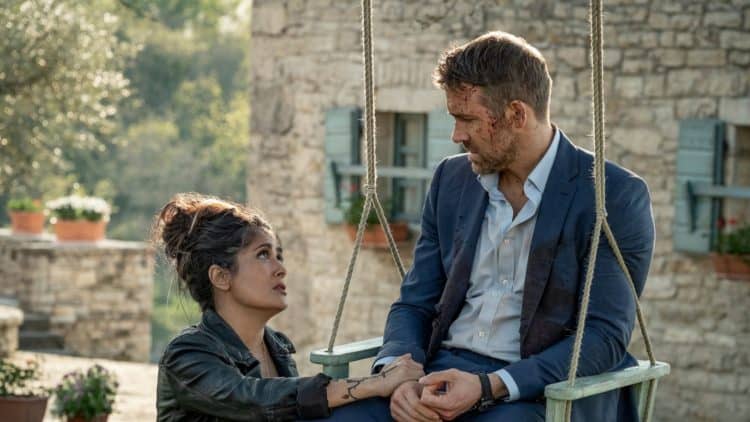 It's not that tough to see why critics would blast this movie since quite honestly it was all kinds of ridiculous from the beginning to the end. The comedy is still there, the action is still there, but this movie tried to double down on both, and yes, it did fail. What it did was turn a halfway decent action/comedy movie into a running punchline that was so filled with horrible one-liners and catchphrases that it had to bring in a couple of other big names to make it worth watching. Plus, what it did to the character of Michael Bryce was effectively neuter him for a good chunk of the movie, since his 'sabbatical' that's brought on by his inability to let go of the past becomes the reason why he's seen as such a whipped individual that can't do much of anything for himself. As far as Darius Kincaid goes, he becomes little more than a comical version of the deadly killer that was so impressive in the first movie, and as for Sonia, she appears as a rather unhinged individual that's so bent on starting a family that she does something rather drastic at the end of the movie.
The movie starts by showing that Kincaid isn't the only one that absolutely can't stand Bryce's continual whining, since even his therapist is glad to see him leave her office. When he does go on sabbatical, he's heard leaving himself messages to bolster his mood, which only makes him look like even more of a wuss since he refuses to pick up a gun or even engage in violence. when Sonia shows up at the resort he's vacationing at she upsets his already delicate peace of mind by dragging him into a rescue attempt to free Darius, which turns into another bloodbath and ends up revealing that Darius said to bring anyone BUT Bryce.
From there, Darius and Sonia continue to downplay Bryce's abilities and continue to harass the guy as he does his best just to get through each situation they put him through. To make a long story short the trio gets caught after shooting their way out of one situation after another, they're enlisted by authorities to take down a crime boss by the name of Aristotle, who turns out to be a former mark of Sonia's. To make matters worse, at one point they meet Bryce's father, or stepfather at least, who ends up betraying them as he works as head of Aristotle's security, and doesn't want his reputation tarnished by Bryce, who is considered to be bad luck in the security business. Making matters worse, the trio continues to do things their way as the comedy and the action continue to ensue and Sonia does her best to make Bryce feel appreciated, even while Darius is doing his best to say what he really feels, which means he's bound to put Bryce down one second after the other. In a big way, this movie feels like a giant joke on Bryce, and yet he comes up big near the end when it comes to facing off against his stepfather and helping to save Europe from a device that could cripple the continent in a major way.
After watching the movie it's easy to think of how critics took a look at this and made up their minds that the movie wasn't even close to being the same caliber as the first one. For some odd reason, the writers decided that Bryce needed to become the whipping boy of the bunch, while Sonia was the out of control and amped up character of the group, while Darius eventually became the goofy husband despite keeping his same level of skill when it came to killing. It was interesting to find out Bryce was the reason that Darius couldn't get Sonia pregnant since, during a hit, Bryce returned fire without knowing it was Darius, and hit him in the groin. It's poetic justice in a way, but despite this small victory, Bryce is still more or less the character in this story that comes off looking the weakest. It has to be said that this movie could have been great, but it went so wide of the mark that it ended up nearly becoming a different movie altogether.
The final twist at the end of the movie, which I mentioned above, comes when it's made apparent that the trio isn't going to be held, but still isn't exactly in the best graces of law enforcement. When Sonia brings a paper for Bryce to sign he gets excited that he's going to get his bodyguard license back. But when she announces that they've adopted Bryce, the credits start to roll and it's likely that fans were feeling just as surprised as Bryce and Darius, and were wondering what they'd just been subjected to.