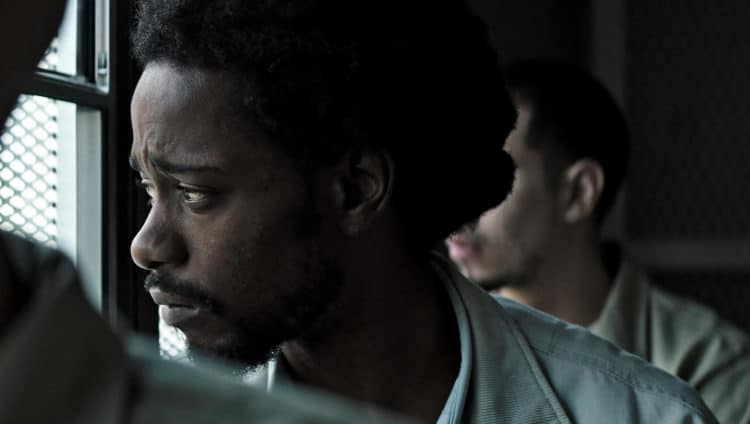 Based on the true story of Colin Warner, a man who was wrongfully imprisoned in 1980 for a murder he didn't commit. Some might want to think that it could have been a cut and dried case, but it becomes obvious through the movie that this isn't how the justice system works, and that being innocent doesn't save one when those that are searching for a subject need a scapegoat. Warner, who was arrested when he was nowhere near the act committed, spent a huge chunk of his life behind bars for a crime he didn't take part in. To be fair, Colin wasn't a completely innocent individual since he was seen as a burglar and a car thief, but murder carries a much longer sentence in this tale, and worse than that is the fact that no one believed that he was guilty without a shadow of a doubt. Despite that, the manner in which the justice system works made it nearly impossible for Colin to obtain his freedom, and while his friend, Carl King, was willing to go to any length to obtain his release, it was seen that this was far easier to say than do.
A movie such as this doesn't say much for the American legal system since all that is really made clear is that the system is broken in ways that make it difficult to nearly impossible to get anything done unless those in highly influential positions can make something happen. In Colin's case, very little if anything appeared to happen when it should have, and as things continued to happen to Colin, it became apparent that those who were against him were more than ready to say and do anything that would keep him behind bars. Those that were on the outside trying to get him out did everything they could, and more, to ensure his freedom, but were denied again and again.
The level of inequality shown in this movie is appalling, not to mention that it's a bit more realistic than other stories might get. But the fact remains that as a true story this was and is something that continues to plague America as the legal system is a broken thing that can bury a person as much as it can vindicate them. In Colin's case, if the story is true or has even a grain of realism to it, he was not a model citizen, but he didn't deserve to be slapped with a murder charge that would keep him in prison for such an extended period. There are likely only a handful of people who would end up spending so much time to free someone from prison and go to such lengths that it would force them to nearly lose everything they had in the process. That's true dedication to a cause and the type of belief in someone that is hard to find at times, particularly because it requires the type of sacrifice that many aren't willing to make, or don't think that they can. The fact that Colin apparently allowed despair to drive him to certain acts inside prison is worth a debate that might not end for a while, but the main point of the story is something that can't be disputed.
The mere thought that the legal system could do something like this, and that it's been doing even worse than this over the years, is enough to get activists riled and ready to protest in front of prisons, courthouses, and the like. The sad part is that the more visceral reaction that many people have to stories such as this aren't wrong or even unjustified, but they're not nearly as useful as people think since drawing attention to the problem is a great idea, but ranting and raving don't always serve the same purpose as finding a way to make the broken system finally work by reminding those in charge that if they're working by the system then they're going to have to take everything into account, not just what they feel is pertinent. Carl King is shown doing a phenomenal job when it comes to not giving in or giving up, but the acting conveys at least the idea of how difficult life was for those that were involved in this matter.
Trying to imagine the loss of one's freedom is a truly horrible thing since some don't even want to touch upon the subject as it brings to mind the gut-wrenching feeling that they're not in control, and that they have no say over how their life will go from that point on. But the perseverance and willingness of Carl to push forward and seek his friend's freedom were inspirational, as well as torturous to watch at times since it leaves a person thinking 'Could I do this?'. The answer that some might give would be a resounding no.