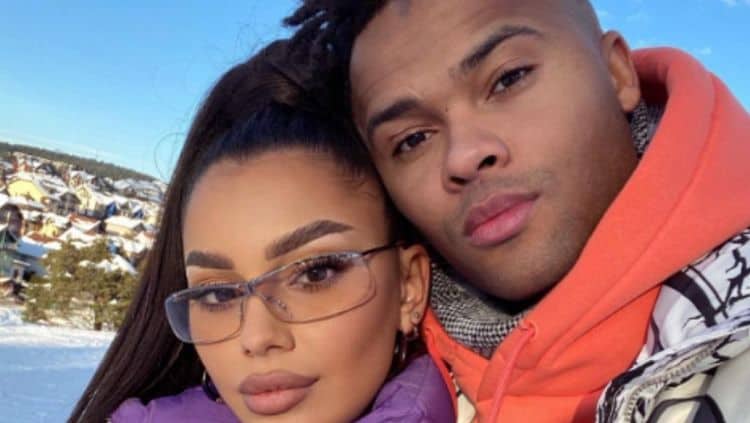 When fans of the hit show 90 Day Fiance were first introduced to Miona Bell, they didn't know what to think. As her time on reality television continued, however, many fans formed strong opinions. For instance, some dislike her because they feel she is not representing herself accurately. Some think she is up to something shady, and others think that she's a mess. However, there is one thing that we all think – she's fascinating, and we do want to get to know more about her.
1. She is in Love with a Rock Star
She met a rock star, and his name is Jibri. He's the frontman in a band, and he was touring the world and doing big things. However, the LA-based rocker was forced to move to South Dakota when the pandemic hit and his band had no work. She's not loving that he is not currently the same person he was when they met.
2. She Doesn't Want to Live with His Parents
At the moment, this couple is living in his parent's home while he waits on his band to earn more work and book more gigs. She's not thrilled with it. She feels that she should be in New York and LA and traveling the world with his band rather than in a Rapid City home. She feels she is living like a middle-aged person when she should not be.
3. She is from Serbia
This young woman came to the states from Serbia. She met her fiancé when he was touring in her area, and they have been together ever since. It almost love at first sight, and he proposed to her quickly. She moved to the states with a visa, and she's been planning her wedding since.
This might be as new a term to you as it was to us, so here's what it means. Blackfishing is when someone who is not black tries to appear black. Her looks have certainly changed recently. She's gone from having very light skin to significantly darker skin, tighter curls in her hair, and she seems to have her lips done, too. Many people on the internet have noticed, and they are not impressed.
5. She is a Makeup Artist
By trade, she works as a makeup artist. We can say with certainty that her skills do seem impressive. Her work is something she does on her own face, and she has beautiful skin, beautiful makeup, and she always looks lovely. She is likely a talented makeup artist.
6. She is Married
It seems that even though she portrays herself as a fiancé, she is already married. The couple does not confirm that they wed, but they often refer to one another as husband and/or wife, and she also uses his last name. So, does this mean the wedding they are planning is something they are doing to appease their own families?
7. She is Not Happy Being Bullied
She's not thrilled with accusations of blackfishing. She's so upset by it, in fact, that she calls it being bullied. Both she and Jibri have asked their fans online to help make the bullying stop, to bear with them during this difficult time, and to stand by their side. It has affected her negatively, and she does not appreciate that.
8. She Says Always Accurately Represents Herself
She is a woman who says she always represents herself as she is. She is a woman from Serbia, and that is her life. She will never try to be anything other than that, and she's not in this world to pretend to be someone she is not. She's not happy with all the rumors, and she's just trying to be true to herself.
9. She Says Her Life Was Humble
Though her life is quite different now, she does say that she came from a much different background. Her family had never been on a plane before – her sister and mother still have not, according to one interview with the reality star. She said her life at home was much more humble than it is now, but she also won't apologize for liking what she likes and doing what she is doing.
10. She is Private
She's a young woman who is surprisingly private given how much she does share. The truth of the matter is that we really have no clue what is going on in her life. She shares what she wants to share, but she doesn't go too far into detail about much of anything.
Tell us what's wrong with this post? How could we improve it? :)
Let us improve this post!