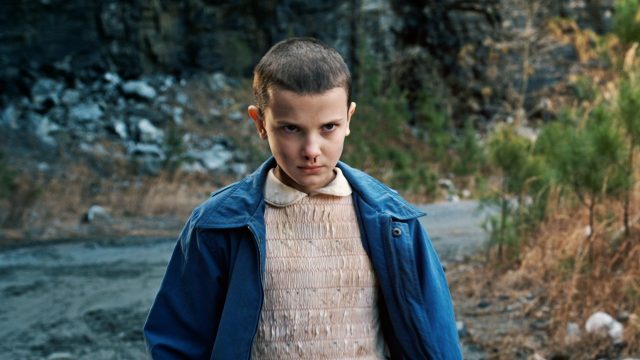 Season 2 of Stranger Things has made the series a real cultural phenomenon. For proof, look no further than the fact that more than 15 million people had checked out the premiere by its third day on Netflix, which is a remarkable number by any standard of measurement. As a result, there are reports that more than one of its cast members are getting payraises that are more appropriate considering the new status of the series.
In short, TMZ has reported that a number of the younger cast members are getting significant payraises. Generally speaking, they are seeing increases from an average of $30,000 per episode to an average of $200,000 to $250,000 per episode. However, it is interesting to note that Millie Bobby Brown's name stands out among these mentions, which suggests that her character Eleven has had that much more of an impact.
For those who are curious, TMZ claims that Millie Bobby Brown will be making $350,000 per episode in Season 3 of Stranger Things, which will add up to more than $3 million once the season is complete. This is a huge step-up compared to the $25,000 per episode that she would've received in the original contract, which wasn't that much more than what she earned for Season 2 of the series. Now, Millie Bobby Brown's contract is on the same level as those of the adult members of the cast, who are paid somewhere between $300,000 to $350,000 per episode.
Summed up, the cast members of Stranger Things are getting payraises that make their compensation more in-line with the new status of their series. However, even among the cast members, Millie Bobby Brown's payraise stands out.
Overall, the payraises make a lot of sense. After all, if something performs well, increasing the compensation paid to the people who made it possible is the natural response. In part, this serves to keep said individuals happy, thus ensuring that they can continue doing whatever it is that they are doing to make such success possible. However, it should also be noted that increasing compensation can set an excellent example to other people responsible for other projects by making it clear that there are benefits to getting results. Simply put, people need to be incentivized for them to provide better performance, with increased compensation being one of the most obvious choices because of its efficacy in achieving the desired results.
With that said, this is particularly important for Netflix because Stranger Things is one of its greatest successes when it comes to its original content. After all, Netflix has been channeling enormous sums into various projects, whether by funding their making or by securing the exclusive rights to them. This is critical because it ensures that Netflix will have the exclusive content needed to bring in potential subscribers even if its partnerships with other media creators fall through because of their interest in setting up streaming services of their own. As a result, it is no exaggeration to say that incentivizing successful projects as well as the people who make them possible is a critical matter for Netflix.
Tell us what's wrong with this post? How could we improve it? :)
Let us improve this post!