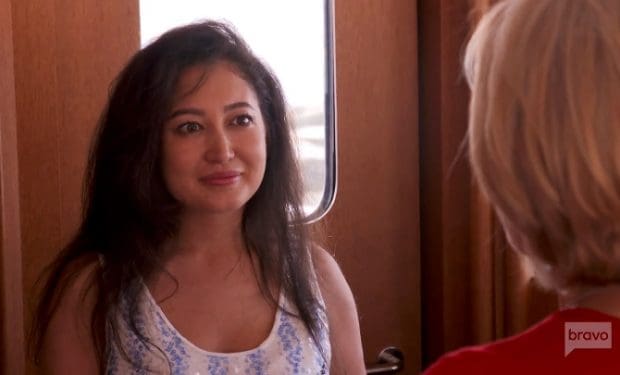 Mila Kolomeitseva is best known as a chef on the popular television series "Below Deck Mediterranean." She was given a shot on the series to show off her culinary talents, but it ended up not working out for her. Complaints about her cuisine left the yacht's captain Sandy Yaw, no choice but to fire her. She left the show, but not before collecting a following of fans who want to know more about her. After researching her past and present, we found some interesting fact about her, and here are 10 things that you probably didn't know about Mila Kolomeitseva
1. She made "Below Deck" history
While Mila may be viewed as one of the worst chefs in the history of the show, there is something else that she did first. She was the first female chef to be hired for the position of head chef. Mila's specialty is in the preparation of French/Mediterranean cuisine. Her galley was kept clean and well-prepared but those who worked with her discovered that she has a short fuse and if things didn't go to her liking, she was inclined to become quite animated, to the chagrin of the galley staff.
2. People thought she was a plant
Some people were surprised that Mila was brought aboard the boat and it was their belief that she was there as a production plant. It was insinuated that she didn't know what she was doing in the kitchen, although she has been trained at Le Cordon Bleu in Paris, the skills that one would expect a trained chef to have were not evidenced during her tenure on the boat, resulting in her dismissal. Captain Sandy Yawn along with other members of the crew deny these claims. It's still a mystery whether she was for real or not.
3. She's accused of being homophobic
Hannah Ferrier, who is the chief stewardess, shared her interaction with a fan on Twitter, who made a tweet. She was offended by some homophobic remarks made by the chef. Ferrier dealt with the situation by letting fans know that there were no indications of homophobia at the interview and that production had no way of knowing that this type of thing was going to happen.
4. Critics are going hard on Mila
Ben Robinson weighed in on the drama surrounding Mila's dismissal from the chef's position. He addressed the fact that her tenure resulted in somewhat of a "bloody nightmare" is an interview conducted by The Daily Dish, but he points out that she had just exited culinary school, she's young and she didn't have the experience that would make it possible for her to live up to the demands of a job that is really tough. He shared that he struggled himself, even after several years
5. She's determined to keep moving ahead
Mila is fully aware of what caused her downfall on the show, and she's spoken about it publicly. She admits that her ego is big, and she tearfully shared that she feels "awful." Still, she understands that the incident has brought her back down to earth and she vows that she will just work harder and keep moving forward with her career as a chef.
6. Mila served pre-packaged foods to upscale guests
We learned that Mila took a lot of shortcuts during her tenure as the chef on the boat. She used salsa out of the jar to make nachos and even used tortillas which were pre-packaged instead of making them from scratch, which is what would have been expected. She had a rough time even making pancakes from a pre-packaged box mix, which was a bit confusing since she's had formal chef's training at a prestigious culinary school.
7. Mila was isolated from the crew
There were a few incidents that drove a rift between Mila Kolomeitseva and the other members of the crew. First, she made the comment that she didn't want her son to see men kissing because it "isn't ….normal." This is the homophobic remark that was referred to earlier. Captain Sandy Yawn is lesbian and it's not cool to disparage the lifestyle of your boss in such a judgmental way. The next issue that the crew found disturbing is that she shared that she is a supporter of Vladimir Putin, the Russian President. Mila is a native of Siberia and it's understandable that she would feel that way, but it's not a good idea to talk about politics or gender bias with co-workers. This left her isolated from the group.
8. She's back in France
Mila promised to "pull out all the stops" for the next cruise and do a much better job if Captain Yawn would give her just one more chance, but it wasn't something that the leader could do. After being let go from the job, Mila packed her bags and she left to return to France. She's continuing her career as a chef and we think that she's learned a lot from the experience.
9. Mila's been spotted online with some big changes
The Inquisitor reported that Mila has shown up online with a different set of credentials, and her name is also spelled differently. She lists her vocation as a model, not as a Le Cordon Bleu chef. Also, her name is spelled Kolomeytseva. This raises a lot of questions about her true credentials and whether or not the production crew really checked them out, or if she was in fact a plant.
10. She's left more questions than answers
During the time Mila spent on board with the crew, she has stirred up a great deal of controversy. With the more recent news about her and the fact that she's now billed as a model with a spelling variation to her name, there are a lot of unanswered questions.