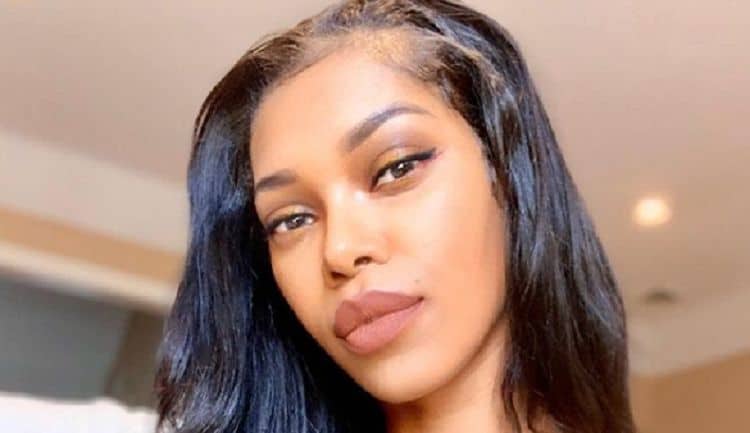 A picture is worth a thousand words, and recently, Jessica White has been trending with rumors of her getting back with Nick Cannon, thanks to several photos she posted on social media. While that is cause for hitting the headlines, the model has so many other accomplishments, including being a philanthropist and successful businesswoman. She started modeling at 13 and has graced the covers of several magazines, including Sports Illustrated, King Magazine, among others. The early start in her career also resulted in poor life choices with Jessica becoming an alcoholic and developing a cocaine addiction before she was 20. Today, she is in charge of her life and looking to make a positive impact on the lives of those who look up to her. Get to know more about Jessica through these ten facts.
1. She has always loved Nick Cannon
When it comes to love, people have been known to do and say stupid things. For instance, before Nick finalized his divorce from Mariah Carey, he was already head over heels in love with Jessica. The model was impressed by Nick's paternal love for his twins that she hoped one day she would raise children with him. Unfortunately, they broke up, and it took such a toll on Nick that he wrote sexually explicit lyrics reminiscing on their intimacy. Although Jessica said that the song proved Nick was not the man she thought he was, she now is singing a different tune. Through the picture she posted on Instagram, Jessica disclosed that the two are meant for each other.
2. She has no problem with showing skin
Jessica's career as a model has seen her become comfortable in her skin to the extent of posting very suggestive photos on social media. In the recent photo where she declared her love for Nick, she is topless. Although Nick covers her front, we can see the sides of her breasts. Still, in another photo, she posted two weeks ago on Instagram she is without clothing. We can't see her nude body since it is hidden by the man in the seat who, judging from the tattoos on his back, is Nick Cannon.
3. She planned on being an entrepreneur since she was 13
Most people attribute their success to having a vision board, and although Jessica did not create a board, she had the vision. In her teenage years, she knew she wanted to be in the cosmetics industry. However, just like any shrewd businessperson, she had a plan of gaining credibility first. Consequently, Jessica became a model to gain the required skills needed to navigate the industry while also building on her self-confidence.
4. Tyra Banks offered her the most precious piece of advice
Many celebrities who start their careers too early do not get sound advice and therefore end up making bad choices for both their personal and professional lives. Jessica was, however, fortunate enough to meet Tyra Banks earlier in her career. At the time, Jessica was only 16, and as she told Complex, Tyra advised Jessica to get a publicist and then promote her next job like it's the last one she would ever get.
5. She believes women should be comfortable in their skin
Most women of color feel that their skin is too dark to be appreciated hence the many bleaching products available in the market. However, Jessica, as an African-American, knows that any color is beautiful. Therefore she teamed up with a scientist to help create beauty products that will give women of color that glow that they have been seeking for so long. Consequently, she named her beauty line "Devise Beauty" because it was one way of devising how people view themselves and encourage them to be bold.
6. She has a temper
According to Fox News, Jessica can best be described as a "firecracker" by those who know her well. Besides being a difficult woman to work with, even in social circles, she still gets fired up over disagreements. That bad temper, therefore, led to her being arrested in 2010 after she beat up a woman so bad that she caused the victim to have abrasions, pain, and swelling. Jessica's appetite for fights started in her teenage years when she also once used a baseball bat to damage a girl's car during an altercation.
7. An interesting gym experience
From the way Nick praised Jessica's skills in bed, she must be gifted, and she acknowledged it by saying she is incredible. Although from the lyrics, we can only imagine what happened in the bedroom between the two lovers, Jessica's intimate details are not something she hides from the media. Therefore she disclosed that while doing squats, she was squeezing and doing Kegels when she had to go to the bathroom because of what happened in her panties.
8. She reminds Sean Penn of "Hardheaded Woman."
Jessica's list of past flames is quite long, with names such as Trey Songs and Ryan Phillippe included. However, the person she considers as one of her greatest loves is Sean Penn. The two dated for a while after meeting at Kid Rock's house, and the relationship was quite serious. However, they broke up, but as she told New York Post, she will always love Sean. The actor taught the model almost everything she knows about music, and one of their favorite songs was "Hardheaded Woman," which Sean played for Jessica all the time.
9. She was molested by her ex-brother-in-law
When Jessica decided to help women who have undergone sexual abuse, it was not for show; it is because she related to how they felt. At 14, she never revealed who her abuser was and instead opted to deal with the hurt secretly. It, however, tormented her, and the only way she would cope was by punching holes in the walls in her room. She, however, told her sister and brother when she was 17 but still asked them to keep her secret to avoid tearing the family apart.
10. Why she has commitment issues
Jessica once said that she has a very short attention span when it comes to her dating life. The maximum amount of time she can stay in a relationship is two years. Her brief attachment dates back to when Jessica was 13; the model would look for a new apartment after every two years. She would give out her belongings then stay in a hotel for three months, figuring out the next move.
Tell us what's wrong with this post? How could we improve it? :)
Let us improve this post!