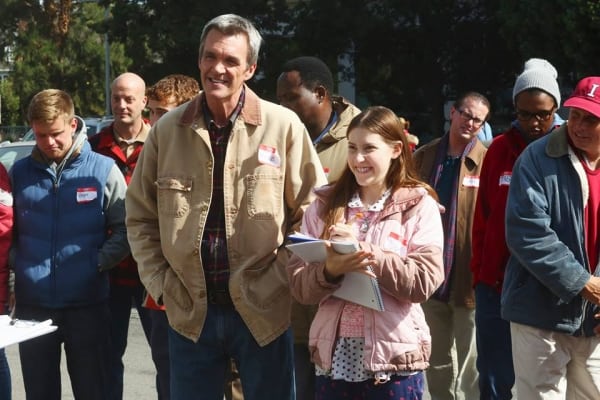 For a sitcom in its sixth season, The Middle is still finding new and heartwarming storylines. Sue's impending college decision will change everything, and yet nothing, about the Hecks.
Mike begrudgingly takes Sue on her first round of college tours because Frankie has to work. That excuse seemed to be dropped pretty quickly once Axl called home to let his family know he's finally being pulled off the bench for the first time in his college football career. Naturally Frankie will drop everything to be there for her firstborn son, even leaving Brick home by himself for the weekend to work on a school project.
Axl's school is supposedly close enough to home that he drops by to visit all the time, so why did Frankie feel the need to stay there for the weekend? It's a good thing she did though. Obviously his house needed a woman's touch, seeing as how the bathroom had never been cleaned yet. Frankie also was helpful in offering Axl some advice once she learned the real reason Axl was so nervous in the game. He likes Devin Levin, who actually does go to the same school. For some reason in the Thanksgiving episode I thought she went somewhere else. Anyway, I'm very excited to see where this relationship goes! Devin is a match made in heaven for Axl.
This easily could've been an entire episode about Brick home alone with a parade of the best guest stars and recurring characters from the show's run so far. Just imagine Uncle Rusty (Norm MacDonald) or Bob (Chris Kattan) stopping in to make sure Brick hasn't burned the house down. Among his visitors/babysitters, Chuck and Brad were probably my favorites. Brad offered the most help (visually, at least) with Brick's project, but in the end Brick did it all himself. Good for Brick! He's come a long way from the days when he wasn't allowed to stay home by himself at all and instead had to be his mom's errand boy.
With her "College Knowledge" binder in hand, Sue thought she was prepared for these tours and college life in general. She's actually more ready than Mike might be to let her go. At first Mike was irritated by another dad who's visiting all the same schools this weekend. He bragged about all the cutesy Saturday morning traditions he and his daughter share, like making Superdad pancakes together. After getting stuck in a conversation with the guy, Mike started to wonder if he's disappointing Sue by not sharing this close of a relationship with her. Her answer that he's truly the best dad in the world for all the things he does for her, including bringing home pretty rocks from the quarry for her, was so cute. Just another sweet moment between these two. I wish nothing but the best for Sue in college and beyond, but the first college drop-off and goodbye scene between Sue and Mike will definitely be a tearjerker.
What was your favorite storyline of this episode? Sue's neurotic behavior about being misunderstood as a Native American and then borderline white supremacist had me cracking up the most!
Photo via ABC