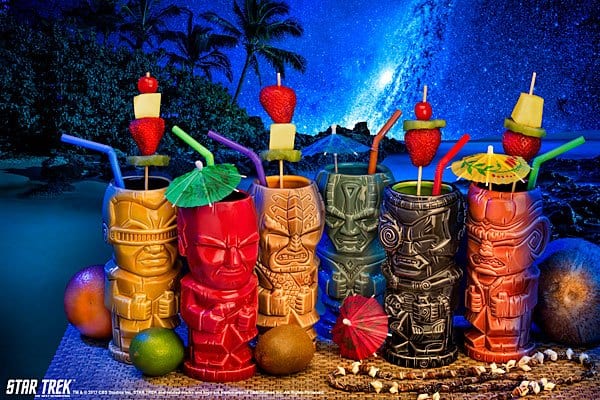 Marketing just never stops it seems. These Star Trek Next Generation Tiki Mugs seem like something you'd keep in a case or bring out just for the most special of occasions. Or if you live in the tropics and are a Trekkie maybe they'd be a regular part of your drinkware. In any case they aren't that bad looking save for the fact that they're a little silly, which is the whole point it seems. You can see the clear resemblance to Picard, Geordi, Worf, a Borg, Ferengi, and Cardassian, but where are the others? You mean to tell me that these are the most popular characters in the entire series?
I get the fact that they're pretty great, but it seems like there should a few more that got produced as well. Maybe the company that was creating them had to stick to just a few designs to avoid the issue of cost. You can easily imagine that this type of craftsmanship would cost a pretty penny and could run a hefty price if you decided to do the whole crew and go into an expanded view of the universe. It seems fitting that only a few mugs would be created, unless of course there are more and the brief clip is only showing a few of the most popular.
A lot of Trekkies would probably purchase at least one or two, but you know the hardcore, diehard Trekkies would have the whole collection. Some might even get the whole set just based on the fact that one day they might actually be worth something. Yeah, when that day comes humanity might already be long gone and whatever species comes in next will make bank on what could be considered historical artifacts at that point. In other words, these things are neat and quirky, but the chance of them going up in value is pretty slim unless something happens to the manufacturer or something happens to the actors that are noted for these roles.
While the latter is always possible the former wouldn't be much of a big thing for anyone but those that were directly affected, meaning the price of the mugs really wouldn't go up. In essence the only thing a tiki mug can really in terms of value is go down the more it gets used. It might seem like a dim way to look at things but with the marketable goods that are delivered to the public nowadays the worth of said goods tends to go up and down like a child's yo-yo sometimes. With some items the drop they take in value never rises again simply because they were something done on a lark to be silly and spontaneous.
Star Trek merchandise is, simply put, almost everywhere you look. The value of certain items doesn't even reach what the retail cost was most times, which means that if a person did buy the mugs then chances are that they'll have spent at least two or three times more than it took to make it.
As long as they work though, they're an interesting conversation piece.
Save