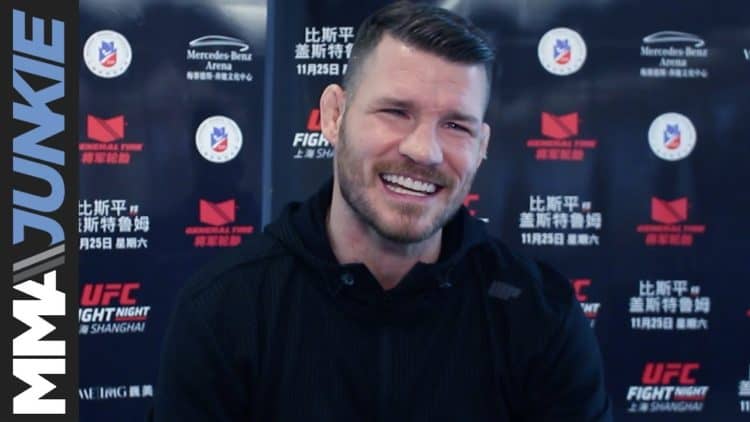 It is practically impossible to be a fan of the UFC and not be attracted to the glowing trash talk of Michael Bisping. Sure, he didn't always back it up, but that was honestly irrelevant. Why? Well, because he was just so frigging funny to listen to. The career of the Count ended in 2017 after a brutal knockout punch from Kelvin Gastelum. Boy, that was an absolute killer shot that put the quick-witted British fighter out cold. And then, to announce his retirement from the sport of mixed martial arts, he claimed he was having problems with his good eye and fighting was no longer worth it. Can you imagine? More on his eyesight later, but I just want to take a moment and appreciate the career of Michael "The Count" Bisping. Love him or hate him, Michael Bisping was one of the most colorful and entertaining personalities who competed in the UFC. Before the notorious Conor McGregor came into the mix and took over with his eccentric trash talk, this Lancashire native was competing in mixed martial arts since he was fifteen. In fact, according to him, he's been fighting since he came out of his mother. That was something he said after knocking out Luke Rockhold in 2016, which is a comment he would later come to regret. But hey, the guy just won a belt, so I think we should give him a break on that one.
Speaking of that, the story of Michael Bisping's journey from your typical average Joe, to UFC Middleweight champion is a true real-life Rocky story. If you're not a believer in the underdog story, then you have to listen to this man's story. In fact, you'll get your chance soon enough, since Michael Bisping has his own sports documentary coming very soon. Go on IGN and check out the new trailer for the upcoming documentary, titled Bisping: The Michael Bisping story. Other than the Count himself, you'll see a lot of familiar faces, including some legendary fighters and even some unexpected faces. This includes some top notch fighters, such as Georges St. Pierre, Rashad Evans, Tito Ortiz, and even his former rival, Luke Rockhold. Oh, but it doesn't stop there. Since this is a documentary about a former UFC champion, you can expect to see Joe Rogan on there. Not good enough? How about Bruce Buffer and the President of the organization himself, Dana White? If they're bringing in those big guns, then you know this documentary is going into deep waters.
As for additional speakers in the documentary, we'll be seeing the likes of Vin Diesel, Mickey Rourke, Michael Jai White, and Scott Adkins. Quite the gathering isn't it? If you're wondering why Vin Diesel is a part of it, then you need to familiarize yourself with Michael Bisping's title win over Luke Rockhold in 2016. Based on what we saw in the trailer, it looks like that will be the highlight of the documentary. That is rightfully so, due to the underdog aspect of his first and long-awaited title win. Back in the summer of 2016, then-Middleweight champion Luke Rockhold was originally have his first title defense against Chris Weidman. However, Weidman pulled out due to an injury and Dana White needed to find a last-minute replacement. The most suitable fighter to step in and contend with Rockhold was none other than Michael Bisping. He got the call while he was filming the last XXX movie and had only seventeen days to prepare. The Count went into that fight a massive underdog and most people expected him to be finished by Rockhold quickly.
And wouldn't you know it, Michael Bisping knocked out Luke Rockhold in the first round. This was one of the biggest upsets in UFC history, not to mention the Count got his revenge. Eighteen months prior to their rematch, Rockhold actually finished Bisping with a head kick and a guillotine submission. Michael Bisping took this loss with pure class, but after their unexpected rematch, the heat was back on. The Count relished in his victory and Luke Rockhold vowed to return for a trilogy bout and put their rivalry to an end. Unfortunately, that is one trilogy we never got to see happen, but it seems Luke Rockhold and Michael Bisping buried the hatchet in recent years. The fact that Rockhold is actually being a part of this documentary says it all and he'll likely be the most interesting guy to hear from.
Three years before Michael Bisping won the Middleweight championship, he was brutally knocked out by another UFC legend, Vitor Belfort. The brutal head kick to his face did permanent damage to Bisping's right eye. The kick caused retinal detachment to his right eye and required a glass eye as a replacement. For any other fighter, this would have been the end of their career, but for Michael Bisping, it wasn't even close. Many people suggested that he throw in the towel, but due to the support of his family, his coach, and his teammates, the Count kept pursuing his dream of one day becoming a UFC champion. Three years later, he finally achieved that dream, being one of the oldest men in UFC history to do so at the age of 37.
As far as underdog stories go, Michael Bisping is one of the most prime examples. After watching this documentary, I hope fans will have that sense of empowerment to never quit. And aside from his inspirational cinderella story, I hope it includes segments of his most famous trash talk moments. You can see the highlights of his trash talking alone and that's honestly more entertaining than watching him fight. Sure, the sport of mixed martial arts needs to have that respect, but without trash talk, it wouldn't be nearly as fun. Not everyone can be the good guy, right? Bisping: The Michael Bisping Story will release on Digital and On Demand next month, so saddle up UFC fans.
Tell us what's wrong with this post? How could we improve it? :)
Let us improve this post!