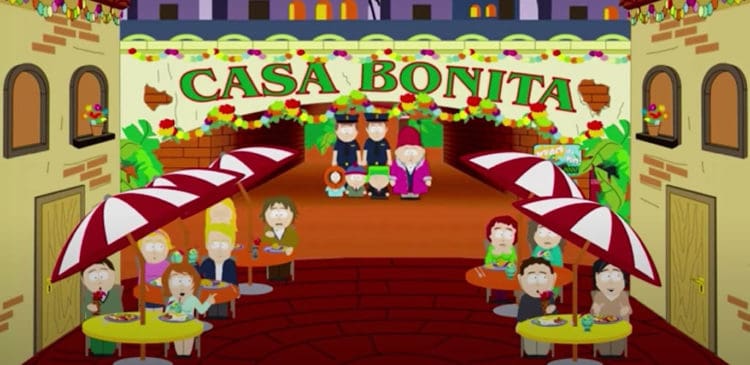 When you think about it, the South Park guys are the perfect people to purchase Casa Bonita. If none of that sentence made sense to you, we'll unpack it a bit here. Casa Bonita is a Mexican restaurant. It's a glorious, church-like building with a tower and a freaking cupola and it lights up at night and it's in the middle of a strip mall with a thrift store and probably a nail salon or something. Inside, it has an arcade. It has cliff divers. It does, in fact, have cliffs. I happen to know someone who told me he's banned for life from Casa Bonita for climbing those cliffs as a teen and attempting to dive into the pool without actually being an employed cliff diver, so I feel a special affinity towards the place.
It also has terrible food, except for the sopapillas. Like really, truly bad food that you have to buy anyway if you want to be allowed in to experience the wonder that is Casa Bonita. It also, unsurprisingly, holds a very special place in the hearts of Coloradans and South Park fans. It's been around since the seventies and many people have fond memories of at least one birthday party or special occasion they celebrated here. Casa Bonita also features in a South Park episode. Cartman loves the place so much (who could blame him?) that he tries to convince his best buddy an apocalypse happened so he can steal his friend's invitation to the restaurant.
Parker and Stone just announced they were buying Casa Bonita after the restaurant had a bankruptcy hearing. They had indicated in the past that they wanted to buy the place, but the owner insisted he wanted to reopen and not sell at the moment. Friday morning, Stone said in a livestream with the governor of Colorado, "As of about an hour ago, pending bankruptcy proceedings that have to happen in a couple of months, we've come to an agreement with the owner and we bought it," Stone said.
"Everyone knows the potential of what that place can be," Parker said.
They promised to make the food better, and while this sounds like a good thing, it also takes away a very defining characteristic of the restaurant. Honestly, I'm not sure how I feel about this one. Will Casa Bonita maintain its fabulousness if the food isn't terrible? Isn't it our flaws as much as our perfections that make us unique?
Then again, a decent enchilada while watching the cliff diving would be pretty great.
The men were actually at a press conference with Gov. Jared Polis to celebrate 24 years of the cartoon, which first aired on August 13, 1997 on Comedy Central. It's been nominated for 19 Emmy Awards and won five, along with a Peabody Award in 2005. It now stands at almost 300 episodes, and the men recently signed on for six more seasons. That deal with ViacomCBS, which was announced in early August, reportedly pays the pair almost a billion dollars for those six years. It also means the series will hit at least 30 years on the air, a long time for the foul-mouthed cartoon kids, who haven't aged a bit.
Bloomberg called the agreement "one of the richest deals in TV history." Along with the six seasons, Parker and Stone will create a grand total of 14 South Park movies for ViacomCBS's streaming service, Paramount+. They'll be the first South Park movies since 1999.
At the time of the announcement for new seasons, the two released a statement, saying, "Comedy Central has been our home for 25 years and we're really happy that they've made a commitment to us for the next 75 years. When we came to ViacomCBS with a different way to produce the show during the pandemic, Chris (McCarthy), Nina (Diaz), Keyes (Hill-Edgar) and Tanya (Giles) were immediately supportive and enabled us to try something new that turned out to be really well received. We can't wait to get back to doing traditional South Park episodes but now we can also try out new formats. It's great to have partners who will always take a chance with us."
Five years ago, Trey Parker talked about the long-running show with Vanity Fair. "I think what we said is like, we're those kids that are never gonna excuse ourselves from the table," he told Vanity Fair. "We're gonna wait to be excused. We're gonna wait to be thrown out. It's just been a mentality for us—and in a way it's been a healthy mentality—that we, from the beginning, thought, 'O.K., well, this isn't gonna last. Any minute now we're gonna get run out of town.'"
It's safe to say Colorado won't ever run them out of any towns here.
Tell us what's wrong with this post? How could we improve it? :)
Let us improve this post!