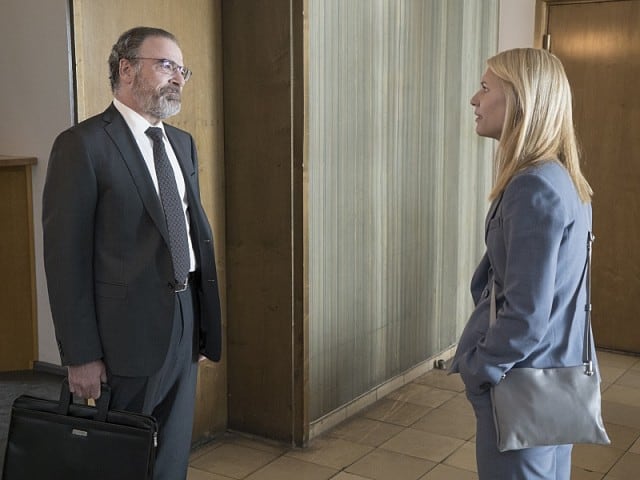 Much has changed on Homeland since we last Carrie, Saul, and Quinn, but despite the different location (the majority of this season's action will take place in Berlin) and the very different states of each of our three main characters, Homeland still feels like Homeland in its Season 5 opener. And through one episode at least, that's a good thing.
Everything is both new and familiar in this first hour of Homeland's fifth season, which is reminiscent of another series on which Howard Gordon served as an executive producer: 24. Similar to the premiere of the FOX series' fifth season, Homeland kicks off this new set of episodes with its protagonist, Carrie Mathison, in a new place (Berlin), with a new job (head of security for German philanthropist, Otto During, played by Sebastian Koch) and a new man (Jonas Hollander, played by Alexander Fehling), her life seemingly all the better since she left the CIA. However, we know that, just as Jack Bauer's happy new life came crashing down in 24, Carrie's will soon have to unravel as well, and we can already see the beginning of that in "Separation Anxiety," as Carrie not only shows her frustration with being shut out from certain CIA details by Allison (Miranda Otto) but also goes to great lengths to contact members of Hezbollah in order to provide protection for Otto's trip to Lebanon.
Despite how much Carrie wants to say that the CIA and the lifestyle she led before is behind her, there's several moments throughout "Separation Anxiety," from her run-in with Saul at the embassy to one of the Hezbollah men bringing up Abu Nazir, that hint that her past may be closer to her than she believes. While Carrie may be "done" with her work at the CIA, the people she has harmed and the terrorists she has stopped may not be done with her, specters from her old life that continue to haunt her no matter how hard she tries to forget them. It's pretty obvious that, one way or another, Carrie will get pulled back in to the CIA's (and by extension, Saul and Quinn's) orbit sooner rather than later, but the way that Homeland is teasing at something larger (a possible reckoning of sorts for Carrie) works very well in "Separation Anxiety," especially as a counterpoint to the responsible, stable, and loving mother and girlfriend that she has evolved into during her time in Berlin.
While Carrie is attempting to open up her life to become a fuller, happier person, both Saul and Quinn are doing the complete opposite. Perhaps it's because he was shut out of the director's job by Carrie or maybe it's more indicative of the "company man"-type attitude that he embraced by aligning himself with Dar Adal in the Season 4 finale, but gone is any type of concern or restraint from Saul. Carrie's former mentor is colder and more calculated than ever before, whether it's during the meeting that takes place early on in the premiere, his surprise encounter with Carrie in Berlin, or in whatever covert mission he's working with Quinn.
And speaking of Quinn, 28 months on the ground in Syria has made Homeland's resident assassin all the more detached and lethal. All of the desire and hope he had for a normal, more fulfilled life last season (the type of life that Carrie has appeared to build for herself in Berlin) is gone, as Quinn speaks his mind and buries himself in his work, essentially becoming a killing machine. (For the record, since German Intelligence breaks off its partnership with the CIA in this episode, after the documents about their secret project leaks, my best guess for what Quinn and Saul are doing together is that they are monitoring and eliminating as many of these threats as they can without Germany's knowledge.)
While "Separation Anxiety" acts a new chapter in Homeland's story, with Carrie having parted ways with the CIA and, by extension, Saul and Quinn, the series still remains the same reliable spy series it was throughout its fourth season. And for a drama that can be as erratic as Homeland, a strong and consistent, if somewhat-by-the-numbers, premiere is an encouraging sign that the show can deliver another solid year of suspense, action, and thrills.
Other thoughts:
None of the new characters introduced really made a major impact on me, except for Laura (Sarah Sokolovic), whose lack of regard for German and American lives makes her incredibly selfish and irritating.
The hackers stealing information from the CIA and Laura's presence as the "intrepid reporter" suggests that cyberterroism, which hasn't been explored much on Homeland, could play a big role this season.
Carrie is sober now, goes to Mass, and is a great mother to Frannie. It is really odd to see her so happy and at peace, but it's also a nice change from the typical craziness of her life.
If you didn't find this episode as exciting some of the best from last season of Homeland, I can promise that it's the least action-packed of the three Season 5 episodes I've seen.
Homeland fans, what did you think of the Season 5 premiere? Comment below and let me know.
[Photo credit: Stephan Rabold/Showtime]