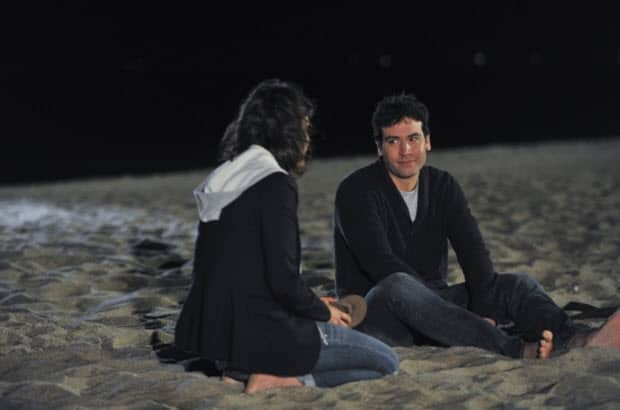 If you did not already know, it is February. That means it is only a little less than two months until How I Met Your Mother leaves the airwaves forever. Thank God for reruns and TV on DVD. With seven episodes still left to air after tonight's outing, there is a lot of storyline left to tell. It also appears that Barney (Neil Patrick Harris) and Robin (Cobie Smulders) will never get married and that Ted (Josh Radnor) will never meet his future wife. We know both of these events will occur, but we just want them to happen already!
"Sunrise" takes place on the day of the wedding. Finally! I did not think the morning would ever arrive. When we last left Ted, he was in charge of watching over a drunken Barney. When Ted took a few minutes to listen to "The Mother" (Cristin Milioti) on the balcony, Barney slipped out of the hotel room and is now missing. Barney is found, but it is by two random guys walking down the road. Barney decides this is the time to educate these young lads on how to get women.
Barney takes the guys to a strip club, conveniently located in the middle of nowhere. I was hoping Stripper Lily would make an appearance, but she was nowhere to be found. The trio quickly vacate the club and the get fitted for suits by (Guest Star Alert!) Tim Gunn. Now in their perfectly fitting suits, the guys head to a party where Barney is able to use his classic, "Have you met… " line. This storyline summed up nine seasons of Barney Stinson in roughly 7 minutes and it was legendary.
Ted and Robin go to the beach to search for Mr. Stinson. They take a walk down memory lane and discuss Ted's past relationships. Guest star alert, again! The very beautiful and lovely ( I know this because I met her in person) Sarah Chalke reprises her role as Stella.Ted had a conversation with her to find Robin's missing locket, which was mentioned earlier this season. Unfortunately, she does not it.
During the walk, Ted reveals to Robin that the reason he and Victoria broke up was because of her. She wanted Ted to end his friendship with Robin. Guest star alert #3! Ashley Williams is back and tells Ted she has the missing locket. I am happy that Ted does not end up with Victoria. He can do a lot better than her and does with "The Mother." Victoria ships the locket from Germany, but it was signed for by (Guest star alert, once more!) Jeanette (Abby Elliott). Elliot played the part of a crazy woman perfectly, so it was great to see her back. She agrees to give Ted the locket, but instead throws it in the river. Before she does this, Jeanette advises Ted that he is insane for doing everything for Robin for the last 8 years. I could not have said it better myself.
Robin claims that she would not have been mad at Ted if he would have picked Victoria and ended their friendship. I find this very hard to believe. Most people would be very upset if one of their closest friends completely cut them out of their life. Then Ted confesses his true feelings for Robin, a storyline that has become quite tiring over the years. Viewers already know they are not getting together so why waste everyone's time talking about it? Ted also announces that he is leaving for Chicago after the wedding. The two sit on the beach and watch the sunrise and they share a connection when they grasp hands. However, the best part of it all is in the end Ted finally lets Robin go and decides to move on.
The question on whether Lily (Alyson Hannigan) and Marshall (Jason Segel) will move to Italy was answered tonight. Marshall has a conversation with two ghosts of his wife, one from the present and one from 2006. Ghost Lily says that the most logical thing for the couple to do is stay in New York. Plus, Ghost Lily advises Marshall to start telling the truth or else he will lose his wife forever. When he awakes in the morning, he finds Lily at his bedside. The two reconcile and decide the best thing for them to do is not move away. It was tough watching these two fight over the last few episodes, so I was very excited when they rekindled their romance.
HIMYM will be taking a mini vacation but will return in three weeks. This will give you some time to re-watch some of the great moments from this farewell season. I will be back on February 28th with more reviews about one of the greatest sitcoms currently on TV.
[Photo via Carin Baer/Fox © 2013 Fox Television. All rights reserved]