We learned last night, that a baby can change everything about a group of friends. We all know this is true but, it really took a toll on all the characters last night. The group has various reactions to the news that Marshall and Lily are "pregnant" and each persons struggles with how to change their life to make themselves feel better.
This episode addressed two big areas of the main story this week. First off, the bulk of the episode dealt with the Erikson's dealing with a pregnancy, which turns out to be a false positive (hence the title). I really enjoyed the way that Robin and Barney wanted to change their lives a bit once they found out.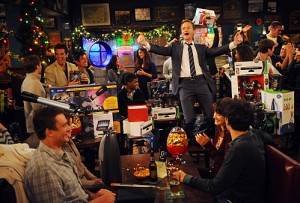 Barney's favorite things had to be my favorite part of the episode. It's nice to see that CBS is letting their shows poke fun at Oprah. After that scene however, the episode tended to slow down. Robin's decision to choose the research job seemed so obvious and I feel that the "Coin Flip Bimbo" job was sort of a forced joke and a simple reason to get Alex Trebek on the show. The ending, with Ted going all out on the group, was what I felt was the most genuine part of the episode. When he finally snapped, we learn that Ted just wants everyone to succeed at what they really want to do.
The other part of the episode (only shown in about 5 minutes of the episode) dealt with Ted getting ready for Punchy's wedding. This story is what is more important in the Ted story. As hinted in the first episode this season, Ted meets the mother at a wedding where he is best man. We now have been introduced to Punchy's wedding and with Ted being married only signals more that this could be the wedding where Ted and mother meet. But back to the episode. Ted being best man for Punchy was actually a great aspect to the group. The episode lets us see that Ted is more or less the best man of the group. As Robin stated, the best man is the one who "rallies the groom to get married". Ted does this for not only Punchy, in a quick phone call, but also to Robin, Barney, Lily, and Marshall. The scene where he rallies the group brought the episode to a great close.
From babies to bimbos to great give aways, this episode was able to garner great attention but still fell a little short. We can all hope that maybe in the new year we finally see the mother and if possible this season, a little Erikson. B+
What's your thoughts on the episode? Do you think the episode title gave aways to much of the episode? Sound off in our message boards or in the comment section below.