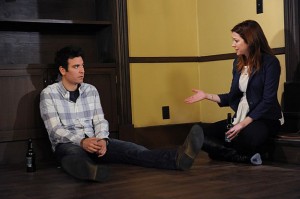 This How I Met Your Mother this week was less a group effort and more a pairing off so we'll take them one by one.
Ted and Lily:
Ted has finally finished the remodel on his house and he wants to show Lily. They get up to the house and Lily is so excited for him. She can see him raising his kids there. Ted however has a for sale sign against the wall. He isn't keeping the house; in fact he isn't even staying in New York. After Barney and Robin's wedding he is moving to Chicago. Lily is stunned and unhappy. He can't move to Chicago. Ted says he is leaving the day after the wedding. Lily figures out his real reason, it is because of Robin. She is still the love of his life and she is marrying Ted's best friend. That's why he can't sick around to watch them live happily ever after.
Ted tells Lily he wants Robin and Barney to be happy he just can't be there to watch it and Lily knows something must have happened recently. He tells her about the moment they had in Central Park, with the hand holding and the rain. Ted would do anything to make Robin happy and that is a, "sucky way to feel about your best friend's fiancé."
Lily looks uncomfortable for a moment before coming clean; she knows where the locket is. A few years ago before Ted was supposed to marry Stella Lily found Robin drunk in the bar. She drug Lily to Central Park to dig up the locket. They took it back to the apartment where Robin says she is taking it with her to Japan. Instead Lily puts it in Ted's pencil box and that is where it has stayed all these years. The pencil box is at Ted's house on his desk. Ted is overjoyed at this news because he thinks this will be the best wedding gift ever. He rushes to his apartment, wraps up the locket and leaves his empty apartment with his travel bags.
Marshall and Lily:
Marshall and Lily are packing when Marshall's mom Judy calls. Lily is surprised to learn that Judy doesn't know they are moving to Italy for a year. To appease his mother he agrees to take baby Marvin to Minnesota for a visit. While in Minnesota Marshall gets a call. A few months ago he applied to be a judge, well now there is an opening. The catch is it needs to be filled by next Tuesday. So if he wants to take the job he will have to do it now, no going to Italy.
A few days later, Marshall is at the airport getting ready to fly back to New York when he calls Lily. He doesn't tell her about the judgeship though and after he hangs up Marshall's brother says, "Good luck with that, your Honor." So it looks like he took the job.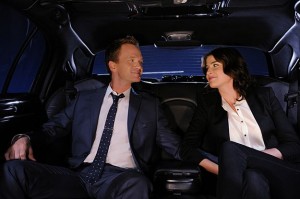 Barney and Robin:
And finally on this episode of How I Met Your Mother, Barney and Robin are done with their wedding planning so they decide to have a relaxing dinner to celebrate. Barney even has the brand of cigar they first smoked together. They take them out of the bag he had them in and hold them up to smell them. Only they are interrupted by an annoying woman (Casey Wilson) and her even more annoying boyfriend (Keegan Michael Key). They want Barney and Robin to put the cigars away because the smell is very pungent even when not lit.
Robin looks at Barney and says, "Did those two just become our archenemies?" Barney is ready to wage war but Robin decides it isn't worth it; they are trying to relax after all. Unfortunately when the annoying couple complains and gets seated at the window table — the table Barney and Robin consider their table — they have had enough.
From their crappy table, next to the kitchen, Barney and Robin plot the demise of their archenemies. Robin formulates a plan, evil laugh and all. She has champagne delivered to their table with her engagement ring in one of the glasses. Archenemy girl is so excited and says yes but archenemy guy says it isn't from him; they have only been together seven years. This starts a great fight and a toasting from Barney and Robin.
Robin and Barney are outside smoking their cigars, congratulating themselves when the archenemy couple shows up. Turns out they are happy; they even thank Robin and Barney for making them see they should be getting married. Even though it isn't how they wanted it to turn out both Barney and Robin are just so pleased to be getting married in a few days that they decide to let it all go and just continue being happy.
The episode ends with everyone heading to the wedding, including a girl in killer boots, a guitar case and a yellow umbrella. We see "The Mother's" face finally. She is played by Cristin Milioti. You might know her from the Broadway musical Once.
Well that was Season 8. What did you think? I like the show but I'm very glad that they are finally wrapping this up; it's been a little too long coming. Now, while I hate to say I told you so, this season did in fact end with no wedding. Should be interesting to see what happens next season.
How I Met Your Mother will be back this fall with their final season on CBS.