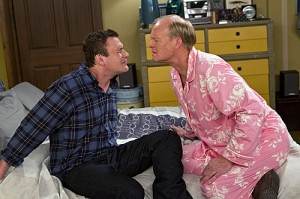 Another Monday Night. Another so-so episode of How I Met Your Mother.
This week's episode dealt with Kevin's declaration that psychologically it is normal to marry someone just like your parents which was sparked by Barney's brother's idea that Nora is just like their mom, Loretta. Hence, the episode title, 'Noretta.'
Throughout the episode we saw each of the characters with the exception of Robin see how their significant other, or in Ted's case, a prospective date are like one of their parents.
While there were definitely some scenes where I laughed out loud, nothing grabbed me enough to make note of, which to be blunt, sucks.
I did think the concerned comment by Kevin regarding Ted and Robin's relationship was quite interesting. You know the one where he implied Robin still had feelings for her roomie. ('This isn't one of those classic you still have feelings for your ex-boyfriend, who's oddly also your roommate which for the record I'm totally cool with even though everybody tells me I walked into a bear trap things, is it?')
It again made me think of what Victoria said in 'Ducky Tie'about none of Ted's relationships ever working because of his still close relationship with Robin and keeps me wondering if something is being implied about their relationship here? Or perhaps I am just grabbing at straws? What do you all think? Did you enjoy the episode? Is there something in the future for Robin and Ted?
Some additional thoughts:
Chutes and Lillies with Post-its…hilarious.
There was a whole lot of guest stars tonight!
Weird Al or Peculiar Jacques? You decide.
Quips of the Night:
'Bootytown…We're going to Bootytown.'— Barney
'No irky irky till the baby comes out?'— Marshall
'BAM! Top of the charts!'— Everyone re: Ted's story about giving Weird Al '˜Like a Surgeon'
Next Week, Katie Holmes guest stars on HIMYM as the Slutty Pumpkin which Ted met long ago. Earlier this week, TVOvermind posted some photos from the episode which you can check out here. You can also check out a video sneak peek of the episode at CBS.com.
How I Met Your Mother airs at 8pm on Monday nights on CBS.