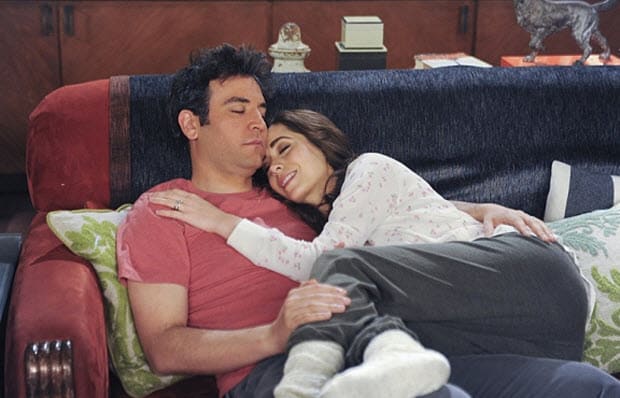 The big day is finally here. It seems like it took ten months for Barney (Neil Patrick Harris) and Robin (Cobie Smulders) to take a walk down the aisle on How I Met Your Mother. That is because it actually has been since May of 2013 when the weekend trek to Farhampton began to play out. They say good things come to those who wait and that certainly was the case with the latest episode entitled, "The End of the Aisle."
It is only 32 minutes before the couple says, "I do," and they are both having a panic attack. Robin confides in Ted (Josh Radnor) that she thinks it may be bad luck that she never found that locket she was searching for earlier in the season. She admits she wants a guy that won't let her down when she needs him the most. If only she knew that Ted has found the locket. But since Ted is such a nice guy, he gives the locket to Barney to surprise Robin. Thankfully, Ted has realized he needs to move on from Robin. I never thought the two were a good match and now he sees that too.
Kudos to Robin for being smart enough to figure out that Ted is actually the one who found the locket. In order to get Ted to admit he was the finder of the jewelry, she announces that Barney refused to tell her where he found it. This causes Ted to create one of his elaborate stories, that is obviously untrue. After hearing the crazy tale, Robin blocks Ted from leaving the room. Is this the moment of truth where Ted and Robin deduce something we as fans have known since 2005? These two do NOT wind up together.
Barney is panicking because he has not completed his vows. This is something you think would have come up in the last 22 episodes, but mysteriously was never mentioned until right before the wedding. Lily (Alyson Hannigan) and Marshall (Jason Segel) offer their expertise, which Barney quickly refuses because he remembers how horrible the couple's vows were. Barney argues that their vows were not truthful and lists off every time the duo broke a vow. Though Marshall pretended to be sleeping so he did not have to go to the aid of a puking Lily and Lily dressed up Marshall as Wonder Women when he was passed out, I still believe they are both worthy of giving out marriage vow advice.
This is when Robin has an epiphany. She exclaims that Barney always lies. Maybe she is not as smart as I thought she was. Barney has been fibbing his whole life and Robin is just now bothered by it? Because of this, she now thinks she should be marrying Ted?! If you are having thoughts like that, you probably should not be getting married in the first place. Ted tries to convince Robin that they really don't love each other and that she needs to be with Barney. Instead of believing Ted, Robin makes a mad dash for the door, locks him in the room, and runs away. And this is how Robin met "The Mother" (Cristin Milioti). She knocks her over trying to be the next runaway bride. Julia Roberts would be proud.
After listening to Barney belittle their vows, Lily and Marshall decide to recite new ones before the actual wedding takes place. Marshall is going to allow Lily to deuce in peace and not talk about private parts on dogs, while Lily promises to tell her husband when he has green stuff in his teeth and cry less during this pregnancy. Their vows were humorous, romantic, and kind of gross but I still think they are one of the greatest ever recited on TV.
After running her down, Robin now seeks advice from "The Mother." She advises Robin to close her eyes and take three deep breaths. She insists that those three breaths can change everything. Try it, it really works. This is how I stay calm when flying alone. This trick seems to work for Robin too. Barney shows up and announces from now on he will always be honest with her and admits that Ted was the one who found the locket. Looks like the wedding is back on!
In the closing moments, a lot of legendary moments occur. Marshall gives out the final slap when Barney begins to have another panic attack, we find out that there really was a ring bear, and most importantly Barney finally put a ring on Robin's finger. Ted even admitted how long the weekend really felt, which made me want to relive all the great moments of the season one more time. Next week will be the final chapter of a story nine years in the making. Be sure to tune in to say good-bye. And don't forget the tissues.
[Photo via Jaffe/Fox © 2014 Fox Television. All rights reserved]