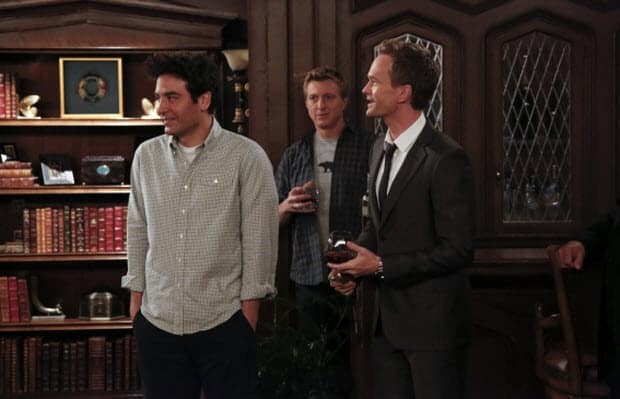 You only turn 29 once, so why not spend it reviewing an episode of How I Met Your Mother. Though you most likely don't care it is my birthday, you most definitely should care about this latest episode entitled, "Daisy." This is the episode where we find out where Lily (Alyson Hannigan) disappeared to the night when she and Marshall (Jason Segel) had gotten into their argument. Did you forget that we never found out about that? Me too…
In the opening, Robin (Cobie Smulders) learns how her mother (Tracey Ullman) made it to Farhampton. Even though she has a fear of flying, she still flew to the United States. After a minor meltdown that left the person next to her with a scratched face and her tied up, Robin's mother vows to take the train home. Had this been real life, there would have been no way they would have allowed a passenger like that to enter a foreign country. Good thing this is only a TV show.
At breakfast, the guys discuss Marshall's new position as a judge and how Lily had stormed out after the confrontation. Billy Zabka is back and informs Marshall that he spotted Lily at a nearby gas station getting into a stranger's car that turns out to belong to The Captain (Kyle Maclachlan). Only three minutes in and we have seen three guest stars plus Marshall Manesh as Ranjit! The guys decide to head to The Captain's house to punch him in the face before the wedding.
Robin becomes worried that she has married her father after her mother describes the two's marriage. Like her dad did prior to his wedding, Barney (Neil Patrick Harris) is off on a secret excursion with Marshall and Ted (Josh Radnor) in tow. Also, Robin's dad was engaged to a stripper, would always side with his mother, pretend to be other people to bed women, and never disclosed what he did for a living. Does this mean Barney and Robin aren't going to last? Well, from previous episodes we do know they at least stay married for a few years. That's reassuring, right?
Back at The Captain's home, we discover that he sent a car for Lily after the fight with Marshall. When she was using the bathroom, she rushed out in panic and he does not know why. Marshall does not believe the story and challenges him to a duel. This is when Lily calls Barney in a panic to come help Robin from freaking out and she learns that the men are at The Captain's house. Time for Linus to bring another drink, my favorite gag of the season.
Halfway through the episode is when Ted finally stops being scenery and starts to be part of the story. He has figured out what Lily's secret is, and in true Ted-like fashion is basking in every minute of it. Ted deduces that a daisy was in The Captain's powder room and Lily saw it when she went in there. Ted knows that when Lily and Marshall are apart for long periods of time, she starts smoking. After the fight, she needed a cigarette but was all out. That is why she called The Captain. She needed a ride to buy more smokes. Ted announces the cigarette Lily was smoking at The Captain's house will be found in the daisy. He digs through the dirt and unearths a…. pregnancy test! Total shocker!
So what about all those drinks Linus has been getting for Lily?! Turns out, they were non-alcoholic and she also faked being drunk. The argument with Marshall caused Lily to want to take the test. She could not wait til they got home to find out. When she learns the test was positive, she decided she couldn't take the job in Italy because they were having another child. Marshall confronts Lily and tells her he wants the family to move to Italy so Lily can live out her dreams. Lily and Marshall have now surpassed Jim and Pam from The Office as my favorite TV couple.
In the closing scene, Marshall and Lily are living it up in Italy with her dad (Chris Elliott), who is watching the children. The new baby is in the stroller and it is a girl! You will never guess what they named her: Daisy. If Marshall and Lily have another daughter will her name be Rose so all the Ericksen women have flower names? We only have four episodes left to find out.
[Photo via Richard Cartwright/CBS ©2014 CBS Broadcasting, Inc. All Rights Reserved]